If you are looking for a guide on how to record a podcast, you've come to the right place. In this post, we'll cover planning, preparing, recording and editing, and hosting, to teach you how to make a successful podcast. Need a professional video recorder? Then try MiniTool Video Converter.
Recording a podcast isn't difficult, but there are many steps that you need to go through. Fortunately, we're going to introduce an ultimate guide on how to record a podcast effortlessly. Without further ado, let's get started!
Step 1. Plan the Content
The first step is to plan the content of the podcast. Ensuring that the topic you choose depends entirely on your knowledge. If you are a brand, your topic authority is an easy way to determine where you can add value. The same is true for individual podcasts.
After planning the content, you can choose the length and style of the podcast. If you want to have a long podcast, make it easy to understand and avoid distracting the audience. Then, choose a popular podcast style, such as an interview show, solo, true story podcast, etc.
Also read: 10 Best Sites to Download Free Music for Podcasts
Step 2. Prepare Recording Equipment
You cannot start a podcast without equipment. More importantly, good equipment will make your podcast more professional. Below is what you need to prepare:
Audio podcasts
Microphone: Mobile phone / USB microphone
Video podcasts
Video camera: Mobile phone / DSLR camera
Microphone: Lapel microphone / Wireless microphone
Lighting
All podcasts
Computer
Step 3. Record and Edit a Podcast
It's time to choose the podcast recording software that suits you. Here we would like to recommend Audacity, Hindenburg Journalist, and Adobe Audition.
1. Audacity
Audacity is a free and open-source digital audio editor and recording application software, available on Windows, macOS, Linux, and other Unix-like operating systems. With Audacity, you can record live audio through a microphone or mixer, digitize recordings from other media, and export your recordings in many different file formats. Besides, it enables you to cut audio files.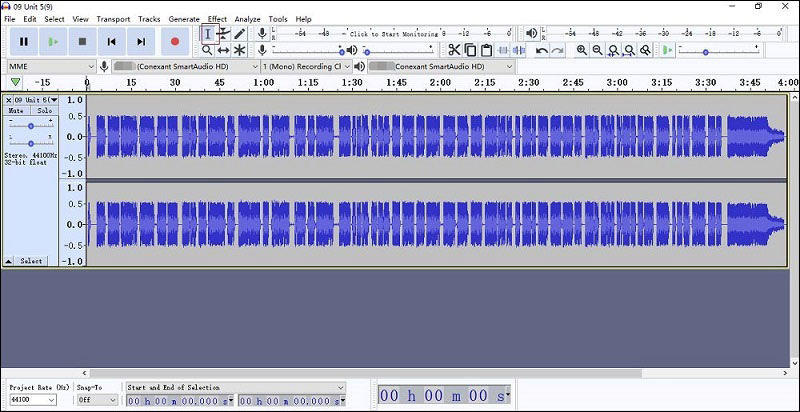 2. Hindenburg Journalist
Hindenburg Journalist is another excellent podcast recording software. It is a multitrack audio editor designed for podcasters, radio journalists, and audio producers that won't compress sound quality. This program has all the editing tools you need. Once you have finished a podcast, you can use the built-in publishing tool to share your podcast on Libsyn or Soundcloud.
3. Adobe Audition
Adobe Audition is a digital audio workstation, featuring both a multitrack, non-destructive mix/edit environment and a destructive-approach waveform editing view. The interface of Adobe Audition is complicated, but there are a ton of easy-to-follow tutorials online to help you get started. Besides, it provides you with hundreds of royalty-free sound effects to make your podcast interesting.
Step 4. Upload a Podcast
The last task you need to do is to choose a reliable podcast hosting platform to promote your podcasts. Here are some of the best podcast hosting sites on the Internet.
1. Buzzsprout
Buzzsprout is one of the best places to host, promote, and track your podcasts. It offers you a 90-day free trial.

2. Blubrry
Another excellent podcast host site is Blubrry. It provides you with flexible podcast posting subscription plans.
3. Libsyn
Libsyn is another reliable podcast hosting service. It can host and distribute not just audio, but also videos and PDFs.
Bottom Line
Have you mastered how to record a podcast after reviewing this guide? If you find this article useful, just share it with more people in need. Besides, if you have any questions or suggestions when using MiniTool software, please let us know via [email protected] or share them in the comments section below.