WMA and MP3 are popular audio file formats. If you want to know the difference between them, you should read this post carefully. Besides, this post from MiniTool provides some WMA to MP3 converters for you. Now, let's see the details about WMA vs MP3.
There are three categories of audio file formats - uncompressed audio formats (such as WAV); lossless compressed audio formats (such as FLAC, ALAC); lossy compression formats (such as MP3, AAC). Maybe you are confused with some common audio formats, such as WMA and MP3 audio.
Now, let's see the difference between WMA and MP3.
WMA VS MP3
WMA VS MP3: Definition
The first aspect of WMA vs MP3 is the definition.
What is WMA? WMA is a file format that was created by Microsoft as the default for their media applications. WAV is simply a shortened version of WAVE. It uses the PCM encoding method and it is used by audio CDs. WMA minimizes the file size by storing compressed audio without sacrificing too much sound quality.
Related article: The Best Free WMA Converter You Can Use On Windows
What is MP3? The file format was created by MPEG programmers. It is a digital format for the storage of audio files. As one of the most needed codecs for digital encoding, it is widely used in various file-sharing sites to evaluate downloads.
Also see: Best MP3 Recorder – Capture Any Audio to MP3
WMA vs MP3: File Size
Now, I will introduce WMA vs MP3 for file size.
At lower bit rates, WMA and MP3 have similar file sizes. For example, at a speed of 64 Kbit/s, a five-minute audio file saved in WMA format is 2.6MB, while the same file saved as MP3 is 2.4MB.
However, at higher bit rates, MP3 format files are smaller. The speed of the WMA file is 192 Kbit/s, which is 10.4MB, and MP3 is 7.2MB. WMA files grow to 20.8MB at 320 Kbit/s, while MP3 is as small as 12.1MB, accounting for 58% of the WMA file size.
WMA vs MP3: Quality
The next aspect of MP3 vs WMA is quality.
Both WMA and MP3 are lossy audio compression formats, and they also provide optional bit rates. Common bit rates are 128, 160, 192, and 256 Kbps. The maximum bit rate of these two audio formats is 320 Kbps. Compared with the original sound source, the standard of audio quality is subjective.
In fact, at bit rates above 128 Kbps, the audio quality of the two formats may be similar. However, if the bit rate is lower than 64 Kbps, the quality of WMA will be better, because MP3 will lose a lot of details, such as high frequencies.
WMA vs MP3: Compatibility
Then, let's see MP3 versus WMA compatibility.
As an unofficial standard for digital music, MP3 files are compatible with almost all the latest audio software running on Windows, Linux, OS X, and other operating systems. Besides, the MP3 format is compatible with most digital music players and many mobile phones, tablets, set-top boxes, smart TVs, DVD players, Blu-ray players, and car stereo systems that support digital music playback.
Also see: Blu Ray VS DVD: What's the Difference Between Them?
Thanks to the official license agreement or unofficial third-party implementation of the WMA format, standard WMA files without DRM protection can be used with most audio software on Windows, OSX, and Linux. What's more, it's compatible with many of the latest digital music players and other consumer electronics products.
Although WMA can be played in most OS and players, it has poor compatibility with old digital players and electronic products released before WMA became popular.
WMA vs MP3: Pros and Cons
The last aspect of WMA vs MP3 is the pros and cons.
WMA
MP3
Pros

1. It's convenient for Windows users.

2. It has better sound quality at low bit rates.

3. It beats the LAME-free MP3 at the popular 128 kbps bitrate.

1. Almost all music devices support it well.

2. It provides very good general sound quality while using about 1/10 of the lossless music CD space.

3. The sound quality of MP3 is linearly related to the bit rate in the range of 32 kbps to 320 kbps.

Cons

1. It supports fewer devices than MP3.

2. WMA standard is not enough to beat LAME MP3.

1. Many sound details are lost, especially at low bit rates and higher frequencies.

2. It is a bit difficult to optimize high-quality MP3 songs.
Which One to Choose
Then, you may wonder you should choose WMA or MP3. If you can't distinguish any obvious quality differences, both formats are perfect for you. For people who work in a quiet environment and want to listen to music with higher quality, 192 kbps MP3 may be a better choice.
All in all, whether you choose WMA or MP3, it is based on your needs.
Convert WMA to MP3
Since WMA is not supported by all media players, you may encounter the "Cannot play the file" issue when you try to open the WMA file. To solve this, you'd better convert WMA to MP3. I will introduce some free converters for you to convert WMA to MP3.
1. MiniTool Video Converter
If you want to convert WMA to MP3 on Windows, it's recommended to do it with MiniTool Video Converter. It is a comprehensive file converter, which not only allows you to accomplish your various video/audio conversion tasks but also enables you to download videos, audio tracks, playlists as well as subtitles from YouTube.
Here is how to use MiniTool Video Converter to convert WMA to MP3.
Step 1: Download and install MiniTool Video Converter on your Windows PC.
Step 2: Launch it. In the Video Convert section, click Add Files to upload the WMA file you want to convert.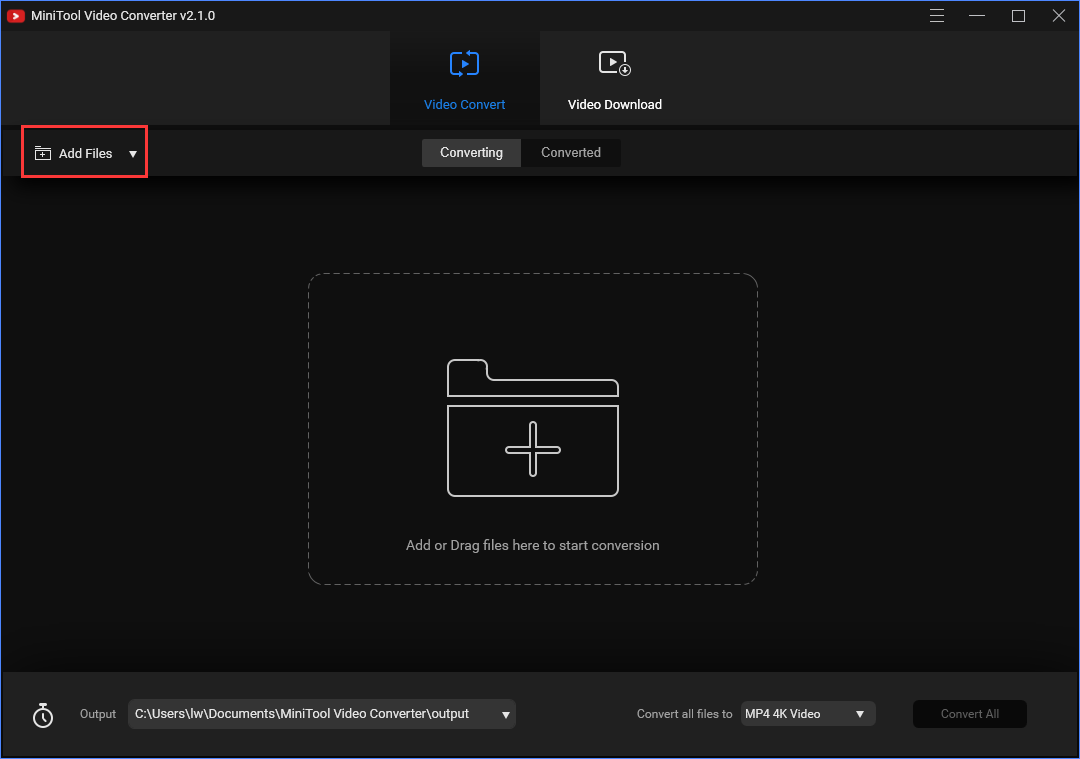 Step 3: Then, go to the Convert all files to part. Navigate to the Audio tab and scroll down to choose the MP3 file format. Besides, you can choose the audio quality and resolution.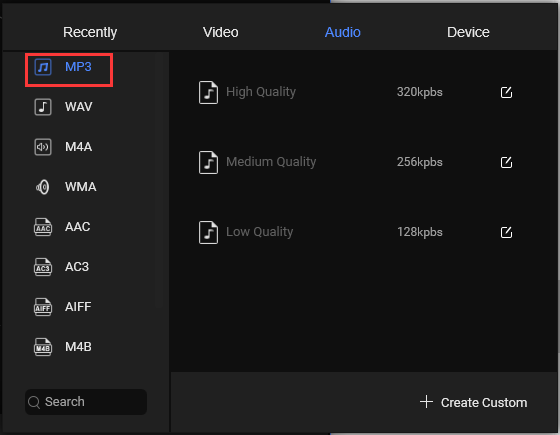 Step 4: Then click the Convert button to convert WMA to MP3.
Main Features
It supports batch video conversions at once.
100% free, no bundles, no ads, and no watermarks.
It supports to change some parameters for the output video and audio format.
It is only suitable on the Windows platform.
2. VLC Media Player
If you are a Mac user, VLC Media Player is a great choice for you. VLC is a free and open-source multimedia player. It can play most media files, DVDs, VCDs, Audio CDs, and video streaming services. Also, this player is compatible with all platforms including Windows, Linux, Mac OS X, Unix, iOS, Android, and many more.
Now, you can follow the steps to convert WMA to MP3.
Step 1: Download VLC Media Player from the official website and install it on your computer.
Step 2: Then launch it and navigate to Media > Convert / Save....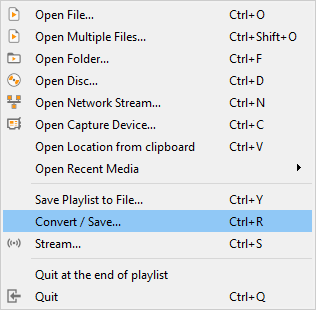 Step 3: Click the Add... button to import the MWA file and click Convert / Save.
Step 4: Click the triangle icon to drop down the output format list and choose the Audio – MP3 option. Then, click Browse to select a destination folder and click the Start button.
Now, you can go to the destination folder to find your MP3 file.
3. Zamzar
If you don't want to install any software, you can convert WMA to MP3 online. You can use Zamzar to do that. It supports more than 1200 file formats and it can work with any operating system. Besides, it has a remarkable conversion speed and the uploaded file can be as large as 50 MB. Here is how to use Zamzar to convert WMA to MP3 online.
Step 1: Go to the Zamzar official website and choose Add File... to add the WMA file.
Step 2: Click Convert To to select the MP3 format and click the Convert Now option.
Step 3: Then, it will start the converting process. You just need to wait for it. After that, you can click the Download button to save the MP3 file on your PC.
4. Online Convert
You can also use Online Convert to do that. It supports many media files include video, audio, eBook, image, software, documents, and archive. It offers extensions for browsers and apps for iOS and Android. It supports you to import files in different ways. Here's how to use the online converter to convert WMA to MP3.
Step 1: Go to Online Convert. Find the Audio Converter part and select the Convert to MP3 option from the list.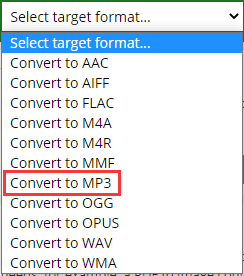 Step 2: Click Choose Files to select the WMA file that you want to convert. Then, click Start conversion.
Step 3: After that, it will automatically download the converted file on your device.
Also see: Top 10 WMV to MP3 Converters (Desktop & Online)
Bottom Line
WMA vs MP3: what's the difference between them? Choose WMA or MP3? How to convert WMA to mp3? After reading this post, you know a lot of information. Just choose a proper video format based on your actual needs.
If you have any idea of WMA vs MP3, please let us know by leaving it in the comment part or contacting [email protected].
WMA VS MP3 FAQ
What are the disadvantages of WAV?
The WMA file takes up a lot of storage space since it is an uncompressed WAV file format.
Tracks saved in WMA format are not suitable for online upload because of the large size.
Converting from compressed audio files to WAV files may not recover the original audio source's full sound.
What Android music player can play WMA files?
You can use the VLC media player to play WMA files. The VLC mobile application provides a wide range of video and audio formats. Not only can it be used to play a local music library, but it can also stream music videos from YouTube and other sites.
How do I play WMA files on Windows 10?
Right-click the WMA file that you want to play.
Navigate to Open with > Choose Windows Media Player.
Then, the software will start to play the WMA files on Windows 10.