A professional MP3 recorder app enables you to record any audio playing on your computer. Therefore, if you want to record a podcast or a live stream, you can do it with audio recorder software. In this article, we'll introduce 5 best MP3 recorder software and detail on how to capture any audio into MP3.
Modern technology provides us with a variety of simple options for recording the audio you want. And here are the 5 best MP3 recorder software you can choose. No matter what device you're using, there is always one that can meet all your needs.
Want to edit the recorded MP3 file or add it to a video? Maybe you can give MiniTool MovieMaker a try.
1. WavePad Audio Editing Software
Supported Platforms: Windows, Mac
Wavepad is an excellent audio software that you can use to record your MP3 audio easily. It can also be used as an MP3 editor, which allows you to cut, insert, auto-trim, compress, pitch shift, and more. This MP3 recorder also provides you with a wide variety of audio effects including amplify, normalize, equalizer, reverse, and many more.
Features:
Support almost all audio file formats.
Work with multiple audio files at the same time.
Hundreds of sound effects and royalty free music clips.
A wide range of audio-editing capabilities.
Built-in audio enhancement function.
2. Audacity
Audacity is a free and open-source audio application that helps you record your MP3 audio, and edit audio with the various advanced features supporting trimming, adding effects, etc. Besides, this high-performance program ensures that the recorded audio can also be shared with other platforms.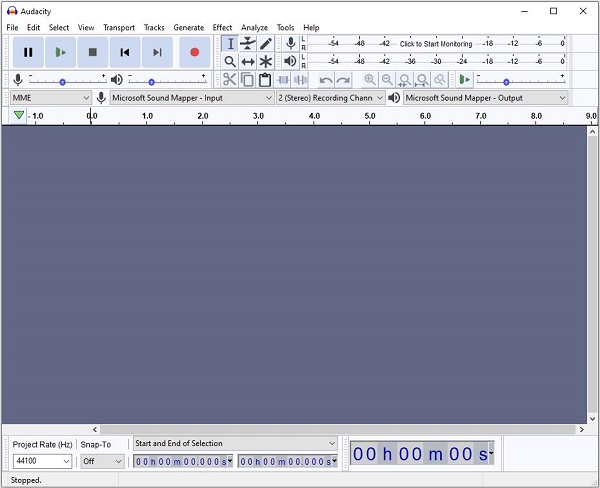 Features:
Record live audio through a microphone or mixer.
Import, edit, and combine audio files.
Real-time preview of effects.
Large range of keyboard shortcuts.
Multi-track editing is supported.
3. Adobe Audition
Supported Platforms: Windows, Mac
Adobe Audition is a comprehensive audio toolset that includes multitrack, waveform, and spectral display for creating, mixing, editing, recording, and restoring audio content. It provides you with the professional level of audio recording and it also comes with many advanced features that can help you to make the audio file more appealing.
Features:
Hundreds of royalty-free sound effects.
Mix and master every audio project.
Produce awesome podcasts.
Include multitrack, wave editing, and audio restoration tools.
The audio break can be repaired.
4. Ocenaudio
Supported Platforms: Windows, Mac OS X, Linux
Ocenaudio is a cross-platform and easy-to-use audio editor and is used by most people as an MP3 recorder. This software is very suitable for those who need to record, edit, and analyze audio files. In addition, it also has powerful features that will attract more advanced users.
Features:
VST plugins support.
Real-time preview of effects.
Efficient editing of large files.
Include multi-selection.
Recording screen is supported.
5. Free Sound Recorder
Free Sound Recorder is a free MP3 recorder, designed to capture any external or internal sound for free and save it into MP3, WAV, WMA, etc. Also, it allows you to adjust the volume and balance while recording, and the recordings will be of high quality just like you expect.
Features:
Built-in media player.
Capture any sound played by your computer.
Record music from any online music streaming site.
Schedule for longtime and handsfree recording.
Enhance audio files and recordings.
Allow recording audio directly into MP3, WMA, WAV, or OGG.
Bottom Line
The above are 5 outstanding MP3 recorders that you can download easily on your devices. Which one do you want to try first? If you have any questions or suggestions about it, please let us know via [email protected] or share them in the comments section below.