You have some old videos and want to upscale them to 1080p or 4K. How to upscale videos? How do you increase video resolution while keeping the video quality? Read this post and learn how to upscale your videos with or without losing quality.
Video upscaler is a tool that turns lower-resolution videos into higher-resolution videos. In this post, I'll introduce a free video upscaler and two AI video upscaling software and then show you how to use them to upscale video to 1080p or 4K.
MiniTool Video Converter
MiniTool Video Converter is a video converter as well as a video resolution converter. It's capable of upscaling and downscaling videos. You can use it to convert 720p to 1080p, 1080p to 4K, 4K to 1080p, 1080p to 720p, etc. But MiniTool Video Converter won't improve your video quality after finishing the conversion.
Besides that, MiniTool Video Converter comes with two great features: screen recording and video downloading. With it, you can record streaming videos and download video or audio from YouTube.
Here's how to upscale videos with MiniTool Video Converter.
Step 1. Download and install MiniTool Video Converter. Then launch this software after you install it on the computer.
Step 2. Click Add Files to add the video file that you want to change its video resolution.
Step 3. After importing the video file, click the diagonal icon to open the Output Format window. Then switch to the Video tab, select an output format and choose the desired output resolution.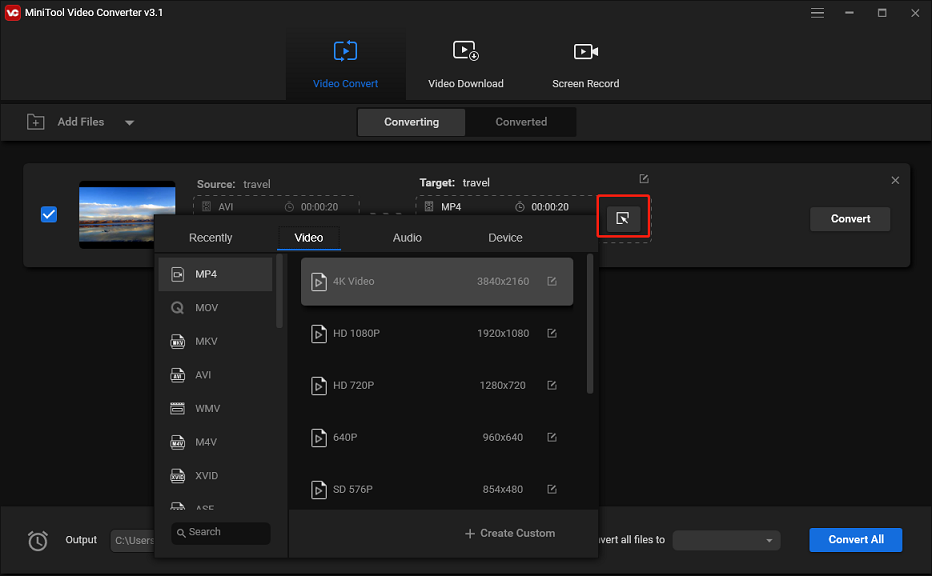 Step 4. Click the Convert button to upscale the video. When the process completes, go to Converted and click Show in folder to find the upscaled video.
Topaz Video Enhance AI
Topaz Video Enhance AI is a professional video upscaling software developed by Topaz Labs. It can upscale videos from HD to 4K, and even 8K with the best results, increase video frame rate from 24fps, 30fps to 60fps, and create a smooth slow-motion effect without stuttering.
Topaz Video Enhance AI is a paid software and costs $299.99. This software works on both Windows and macOS.
Take the following steps to upscale video with Topaz Video Enhance AI.
Step 1. Download Topaz Video Enhance AI from its official website and complete the installation.
Step 2. Run the program and import the video that you want to upscale.
Step 3. In the right panel, choose the desired resolution preset under the Output Videos.
Step 4. Click Start processing to get started. It will take hours to process the video.
Also read: Best Free Ways to Convert Video to 60FPS in 2021
DVDFab Enlarger AI
DVDFab Enlarger AI is an excellent AI-powered video upscaling software. It supports upscaling videos from SD to 1080p or 1080p to 4K. During the process of video upscaling, DVDFab Enlarger AI will improve video quality and enrich the details of video images.
This 4K upscaler costs $139.99 and runs on Windows and macOS.
Here's how:
Step 1. Download and install DVDFab Enlarger AI. Run it after finishing the installation.
Step 2. Choose the Converter module and click the + to add the target video from your computer.
Step 3. Click profile switcher and select Enlarger AI. Then adjust the Advanced settings.
Step 4. Once done, export the video.
Conclusion
The top 3 video upscalers are listed in this post. Now, choose a video upscaler and upscale your videos to 4K!