OGG and MP3 are popular audio file formats. If you want to know the differences between them, you should read this post carefully. Besides, this post from MiniTool provides some OGG to MP3 converters for you. Now, let's see the details about OGG vs MP3.
OGG and MP3 are the two commonly used compressed audio file types. Both of them are suitable for downloading, copying, and storing. Some music enthusiasts wonder about the differences between OGG and MP3. This post introduces information about OGG vs MP3.
Overview of OGG and MP3
First of all, we will provide basic information about OGG and MP3.
What Is OGG
What is OGG? OGG is a bitstream container format for efficient streaming and file compression. The OGG file extension is most commonly associated with the OGG Vorbis file format. OGG refers to the container format of these files and Vorbis refers to the compression technology designed for the OGG file format.
The OGG file format is frequently used to create and distribute music and movie files. It is similar to the MP3, VQF, and AAC format. The OGG file can be opened on multiple devices, such as VLC, Windows Media Player, Xion Audio Player, and so on.
What Is MP3
What is MP3? MP3 was created by MPEG programmers, which is a file format commonly designating files containing an elementary stream of MPEG-1 Audio or MPEG-2 Audio encoded data, without other complexities of the MP3 standard.
It is a digital format for the storage of audio files. As one of the most needed codecs for digital encoding, it is widely used in various file-sharing sites to evaluate downloads.
OGG VS MP3
This part focuses on OGG vs MP3 including similarities and differences.
| | | |
| --- | --- | --- |
| | OGG | MP3 |
| File Extension | .ogg | .mp3 |
| Type | Lossy audio format | Lossy audio format |
| Compression | Vary bitrate | Constant bitrate |
| Source | Free source | Patented |
| Audio quality | compromised | compromised |
| Compatibility | Windows and Android | Mac, Windows, Android, and Apple devices |
OGG VS MP3: Similarities
OGG vs MP3 for similarities are as follows:
Both MP3 and OGG are compressed digital audio.
Both of them belong to the category of lossy audio formats.
Both of them are easier to share via email and can be stored in a cloud folder since they have small sizes.
After conversion, although compressed, MP3 and OGG can successfully retain most of the original audio data.
OGG VS MP3: Differences
Here are the differences between OGG vs MP3.
OGG VS MP3: Quality
For MP3 VS OGG, the first thing that should be compared is the quality.
Since the encoding in OGG Vorbis is more efficient than MP3, OGG usually sounds better than MP3. OGG encoding at 192 kbps is better than MP3; however, OGG and MP3 have the same quality at 128 kbps.
In short, OGG is better than MP3 in quality.
OGG VS MP3: Compatibility
As for the audio, compatibility is an important point that you may pay attention to. Thus, let's talk about OGG VS MP3 for compatibility.
You can play MP3 almost anywhere, but OGG can not. MP3 can be played on mobile phones, computers, receivers, and so on, but in most cases, these devices are not compatible with OGG. If you downloaded a song in OGG format from Spotify, and you want to play it on a device without the Spotify app. Since the song is exclusive to Spotify, you cannot play it on the song.
Also see: How to Upload Music to Spotify and Enjoy It
As for compatibility, MP3 is the winner.
OGG VS MO3: Popularity
As for OGG Vorbis vs MP3, we have compared the quality and compatibility. In this part, we will mention the third factor: OGG vs MP3 popularity.
MP3 is more common than OGG. For MP3, it is almost like a common format in the audio industry, thus it is more popular and compatible than OGG. MP3 will be a great choice for scenarios such as sharing music with friends or uploading music to social platforms.
Related article: 7 Best Free Music Sharing Sites to Promote Your Music
Thus, MP3 is more popular than OGG in popularity.
OGG VS MP3: Which One Is Better
Some music fans want to know whether they should choose OGG or MP3. The following is a summary and you can make a reference.
MP3 is more common than OGG Vorbis.
In terms of sound quality, OGG is better than MP3.
In MP3, the compressed bit rate remains the same and cannot be changed, while in OGG Vorbis, the compressed bit rate can be changed according to your requirements.
If you want to keep the file size small, both OGG and MP3 can meet your needs.
All in all, there is no definite answer to choose MP3 or OGG. The choice should still be based on your personal preferences. But you need to notice that the file should be compatible with your operating system. It is best to prepare enough space for the file.
From the OGG VS MP3 part, you have known that the OGG format is not as popular as MP3. Therefore, many people are looking for a simple way to convert OGG to MP3 for better compatibility. Then, you can learn how to convert OGG to MP3 in the next section.
How to Convert OGG to MP3
Convert OGG to MP3 on Windows
If you're a Windows user, you can use MiniTool Video Converter and Format Factory.
MiniTool Video Converter
Available on Windows, MiniTool Video Converter is a 100% free and safe audio converter. which allows you to convert one audio format to another, audio to video, or even video to audio. Therefore, it is an ideal choice for people who want to convert OGG to MP3 or MP3 to OGG for free. Besides, it is also capable of downloading YouTube content.
Now, let's see how to convert OGG to MP3 with MiniTool Video Converter.
MiniTool Video ConverterClick to Download100%Clean & Safe
Option 1. Convert an OGG file to MP3
Step 1. Launch MiniTool Video Converter.
After downloading and installing MiniTool Video Converter, run it on your computer and enter the main interface.
Step 2. Upload the OGG file.
Under the Video Convert tab, click the Add Files button and then choose the OGG file that you want to convert and click Open. Alternatively, you can add the file by clicking the + icon.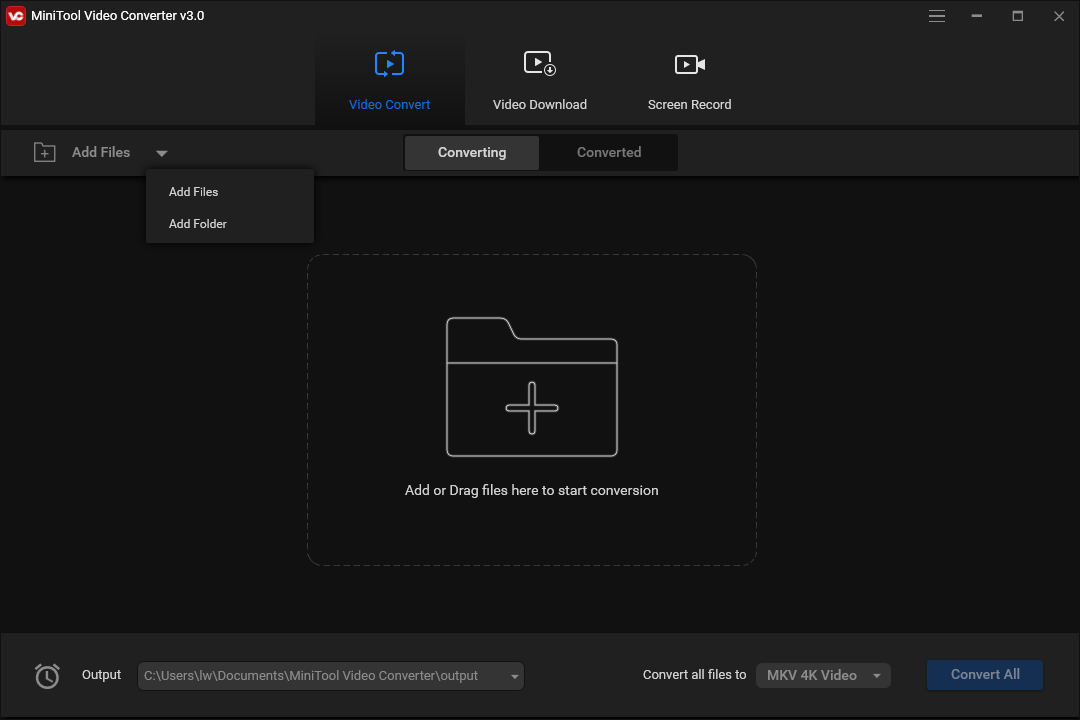 Step 3. Select MP3 as the output format.
Click the diagonal arrow under Target and go to the Audio tab to view all of the output audio formats. Then select MP3 and choose an audio quality from the right side. Besides, you can click the Edit icon to change parameters for the output MP3 file.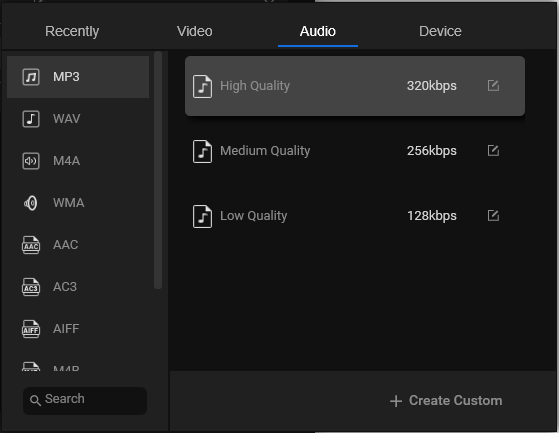 Step 4. Start the OGG to MP3 conversion.
Click the Convert button to start the conversion. After conversion, navigate to the Converted tab and locate the converted MP3 file by clicking Show in folder.
Option 2. Batch convert OGG files to MP3
Step 1. Run MiniTool Video Converter on your PC.
Step 2. If multiple OGG files are not in the same folder, create a new folder and put all the OGG files to be converted in it. Open the Add Files drop-down arrow to select Add Folder from the list. Then upload the folder containing multiple OGG files that you want to convert.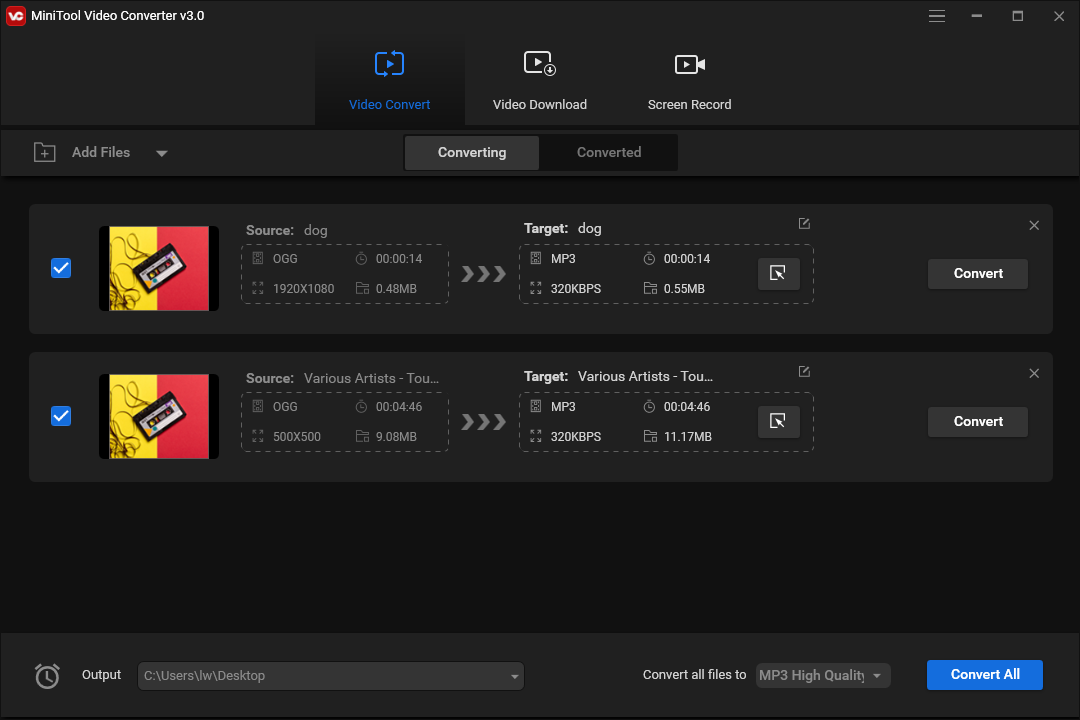 Step 3. Click the drop-down arrow next to Convert all files to. Switch to the Audio tab and select MP3. Then choose an audio quality you prefer.
Step 4. Click the Convert All button to convert all OGG files to MP3 format. Then, you can check the converted files under the Converted tab.
Format Factory
Format Factory is a free and multifunctional tool that allows converting audio, splitting audio, ripping Music CDs to audio files, recording video, and more. Besides, it can be used to download videos from streaming sites including YouTube.
Here's how to convert OGG to MP3 by using it:
Step 1. After installing Format Factory, you need to open and run it.
Step 2. Tap Audio and choose MP3 format as the output format.
Step 3. Click on Add File to open the target file. Then you can change the Output Setting or clip the audio track if you want.
Step 4. Once you're done, click OK.
Step 5. Lastly, you can click the Start button in the toolbar to start converting OGG to MP3.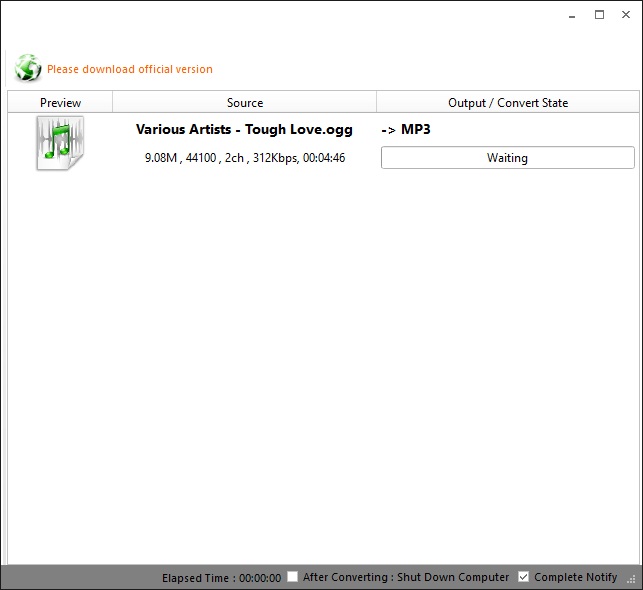 Convert OGG to MP3 on Mac
For Mac users, VLC Media Player is a great option. It's a free and open-source multimedia player. It can play videos and audio files in any format or convert them to other formats. Also, VLC works on all platforms including Mac and Windows.
Take the following steps to convert OGG to MP3.
Step 1. Download and install this software on your computer.
Step 2. Then launch it and navigate to Media > Convert/ Save….
Step 3. Press the Add… button to import the OGG file and click on Convert / Save to go on.
Step 4. Tap on the triangle icon to drop down the output format list and choose the MP3 option. After that, choose Browse to select a destination folder and click the Start button.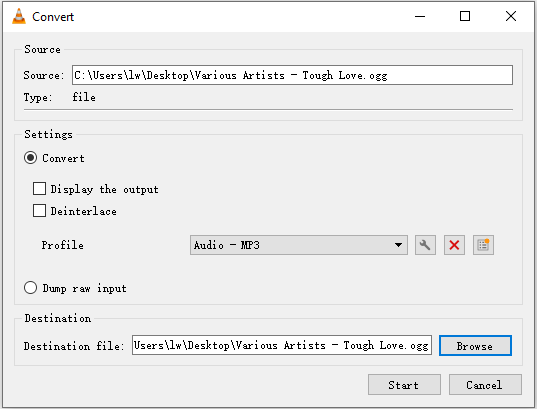 Step 5. When the converting process finishes, you can find the MP3 file in the destination folder.
Convert OGG to MP3 Online
If you want to convert OGG to MP3 without any software, you need to try online converters. Zamzar is a web application that can convert OGG to MP3 online. It supports over 1200 file formats.
Here's how:
Step 1. Head to Zamzar and choose Add Files… to add the OGG file.
Step 2. Click Convert To to select the MP3 format from the drop-down list and click Convert Now.

Step 3. After that, you can click the Download button to save the OGG file on your device.
Bottom Line
To sum up, this post has introduced what OGG is and what MP3 file is. And this post also has shown the differences between OGG and MP3.
As for OGG vs MP3, if you have any different ideas, you can share them in the comment zone. If you want to convert OGG to MP3, you can try these ways. If you have any problem with MiniTool Video Converter, please feel free to contact us via the email [email protected] and we will reply to you as soon as possible.
OGG VS MP3 FAQ
Is OGG lossless?
OGG is a free and open container format that offers audio tracks at lower bit rates than other lossy formats. OGG is not lossless, but it can be streamed over the Internet at full speed. Lossless audio formats include FLAC, WMA, and ALAC.
Is a WAV file better than MP3?
The WAV and MP3 are two different formats of audio files. The WAV file has better quality than the MP3 file since it is lossless and uncompressed. However, the WAV file takes up more space than the MP3 file.
How do I convert MP3 to OGG?
You can use some audio converters to convert MP3 to OGG such as MiniTool Video Converter, VLC Media Player, Format Factory, and so on.
How to play the OGG file?
Many software can be used to play OGG files, such as Windows Media Player, Xion Audio Player, Audials One, and Adobe Audition, etc. You can also play OGG files online through Google.