Have you ever heard of M3U? If you don't have an explicit understanding of M3U and have no idea how to play M3U files, don't miss this post. Need a professional media converter? MiniTool Video Converter is recommended here.
What Is an M3U File?
M3U is the abbreviation of MP3 URL or Moving Picture Experts Group Audio Layer 3 Uniform Resource Locator, and it is a computer file format for multimedia playlists. It is the most popular format among all premium IPTV devices.
One common use of the M3U file format is to create a single-entry playlist file that points to a stream on the Internet. The file created can be easily accessed to the stream and is usually used for downloading from websites, for sending emails, and for listening to Internet radio.
Although originally designed for audio files, it is often used to point media players to audio and video sources, including online sources.
Also read: What Is H264 & How to Play/Convert H264 Files
How to Play M3U Files?
The M3U file itself is not a media file. Instead, M3U is a playlist format and M3U files can be easily opened with text editors. However, to play the songs it containing, you need a media player.
VLC Media Player
VLC is a versatile M3U player that works on Windows, macOS, Android, iOS, and other operating systems. It can play any video and audio, even stream video and audio online. Apart from M3U, it also supports playlist file types, like M3U8, PLS, XSPF, WVX, CONF, ASX, IFO, CUE, and others.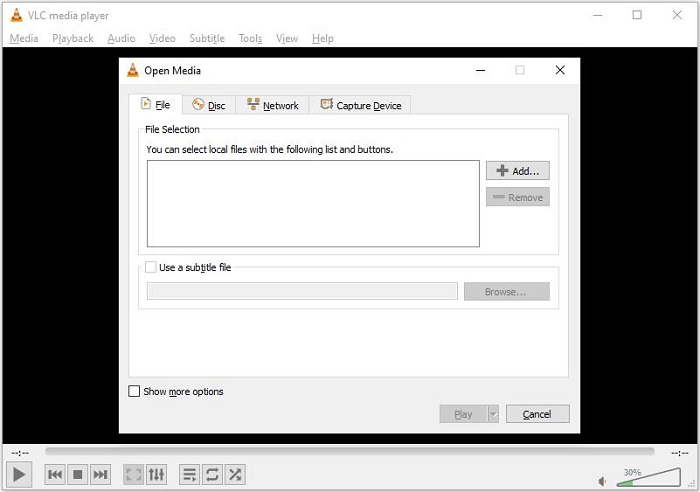 Open your M3U File using a text editor.
Copy the URL of the playlist.
Launch VLC Media Player on your PC.
Click the Media tab and select Open Network Stream.
Select Network and then paste the copied URL when a new window pops up,
Click Play.
Related article: [9 Ways] How to Fix the VLC Error "Your Input Can't be Opened"
iTunes
iTunes is a popular media player developed by Apple Inc that is available on Windows and macOS.  Meanwhile, it can also be used as a professional M3U player. Simply import the M3U file to iTunes, and all content it includes will appear in the Internet Songs section.
Copy the URL of the M3U playlist.
Open iTunes on your PC.
Click File and select Open Stream.
Paste the copied URL in the pop-up window.
Go to the Library section of iTunes.
Click Internet Song and play your desired song.
Related article: 7 Best Online Voice Recorders in 2021 [Free & Safe]
How to Convert M3U Files?
Since M3U files are only text files and do not contain actual media files, you cannot convert them into playable media formats, such as MP3, MP4, etc.
If you still insist on converting M3U files, you can consider converting M3U to other playlist formats, such as XSPF and M3U8, or other text formats, such as HTML and TXT through a professional M3U file converter.
Bottom Line
Do you have a deeper understanding of the M3U format after reviewing this post? If you have any questions or suggestions about M3U, please let us know via [email protected] or share them in the comments section below.