This post will give you a brief introduction to MPV files and tell you how to play MPV files on your computer as well as how to convert MPV to MP4. Want to convert MP4 to other video formats or convert multiple video formats to MP4? MiniTool Video Converter is highly recommended here.
What is an MPV File?
MPV file refers to the MPEG Elementary Stream Video File. It contains a MPEG elementary stream composed of uncompressed video or raw video data stored in MPEG-2 compression. And these files are used to handle raw, uncompressed video content from video recordings stored in digital video recorders. And MPV files do not contain audio data.
You may also like: What Is an LRV File & How to Open and Convert It
How to Play MPV Files?
Unlike the common video formats like MP4 or AVI, MPV files do not have a container format. But it still can be opened with some popular video players that have appropriate codes. How to play MPV files with ease? Look at the following part.
VLC Media Player is a free and cross-platform video player and it almost supports all video formats. Thus, it allows you to open and view various video files. As a comprehensive video player, it also can open MPV files. How to play MPV files with VLC? You can open it, click the Media > Open File to add and play your MPV file, or just right-click the MPV file, click the Open with > VLC Media Player.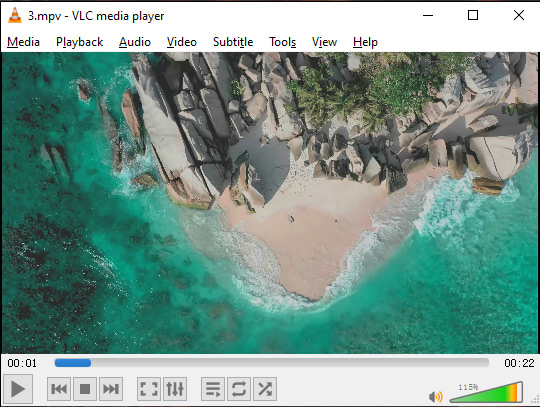 Besides, you can try Windows Media Player or Eltima Elmedia Player to open MPV files on your Windows or Mac.
Also read: Tips on How to Fix Windows Media Player Won't Play DVD
How to Convert MPV to MP4?
When you fail to play MPV files with the above media players, you can try the following 2 MPV to MP4 converters to convert MPV to MP4, and view them in any video player.
#1. FreeConvert
FreeConvert is a free online file converter to convert images, videos, audio files, e-books, and documents. It supports multiple video formats to MP4, such as M4V, RM, ASF, F4V, MPV. And it can also compress videos, images, MP3 and WAV files, crop and trim videos. Here's how it works.
Go to the FreeConvert website, go to the VIDEO Converters box, click the MP4 beneath the Convert My File To.
Click on Choose File to upload your MPV file, and tap the Convert to MP4
Once done, click the Download MP4 to save the MP4 file on your computer.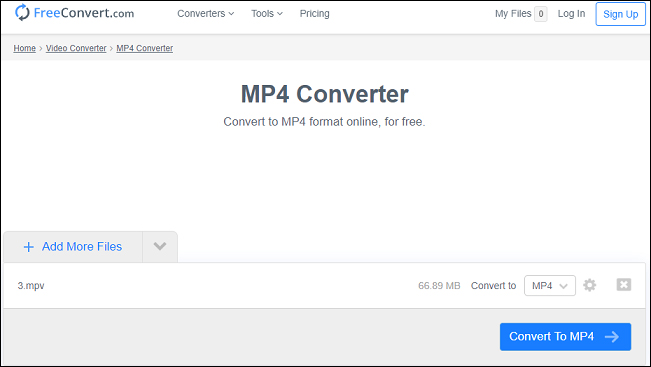 Also read: Solved – What is an MLT File & How to Convert MLT to MP4?
#2. Online-Convert
Online-Convert is also one of the best file converters to convert between multiple formats of video, image, audio, document, archive, etc. And it also supports MPV to MP4.
Navigate to the Online-Convert website, go to the Video Converter section, click the Convert to MP4 from the target format list, and tap on Go.
Hit the Choose Files to add the MPV file. Once uploaded, click the Start conversion.
After the conversion, it will download the MP4 file automatically.
Conclusion
With the brief introduction in this post, now, you must have learned about the definition of MPV files, how to play MPV files and convert MPV to MP4. You can try the media players mentioned in this post to open MPV files. If it fails, try the 2 MPV to MP4 converts and turn it into an MP4 file for your watching.