This post from MiniTool will give you a brief introduction to GSM audio format and how to convert a GSM file to MP3 or turn MP3 into GSM.
What Is a GSM File?
A GSM file is a Global System for Mobile Audio Format file. This format was created for internet telephony in Europe and now it's used to store recordings of telephone conversations and voice messages.
A GSM file can be played on Windows, Mac, and Linux using the VLC Media Player. You can also convert GMS to MP3 to make it compatible with more media players and devices.
If you want to extract audio from a video and convert it to MP3, MiniTool Video Converter is recommended here, a free video and audio converter.
How to Convert GSM to MP3 and Vice Versa
This part will give 3 audio file converters and teach you how to use them to convert GSM to MP3 or MP3 to GSM. It allows you to upload a file up to 100MB from Google Drive, Dropbox, and your device.
#1. Convertio
Convertio is an online GSM to MP3 converter. It also supports MP3 to GSM. You can use it for free and without registration.
Step 1. Go to the Convertio website and click Choose Files to upload your GSM file.
Step 2. Click the button between to and the settings icon, choose MP3, and click the Convert.
Step 3. Once done, download the MP3 file.
Also read: What Is an FSB File & How to Open FSB Files & Convert FSB to MP3
#2. AnyConv
AnyConv is also a great tool to convert GSM to MP3 or MP3 to GSM online for free. It does not require an account and has no file size limit.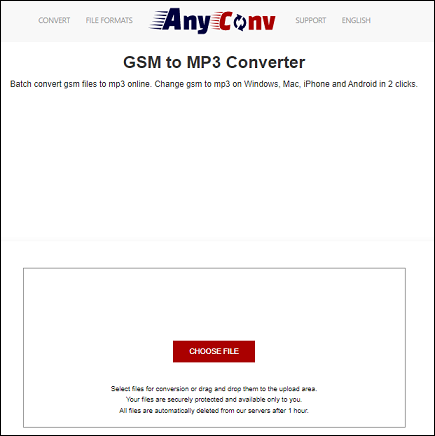 Step 1. Navigate to the AnyConv website and click the Choose File to add your GSM file.
Step 2. Choose MP3 as the output format and click the CONVERT button.
Step 3. Once finished, download the MP3 file from this site.
#3. Online-Audio-Convert
Online-Audio-Convert is another online GSM to MP3 and MP3 to GSM converter. Also, it can convert MP3 to iPhone ringtone, AAC, WAV, MP2, DTS, and more.
Step 1. Open the Online-Audio-Convert site (https://online-audio-convert.com/).
Step 2. Click the Open Files to upload a GSM file from your PC.
Step 3. Once the file is uploaded, select MP3 and choose one from Economy 64 kbps, Standard 128 kbps, Good 192 kbps, and Best 320 kbps.
Step 4. Click the CONVERT and download the MP3 file after the conversion.
#4. Switch Audio Converter
If you need a GSM to MP3 converter for your Windows PC or Mac, you can try Switch Audio Converter, a stable and comprehensive audio converter developed by NCH Software. It also supports MP3 to GSM.
Switch Audio Converter has a free version available for non-commercial use.
Step 1. Download and install Switch Audio Converter, open it and click the Add File(s) button to add your GSM audio file.
Step 2. Select the .mp3 from the Output Format list. Click the Browse to choose an output folder.
Step 3. Tap the Convert at the bottom right corner to start the conversion.
Conclusion
GSM is an audio format designed for telephony use in Europe. You can try the above methods to convert a GSM file to MP3.