A DVF file is a Sony Digital Voice file, but many media players can't open this file. You can convert it to common audio formats like MP3, WAV. In this post, we'll introduce 2 free DVF converters to convert DVF to MP3. Need to convert other audio files like OGG, M4A, AC3, M4B, M4R to MP3? Try MiniTool Video Converter.
Before learning free DVF converters, let's look through the basic information about DVF files.
What is a DVF file? A file with the .dvf file extension is a DVF file, and it refers to the Sony Digital Voice file used by Sony digital IC recorders. And the DVF is a compressed audio file format.
Many players and devices don't support DVF files. But luckily, there are 2 free DVF file converters to convert DVF to common audio formats MP3, WAV for other purposes.
Best Free DVF Converters
#1. Sony Sound Organizer
Sony Sound Organizer is a versatile audio program for importing, playing, and editing the recordings of Sony IC recorder, and it also comes as the best free DVF converter to convert DVF to MP3 or WAV. And this application can also create audio and MP3 CDs from an IC recorder or other audio files, record your commercial CD and convert it to a Sound Organizer format.
How to convert DVF to MP3 or WAV with Sony Sound Organizer?
Step 1. Download and install Sony Sound Organizer (https://www.sony.com.hk/en/electronics/support/downloads/00016975)on your Windows PC.
Step 2. Launch this free DVF converter, click the File > Import recording file… to select your DVF file. Then you'll see the DVF file in the Recording Files section under the My Library. And you can also play it directly.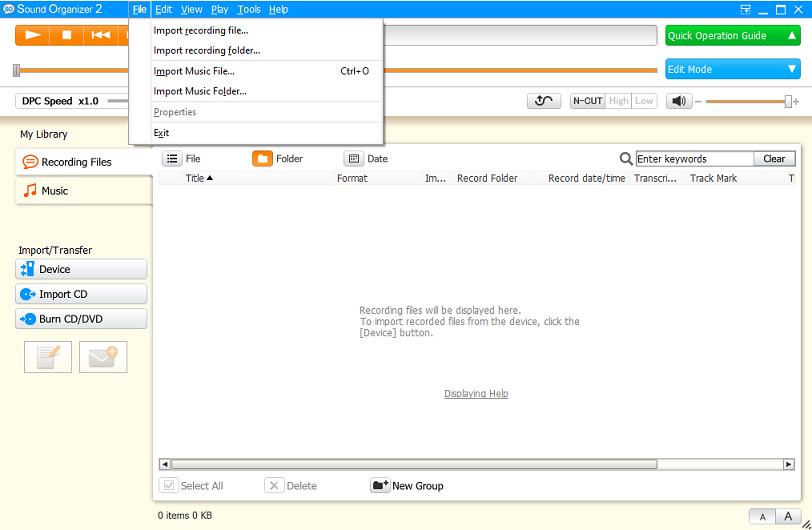 Step 3. Right-click your DVF file, select the Convert and Save… button, then give it a name and choose the output folder, and choose MP3 or WAV as the output format, click the OK to start the conversion.
#2. Switch Audio Converter
Switch Audio Converter is a powerful audio converter, supporting conversion between 75+ audio file formats. And it's also a reliable DVF to MP3 converter and DVF to WAV converter. How to use this free DVF file converter?
Step 1. Download Switch Audio Converter from the NCH website, then install and open it on your device.
Step 2. Tap on Add File(s) button to locate the desired folder, then choose your DVF file, and click the Open.
Step 3. Click the Browse to select another folder to save the converted files, and select the .mp3 or .wav from the dropdown list of Output Format.
Step 4. Tap on the Convert button at the bottom right corner to convert the DVF file to MP3 or WAV.
A free version of Switch Audio Converter is available for non-commercial use only.
Need to record a WAV file? Check this post: 5 WAV Recorders to Record WAV Files on Windows/Mac/Android/iOS
How to Open a DVF File
How to open DVF files? There're two solutions: Sony Digital Voice Player and Windows Media Player with Sony Player Plug-in.
Sony Digital Voice Player is a free program designed for playing Sony IC Recorder files, including DVF files, ICS files, MSV files, and WAV files. With this software, you can open DVF files quickly and easily.
The second effective method to open DVF files is using Windows Media Player with Sony Player Plug-in. Just go to the official website (https://www.sony.com/electronics/support/downloads/W0002054) and download this plug-in. After installation, restart your computer. Then double-click the DVF file and Windows Media Player will start up and play it automatically.
Also read: How to Fix Windows Media Player Cannot Play the File: 12 Ways
Conclusion
This post gives two free DVF converters and shows you how to use them to convert DVF to MP3 or WAV and two ways to open DVF files on your computer. Now, you can try the above ways to convert and play your DVF file.