An FLA file refers to the animation project file created by Adobe Animate. And it can only be opened with Adobe Animate. If you want to play an FLA file on another video player, you can convert it to another format MP4. And this post will explain how to convert FLA to MP4. Need a free video converter? Try MiniTool Video Converter.
What Is FLA File?
An FLA file is an animation project file created by Adobe Animate (formerly Adobe Flash Professional), a computer animation program to create animation films, GIFs, and cartoons. The FLA files stores the basic media (graphics, text, video, and other elements), timeline, and script information for an Animate document.
Many users may wonder how to open FLA files or is there any other FLA file opener. But in fact, you can only open FLA files with Adobe Animate. If you want to play your Adobe Animate FLA file with other players, you should convert it to other common formats.
Also read: Top 6 Best Adobe Animate Alternatives You Should Know
How to Convert FLA to MP4
And when you install Animate from the Creative Cloud desktop application, Media Encoder will be automatically installed. Thus, you can directly convert an FLA file to MP4. Just follow the below steps to convert FLA to MP4 with Adobe Animate.
Step 1. Open Adobe Animate on your computer, then click the File > Open to browse for your FLA file, select it and click the Open.
Step 2. Preview your video file and you can continue to edit it.
Step 3. To export from Adobe Animate, click the File > Export > Export Video/Media… option.
Step 4. From the Export Media pop-up window, select H.264 from the Format list and set the Preset as Default (AME). Make sure the box of Start Adobe Media Encoder Render Queue immediately is checked. And you can also adjust the render size as you like.
Step 5. After choosing the output folder, tap the Export button and the conversion task begins.
Related article: How to Export After Effects to MP4 with/Without Media Encoder
Adobe Animate enables you to export animations in many formats, such as SWF, MOV, AVI, GIF. To export an FLA file to another format, just click File > Export > Export Movie, then choose the desired output format, and complete other output options, and export your video file. And the QuickTime Movie (.MOV) file is the default output format.
If you use a Windows PC or laptop, you can try MiniTool Video Converter to convert MOV to MP4. Here's how to use MiniTool Video Converter to convert MOV to MP4.
MiniTool Video ConverterClick to Download100%Clean & Safe
Open MiniTool Video Converter after installation, click the Add Files to add your MOV file.
Click the Convert all files to button, go to Video > MP4, and select video quality.
Tap the Convert button to start the MOV to MP4 conversion.
Once done, go to the Converted tab, click the Show in folder to locate the converted file.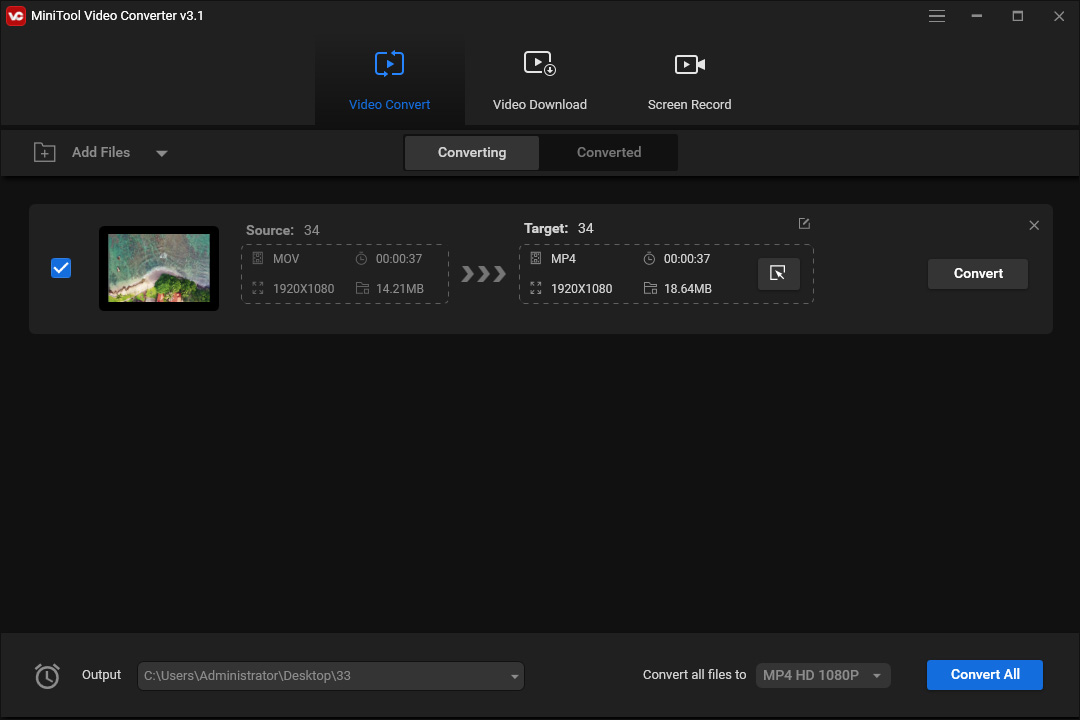 And if you need to convert MOV to MP4 on Mac, you can try VLC Media Player, iMovie, QuickTime, etc. 
Conclusion
Now, you know what an FLA file is and how to convert FLA to MP4. And if you like this post, just share it with friends.