This post from MiniTool Video Converter mainly tells you if Sony Vegas supports importing MKV or AVI files, supported input video formats of Sony Vegas as well as effective ways to open MKV and AVI files within this software.
Does Sony Vegas Support MKV & AVI
Sony Vegas or Vegas Pro is a video editing software package for non-linear editing compatible with Windows operating systems. It's designed to create professional videos with all the basic to advanced tools.
Many users said they had problems importing MKV to Sony Vegas. Likewise, other users received an error message saying an error occurred while opening a codec when they try to open an AVI file into Sony Vegas for editing.
Sony Vegas supports importing standard video formats like MP4, MOV, M4V, MPG, MPEG, WMV, MXF, etc. Does Sony Vegas support MKV? Does Sony Vegas support AVI?
Yes, Sony Vegas supports MKV and AVI file formats. However, sometimes when you try to open MKV or AVI into Vegas Pro for further editing, you might receive a warning message that says "An error occurred while opening one or more files. The reason for the error could not be determined".

That means you fail to open MKV or AVI files into Song Vegas. To fix this error, continue to read the following part.
How to Import MKV/AVI Files to Sony Vegas on Windows 11/10
If Sony Vegas can't recognize your MKV or AVI files, an effective way for this error is to convert MKV or AVI to a Sony Vegas compatible format like MP4.
There're many MP4 converters, including both desktop applications and online services.
Among the long list of MP4 converters, the MiniTool Video Converter is recommended here. It's a professional and free video editor for Windows 11/10.
With MiniTool Video Converter, you can convert MKV or AVI to MP4, MOV, WMV, MPEG, and more. Here's a quick guide.
Step 1. Download and install MiniTool Video Converter on your PC.
Step 2. Open MiniTool Video Converter and click Add Files to upload your MKV files.
Step 3. Click the button next to Convert all files to, go to the Video tab, choose MP4, and click the MP4 option with the desired resolution.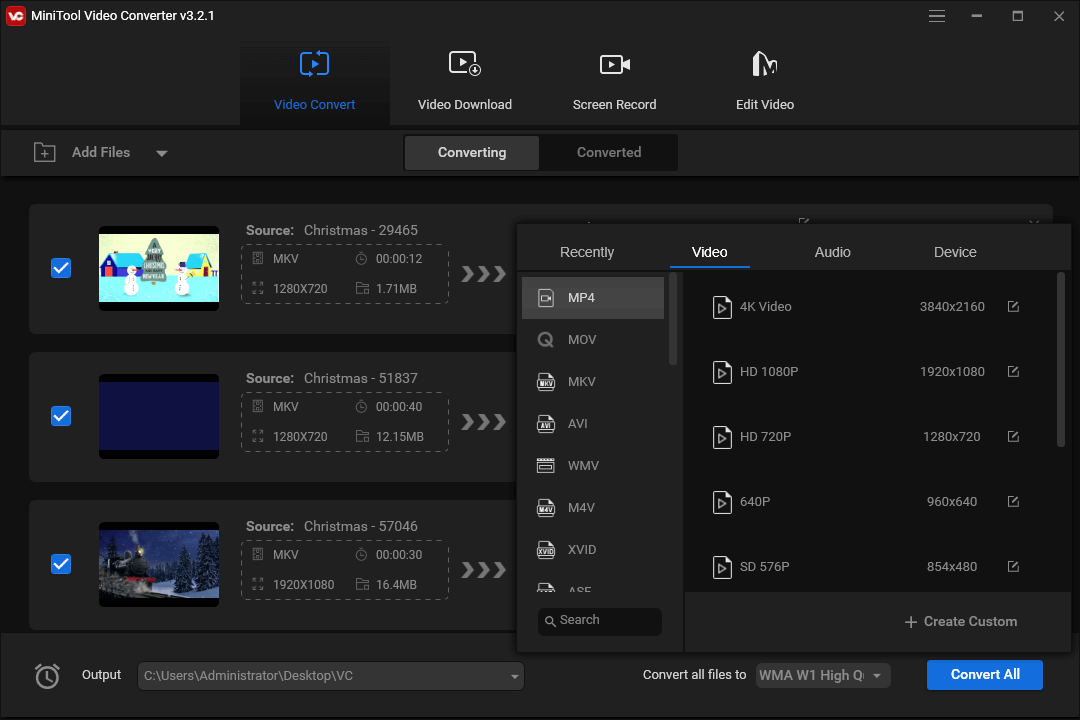 Step 4. Choose the folder to save the converted files and click Convert All to start the conversion.
Now, open Vegas Pro on your PC. Click File > Open and you should open the converted MP4 file successfully.
Also, you can use MiniTool Video Converter to convert between multiple video and audio formats, record your computer screen, and save your favorite video from YouTube.
A Sony Vegas Alternative to Edit MKV & AVI Videos on Windows 11/10
In addition to Sony Vegas, there're many other MKV and AVI video editors. When Song Vegas fails to open your MKV or AVI files for editing, you can try a Sony Vegas alternative like MiniTool MovieMaker to edit your MKV or AVI file.
MiniTool MovieMaker is a great MKV and AVI video editor. It can rotate, flip, trim, split, and crop videos, change the clip's playback speed, apply filters, and more. More importantly, it supports exporting videos up to 1080p without watermarks.
Tip: How to Separate Audio and Video in Sony Vegas
Follow the steps below to separate audio and video in Sony Vegas:
Step 1. Click File > Open to open your video.
Step 2. Right-click on the clip, choose Group, and then click Remove From. Then, you can drag the audio track as you like or delete it.
Conclusion
Although Song Vegas supports MKV and AVI formats, sometimes you may have problems opening them into this application. When you meet this error, convert your file to another Sony Vegas-supported format, and then open it into Sony Vegas again.