What Is a CDA File
A file with the .cda file extension is a CDA file. Developed by Microsoft Windows, CDA is used for each audio track on a CD. These files are shown in the directory for the CD being viewed in the format Track + individual track number.
Unlike other common audio formats like MP3, AAC, WAV, CDA files do not include the actual audio data, but they can tell you where on the disc each track starts and stops.
After inserting an audio CD disc into a Windows computer, the CD driver will automatically produce a list of 44-bytes CDA files that can tell your computer when to play each audio track. If you want to open these tracks, just click the CDA shortcut. And songs ripped from an audio CD are usually saved as uncompressed WAV or AIF files.
How to Play CDA Files
A CDA file is just a representation of audio tracks on a CD and it does not contain any music or audio. When you directly copy CDA files from a CD to another folder or device, and you'll find these files invalid. Thus, when a CDA file is separate from its CD, it will not play.
Thus, to play CDA files, you should make sure there is an audio CD disc that these CDA files can instruct your computer. By double clicking the CDA shortcut, the CDA file will often play in Windows Media Player. Also, you can try VLC Media Player, iTunes, Winamp, Final Media Player, RealPlayer, etc. to play CDA files.
Top 3 CDA File Converters
How to convert CDA files to other formats like MP3, WAV? This part will introduce 3 CDA file converters.
1. Windows Media Player
The first recommended CDA file converter is Windows Media Player, helping you to convert CDA to MP3, WMA, or WAV with ease.  
2. Format Factory
Format Factory is a free multimedia converter to convert videos, audio files, images, and documents. Also, it can convert music CD to the audio file, DVD to video file, Blu-ray Disc to MKV, DVD/CD to ISO/CSO. Thus, it is also a reliable CDA file converter, allowing you to convert CDA to MP3, WMA, APE, AAC, WAV, M4A, OGG, FLAC, etc.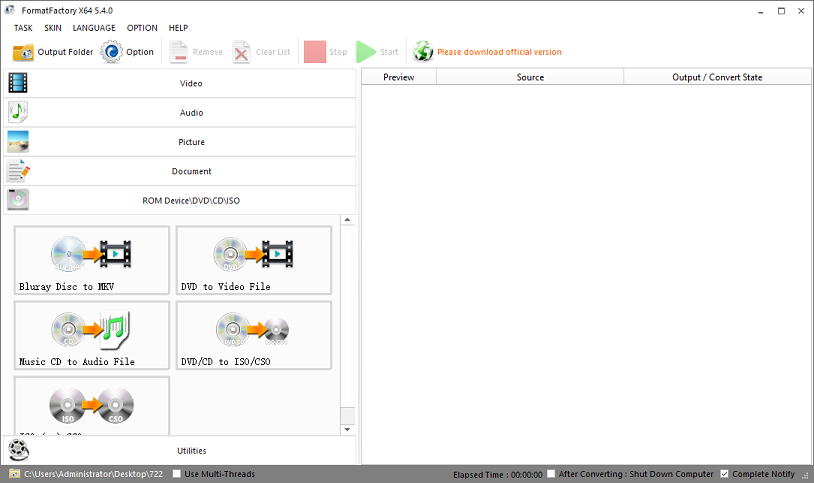 3. VLC Media Player
VLC is a comprehensive media player and it also a media converter. In addition to the common video and audio formats, it can convert DVD, Blu-ray, Audio CD, SVCD/VCD. Thus, it's another CDA file converter to turn CDA to MP3, FLAC, OGG, etc.
Conclusion
That's all about CDA files in this post. If you'd like to share other information with us, just leave them in the below comments area.