720p vs 1080p, if you are wondering which resolution is better and what the difference between 720p and 1080p resolution, you can check the information and analysis below. MiniTool software offers a free video converter to let you easily convert video format and change video resolutions, etc.
720p and 1080p resolution, both are HD resolution with good quality. These two popular display resolutions are widely available in HDTVs, video streaming like YouTube, digital cameras, monitors, gaming, etc.
So here comes to the issue, 720p vs 1080p, which one to choose and what is the difference between 720p and 1080p resolution?
This post explains 720p resolution, 1080p resolution, and compares the difference between them. You can check the details below.
Besides, if you want to convert video format and resolution, like convert video to HD 720p MP4 or HD 1080p MP4, this tutorial also provides a free and easy solution. If you want to download YouTube video for free in 720p MP4 or 1080p MP4, you can also check the detail guide included in this tutorial.
Related: 6 Best Free Screen Recorders Windows 10 | How to Screen Record
720p Resolution
What is 720p? 720p has an image resolution of 1280×720 pixels. It also called standard HD resolution. It is a progressive HDTV signal format with 720 horizontal lines and has an aspect ratio of 16:9.
With 4K and 1080p resolution getting popular, 720p isn't considered as a very sharp resolution for PC monitor, laptop or TV.
1080p Resolution
1080p has a resolution of 1920 by 1080 pixels. It is known as Full HD or FHD. It uses progressive scan rather than interlaced scan. In HDTVs, 1080p displays 1920 pixels horizontally and 1080p pixels vertically. It assumes a widescreen aspect ratio of 16:9. Sometimes 1080p is informally referred as 2K.
Many devices apply the standard 1080p resolution like mobile phones, computer monitors, game consoles, television broadcasts, Blu-ray discs, online streaming like YouTube videos, Netflix movies and TV shows, camcorders and digital cameras, projectors, etc.
720p vs 1080p: Difference between 720p and 1080p Resolution
720p vs 1080p File Size and Quality
In general, the higher the resolution of a video, the sharper the quality and the larger the file size. If you have enough storage space of your phone or camera, you can choose to record video in 1080p since its quality is better, otherwise, you can choose 720p to save some storage space. 720p also displays a very clear image quality.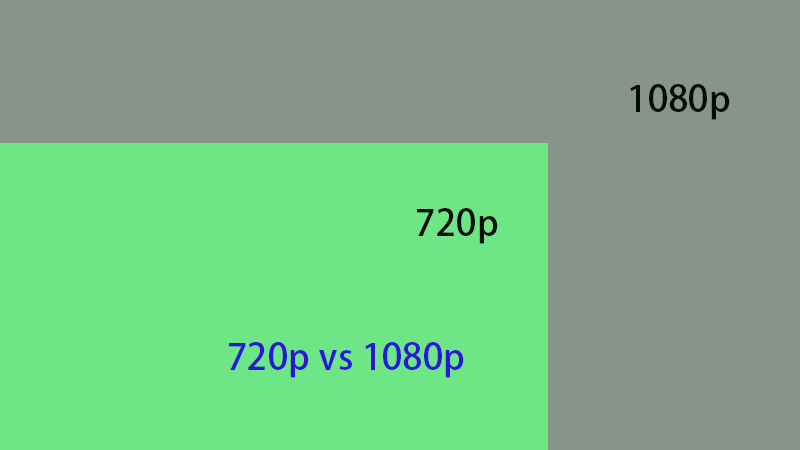 720p vs 1080p Video Streaming
YouTube, Netflix, Vimeo and many other video streaming websites streams content at 1080p or 720p quality. Many of them let you choose 720p, 1080p or other video resolution to stream the video. If your internet connection speed is slow, you can change 1080p to 720p video streaming to get a smoother watching experience.
YouTube Video 1080p vs 720p
YouTube streams much video content in 720p or 1080p resolution. When you watching a YouTube video, you can click the Settings icon at the right-bottom of the video and click Quality option to check its available resolutions. Then you can select 720p, 1080p, 1440p, 2160p, etc. to watch the YouTube video. 1080p displays a sharper image quality than 720p.
How to Download YouTube 720p/1080p Video in MP4 for Free
If you want to download favorite YouTube video in HD 720p/1080p MP4 format for offline playback, you can also easily do it by following the guide below.
All you need is a smart free YouTube video downloader.
MiniTool uTube Downloader is a stellar free YouTube downloader that is compatible with Windows 10. You can use this tool to easily download YouTube video for free and save it to your computer. It allows you to choose the video format and resolution like 720p MP4 or 1080p MP4 to download.
You can download the 100% clean and free MiniTool uTube Downloader on your Windows 10 computer, and check the simple operation below to download YouTube video in 720p/1080p MP4.
MiniTool uTube DownloaderClick to Download100%Clean & Safe
Step 1. Launch MiniTool uTube Downloader
After you install MiniTool uTube Downloader on your Windows 10 computer, you can launch it to enter into its main interface.
Step 2. Input the YouTube video URL
The next step is to copy and paste the YouTube URL in the address bar of this software. You can go to YouTube and play the YouTube video you like and copy its link.
You can also search and play the YouTube video by clicking the Search box in MiniTool uTube downloader. After you play the target video, its link will auto appear in the address bar.
Click the Download arrow button next to the address bar.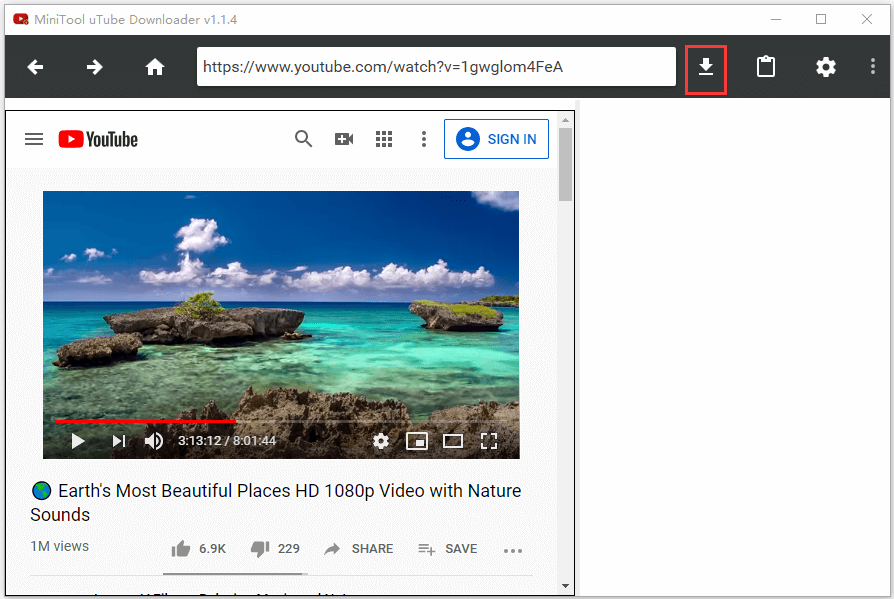 Step 3. Choose 720p or 1080p MP4 to download
Wait a moment and you'll see the output video/audio format window. You can choose a preferred one format like MP4 1080p or MP4 720p, and rightly click Download.
After it finishes downloading, you can click the Navigate to file icon to check the downloaded YouTube video.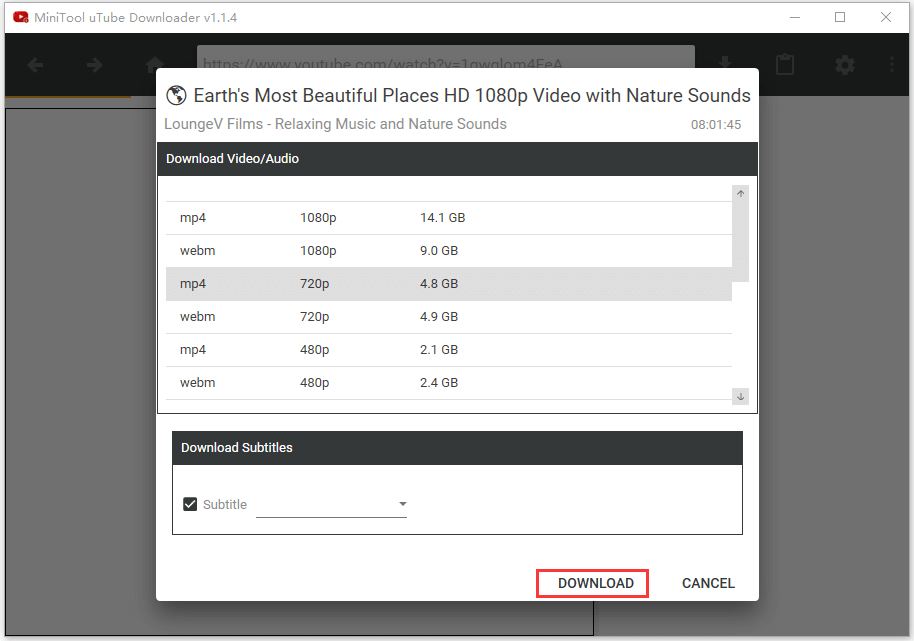 720p vs 1080p Monitor
As for choosing a PC monitor, it's advised you choose a 1080p monitor. If you views a higher resolution video on a lower resolution monitor, it displays lower quality of the video. The monitor will convert the 1080p video into 720p resolution so that it can display it, because the monitor cannot cross its limit of resolution.
1080p vs 720p Gaming
Screen resolution also matters in gaming. Since 1080p delivers crisper visual experience, it will lead to a better gaming experience overall.
720p vs 1080p HDTV
As for what is the best resolution for HDTV, you can go to a 1080p HDTV if you don't care much about the price. If you want to save money, you can choose a lower resolution, the entry-level 720p HD TV.
720p vs 1080p Security Camera
1080p camera has over twice the resolution than a 720p camera. A 1080p camera has a resolution of 2.07 megapixels while 720p camera has a resolution of about 1 megapixel. 1080p security camera offers greater detail with a minimal price increase.
How to Convert 1080p to 720p for Free
With a top free video converter for Windows 10, you can easily convert a video that is in 1080p resolution to 720p with good quality while delivering a fast speed.
MiniTool Video Converter is a 100% free and clean video converter. You can use it to convert 1000+ video/audio formats for free and at fast speed. You can also use it to easily convert 1080p to 720p or vice versa, or compress 4K to 1080p for free (4K vs 1080p). It also allows you to download YouTube videos for free.
MiniTool Video ConverterClick to Download100%Clean & Safe
Step 1. Import source 1080p video
Open the video converter and get into it main UI. You can click "+" icon on the main UI of the video converter to add the source video file to this free video converter software. You can add multiple video files and convert them all at one go.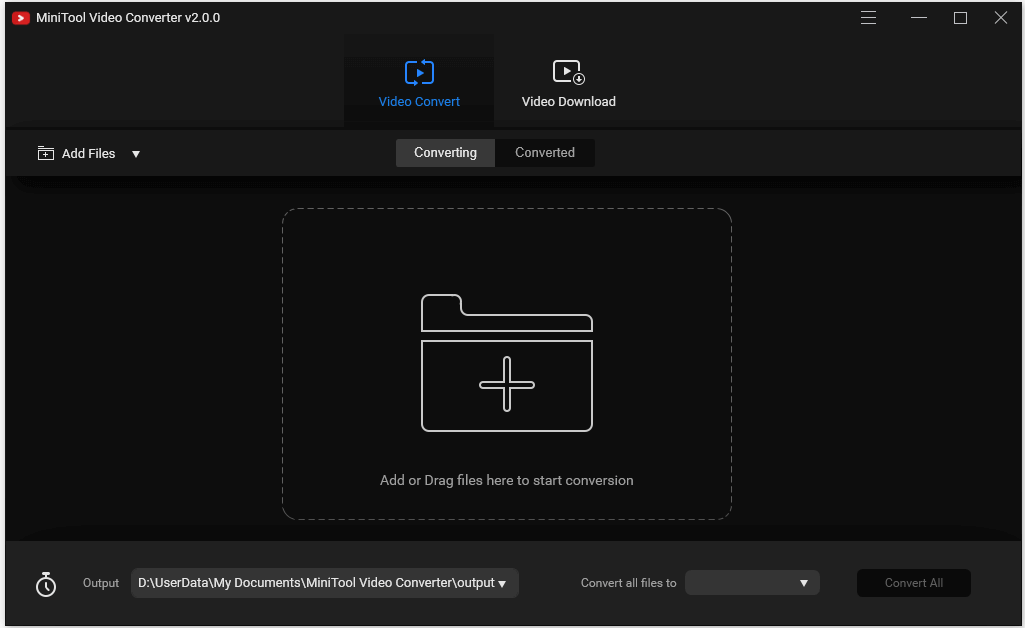 Step 2. Choose output format and resolution
Next you can click the Edit icon at the target video format section. Click Video tab to select an output video format like MP4 in the left panel, and choose HD 720p in the right window.
Step 3. Start converting 1080p to 720p
Click Convert button to start converting any video from HD 1080p to HD 720p MP4 or other format.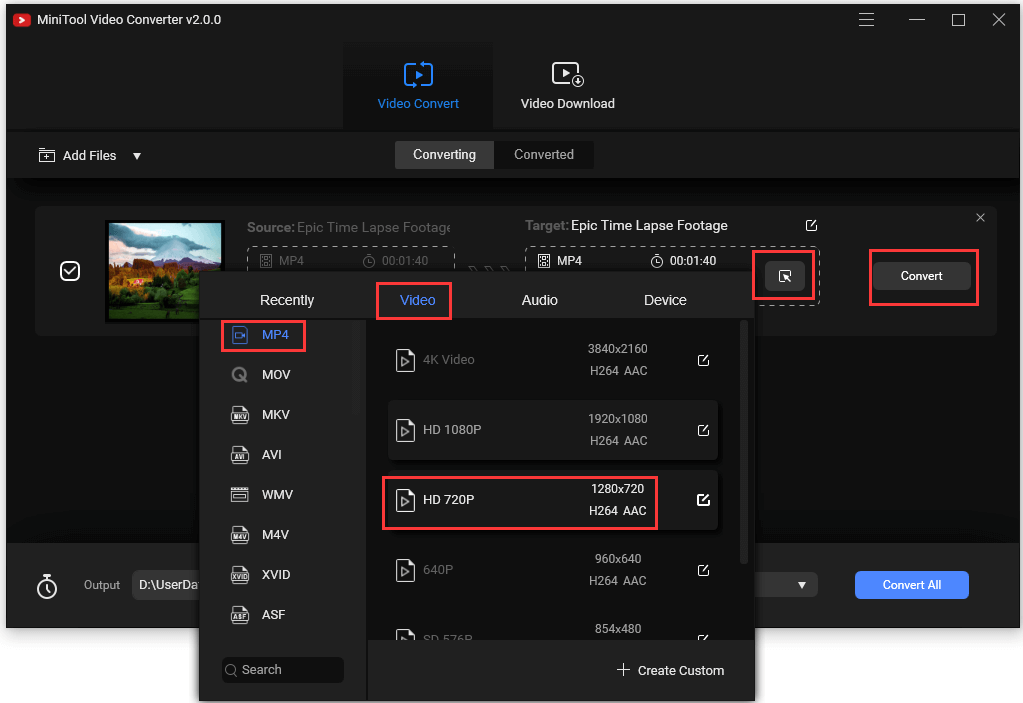 After the conversion, you can click Converted tab on the main UI and click Show in folder icon to open the converted file.
If you add multiple files into this software, you can choose a preferred output format and resolution by clicking the down-arrow icon next to Convert all files to, and click Convert All button to batch convert all loaded video files. Alternatively, you can also choose the output format for each source video file, and click Convert All button to convert all video files.
The professional video converter supports various video and audio formats as input and also provides various output video/audio formats & resolutions for your choice. You can freely convert any video and audio for free at ultrafast speed.
How to Upscale 720p to 1080p for Free
The free video converter can also allow you to upscale 720p to 1080p for free if you want. But please be aware that the video file size may be larger if you upscale a video.
Step 1. Load source 720p video
Launch the free video converter, and add original 720p resolution video into the program.
Step 2. Choose 1080p resolution as output
Click Edit icon next to the output video section and click Video option. Choose an output video format, and select HD 1080p in the right panel.
Step 3. Upscale 720p to 1080p
Click Convert button, and this smart application will fast convert 720p to 1080p.
720p vs 1080p FAQ
Is there a big difference between 720p and 1080p?
The difference between 720p and 1080p image quality is small. 1080p video produces clearer image than 720p, and you can more detailed information of the image in 1080p video. But it depends on the quality of your display device that you use for watching the videos, how big the display is, and how close you are with the video. If you use a high screen resolution display, you would feel the difference between 720p and 1080p more easily.
Is 720p better than HD?
720p and 1080p both are the formats of HD (High Definition). 1080p is also considered as Full HD.
Which is better 720p or 1080p camera?
720p resolution camera is good for many users and it is much affordable than 1080p cameras. 1080p camera can definitely capture sharper images and videos but it needs more storage and bandwidth. You can choose either one based on your own needs.
Can a 720p TV display 1080p?
You can play a 1080p video on a 720p TV, but it will downscale the 1080p video image because the 720p TV doesn't have enough pixels to display the image of 1080p video. So you can't fell the actual 1080p video image quality on a 720p TV.