A WFP file is a video file project used by Wondershare Filmora video editor. How to convert WFP to MP4? This post offers clear steps. And if you need a free video converter to convert common video file formats, MiniTool Video Converter is recommended here.
What Is a WFP File
What is a WFP file? It is the video project file made by Wondershare Filmora, a video editor compatible with Windows and Mac. In other words, a WFP file just simply points to your source files in Wondershare Filmora. Source files refer to the files that will be used in the video that you're making using Wondershare Filmora.
And now WFP is the default project file since Filmora9. It replaces the previous project file WSVE. And both WSVE and WFP files are supported by Filmora9 and later versions.
A WFP file contains the project information, such as the timeline with video clips and any edits you've made like transitions, titles, effects. And it also has the ability to store video and audio settings of the project like resolution, frame rate, size, encoder, bitrate, etc.
How to create a WFP file? After launching Wondershare Filmora, click the New Project, then import and edit your media files, then click the File > Save Project or Save Project as to export the WFP file.
How to open a WFP file? Just run Wondershare Filmora, then click the Open Project or File > Open Project/Open Recent to open your WFP file.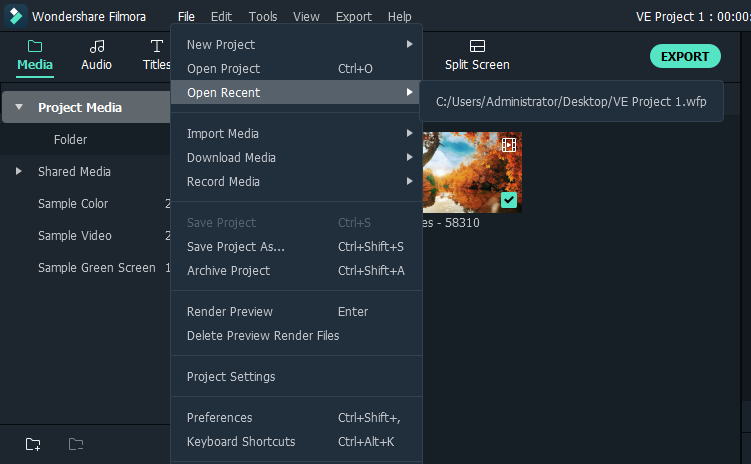 Note:
The other WFP file with the .wfp extension is the WaveFront Program file created by the Turtle Beach WaveFront synthesizer.
Also read: VEG to MP4: What Is a VEG File & How to Convert It to MP4
How to Convert WFP to MP4
From the above information, we've learned that a WFP file is not a real video file. How to convert a WFP file to MP4? This post offers detailed steps to convert WFP to MP4 with the free trial version of Wondershare Filmora on Windows.
Step 1. Open Wondershare Filmora on your PC, then click the Open Project or File > Open Project/Open Recent to open your WFP file.
Step 2. Then the media files and all settings in this WFP file will be displayed. You can continue to edit your videos as you like.
Step 3. After your editing, click the Export button > EXPORT WITH WATERMARK, and click MP4 from the Local list.
Step 4. Give the file a name and choose the destination folder, and click the EXPORT to convert WFP to MP4. Once done, tap the Find Target to locate the MP4 video file.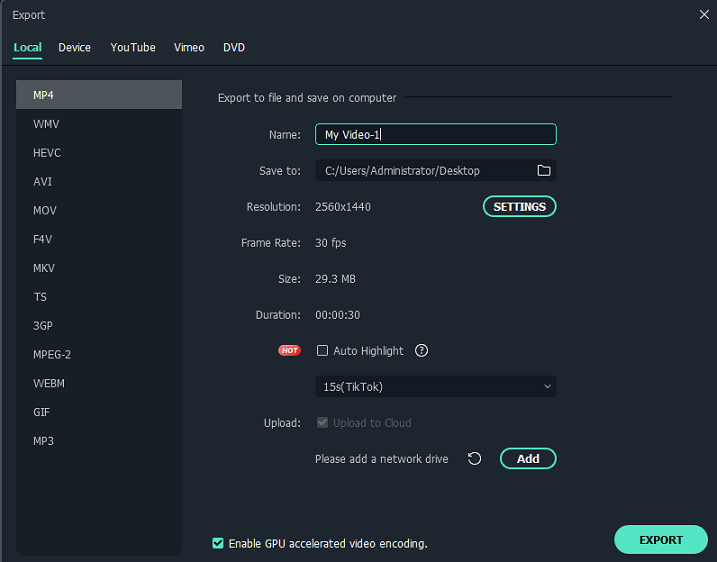 In addition to converting WFP to MP4, Filmora also supports WFP to WMV, AVI, MOV, F4V, MKV, YouTube, Vimeo, and more.
If you use the free trial version of Filmora, you'll find watermarks on the MP4 video after conversion. How to convert Filmora to MP4 without watermarks?
If you need to convert WFP to MP4 or export videos without watermarks using Filmora, you should choose a subscription plan. For individuals, now the annual plan costs $61.99 (original price 67.97).
Related article: Is Filmora Free? Here Are 10 Best Free Filmora Alternatives
Conclusion
After checking this post, you must have learned what a WFP file is and how to convert WFP to MP4 using Filmora. You can follow these steps to convert your WFP or previous WSVE files to MP4.