WEBM is a free and open audiovisual file format designed for the web. Want to turn WEBM files into AVI format? Using a WEBM to AVI converter is a good option. Here are 3 WEBM to AVI converters (including MiniTool Video Converter) to help you convert WEBM video to AVI.
WEBM is a royalty-free media file format sponsored by Google. Many browsers like Google Chrome, Mozilla Firefox, Opera, and Safari and media players like VLC, MPlayer, and MPC have native support for playing WEBM files. But still, some media players don't natively support WEBM playback.
As such, you may want to convert WEBM to AVI. How to convert WEBM to AVI? Here are 3 methods out there.
Method 1. Convert WEBM to AVI with MiniTool Video Converter
Supporting hundreds of conversions, MiniTool Video Converter can convert your video or audio file to any format you want. It's free to use and won't put watermarks on output videos. Besides video & audio conversions, this video converter lets you record computer screen with audio and download YouTube videos in MP4, MP3, and WAV format.
Here's how to convert WEBM to AVI using MiniTool Video Converter.
Step 1. Download MiniTool Video Converter, follow the on-screen instructions to finish the installation, and run it.
MiniTool Video ConverterClick to Download100%Clean & Safe
Step 2. Drag and drop the WEBM file you want to convert to MiniTool Video Converter or click Add Files to add the WEBM file.
Step 3. Click this icon to open the output format window. On this window, switch to the Video tab, choose AVI as the output format and select the desired video quality.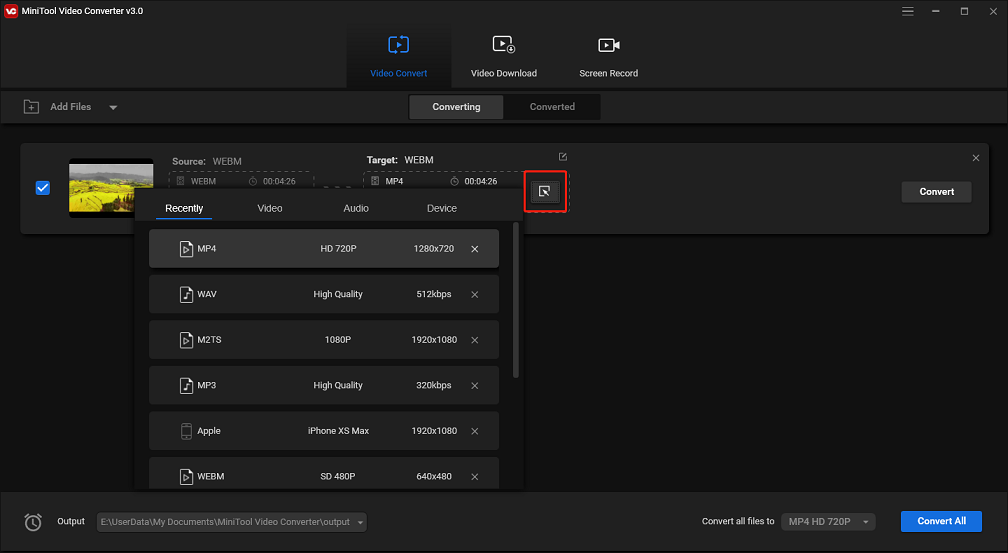 Step 4. Click Convert to convert WEBM to AVI. When the conversion is done, tap on Converted and you will see the converted file.
Method 2. Convert WEBM to AVI with VLC
VLC is known as a powerful media player. Also, it can function as a WEBM to AVI converter. Wondering how to convert WEBM to AVI with VLC? Take the following steps!
Step 1. Open VLC after installing it on your device.
Step 2. Go to Media > Convert / Save…
Step 3. Add the WEBM file to the File Selection box and click Convert / Save to continue.
Step 4. Click the Create a new profile icon to open the Profile edition window. Then enter the profile name "AVI" and choose AVI in the Encapsulation section. Click the Create button.
Step 5. Drop down the profile list and select the AVI option.
Step 6. Click Browse to choose a destination folder and rename the file.
Step 7. In the end, click Start to convert WEBM to AVI.
Method 3. Convert WEBM to AVI with Online Converter
The last method is to use Online Converter. Online Converter, as its name suggests, is a web-based file converter. With it, you can convert WEBM to AVI and AVI to WEBM online for free. The maximum upload file size is limited to 200MB.
Here's how:
Step 1. Visit the Online Converter website.
Step 2. Click Video Converter > AVI Converter.
Step 3. Upload the WEBM file from your device and tap on Convert.
Step 4. Download the AVI file after finishing the conversion.
Conclusion
This post shows you how to convert WEBM to AVI with 3 converters. You can choose the one you like and convert your WEBM file to AVI!