How to convert WAV to MIDI? There are lots of online WAV to MIDI converters that can be used to convert WAV files to the MIDI format for free without requiring you to do tedious tasks. If you want to convert WAV to other audio formats, try MiniTool Video Converter.
WAV vs MIDI
WAV – Waveform Audio File Format
WAV is an uncompressed file format and it is one of the most common audio formats. The format was developed by Microsoft (in collaboration with IBM) and usually stores uncompressed audio data with pulse-code modulation, but it can be used to store sound processed with other audio codecs.
MIDI – Musical Instrument Digital Interface
MIDI is an audio standard that is usually used for communications protocol, connectors that bind multiple musical instruments, computers, audio recording devices, etc. together, and a digital interface to control these things. This type of music file is smaller than other formats because it does not hold any music.
Related article: Best Free WAV to MP3 Converter Online Tool in 2020 [Top 4]
Bear File Converter (Ofoct)
The first one we will introduce is the Bear File Converter, one of the best free online tools. It is very simple to use this online tool to convert WAV files to MIDI. In addition to WAV, you can also convert various other audio formats such as MP3, OGG, AAC, WMA to MIDI.
Even better, it can also convert office documents, audio, video, image, and more file formats for free, and all uploaded and converted files will be automatically deleted within 2 hours. However, it has a limit on the file upload size, which cannot exceed 50M.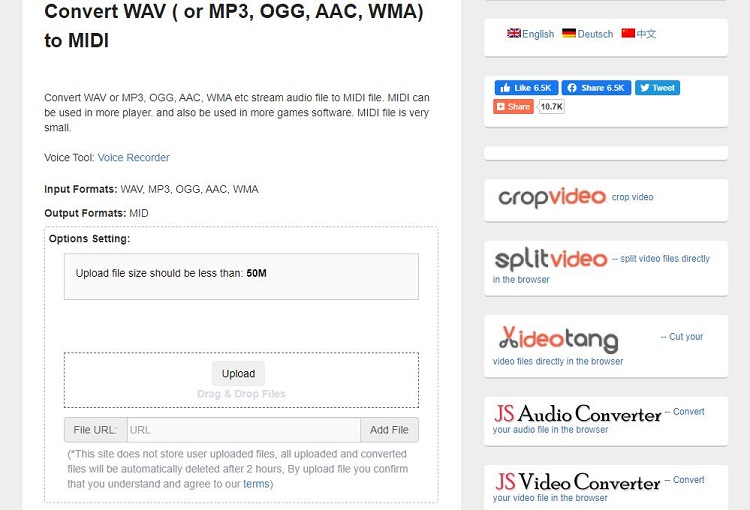 Step 1. On the homepage, select Convert WAV (or MP3, OGG, AAC, WMA) to MIDI under the Audio Converter option.
Step 2. Click the Upload button to add your WAV file for conversion. You can also drag and drop it onto the program.
Step 2. Once the file is loaded, click the Convert button, and the program will start converting.
Step 3. After the conversion process is finished, click the download link to save the converted file for free.
Also read: How to Convert SoundCloud to WAV – 2 Methods
Anyconv
Anyconv is another excellent but free WAV to MIDI online converter. This is the easiest way to convert WAV files, because the entire conversion process is done online, without any download and installation on the computer.
After conversion, Anyconv will delete the uploaded file. More importantly, the site supports more than 300 file formats, including documents, images, audio and video files, e-books, and archives. However, it can only handle files up to 50 MB.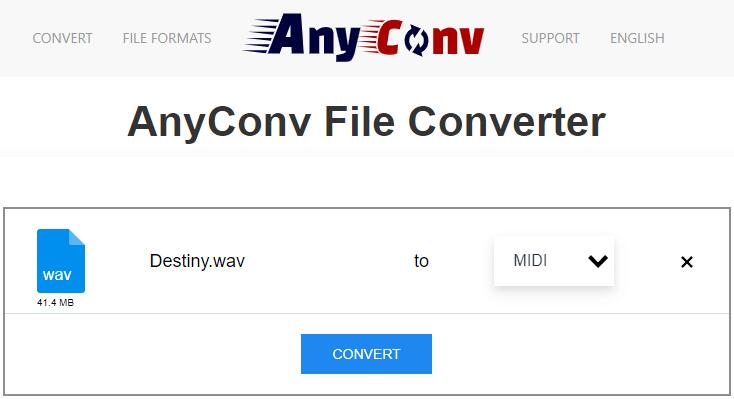 Step 1. Click the CHOOSE FILE button to select a WAV file on your computer or just drag and drop it to the upload area.
Step 2. Open the drop-down list and select the MIDI option.
Step 3. Tap on the Convert button to start conversion.
Step 4. When the conversion process is complete, you can download the MIDI file.
Conversion-Tool
Conversion-Tool is a powerful audio to MIDI converter. Use this tool to convert WAV, MP3, OGG, M4A, and other audio files to MIDI. And, the quality of the final MIDI file depends largely on the input audio file.
In addition, the site also provides a variety of free online conversion utilities, such as document converters, eBook converters, hash generators, etc. You can upload local files from or paste online URLs (not support YouTube) to convert.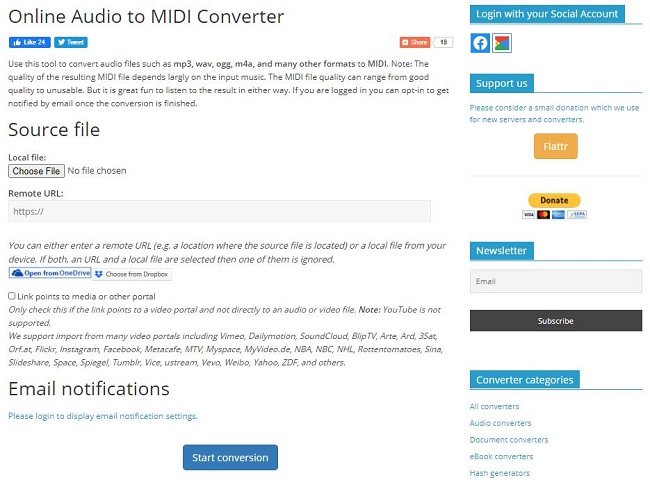 Step 1. Select the Online Audio to MIDI Converter tool from the homepage.
Step 2. Click the Choose File button to import your WAV file, or you can choose to paste a remote URL.
Step 3. Tap on Start Conversion to start converting WAV to MIDI.
Step 4. It may take a few minutes to process the audio file. Once the conversion is complete, you can directly download the output MIDI file.
Bottom Line
Have you mastered how to convert WAV to MIDI after reviewing the above guide? If you have any questions or suggestions about it, please let us know via [email protected] or share them in the comments section below.