This news reported by MiniTool Software mainly introduces the under testing Twitter new feature called Tweet Takes. It elaborates on its announcement, testing, manual, effects, as well as differences compared to TikTok and Instagram video replies.
Currently, this beta testing feature is available just for a small number of iOS users.
Twitter Is Testing a Tweets
The following is a tweet from @TwitterSupport on January 7, 2022, announcing the availability of Twitter reaction for iPhones, iPads, and iPod touches.
Tweet reaction videos can now start on Twitter! Testing on iOS: when you tap the Retweet icon, choose "Quote Tweet with reaction" to create and customize your very own Tweet Take –– a reaction video (or photo) with the Tweet embedded.

https://twitter.com/twittersupport/status/1479185495267721218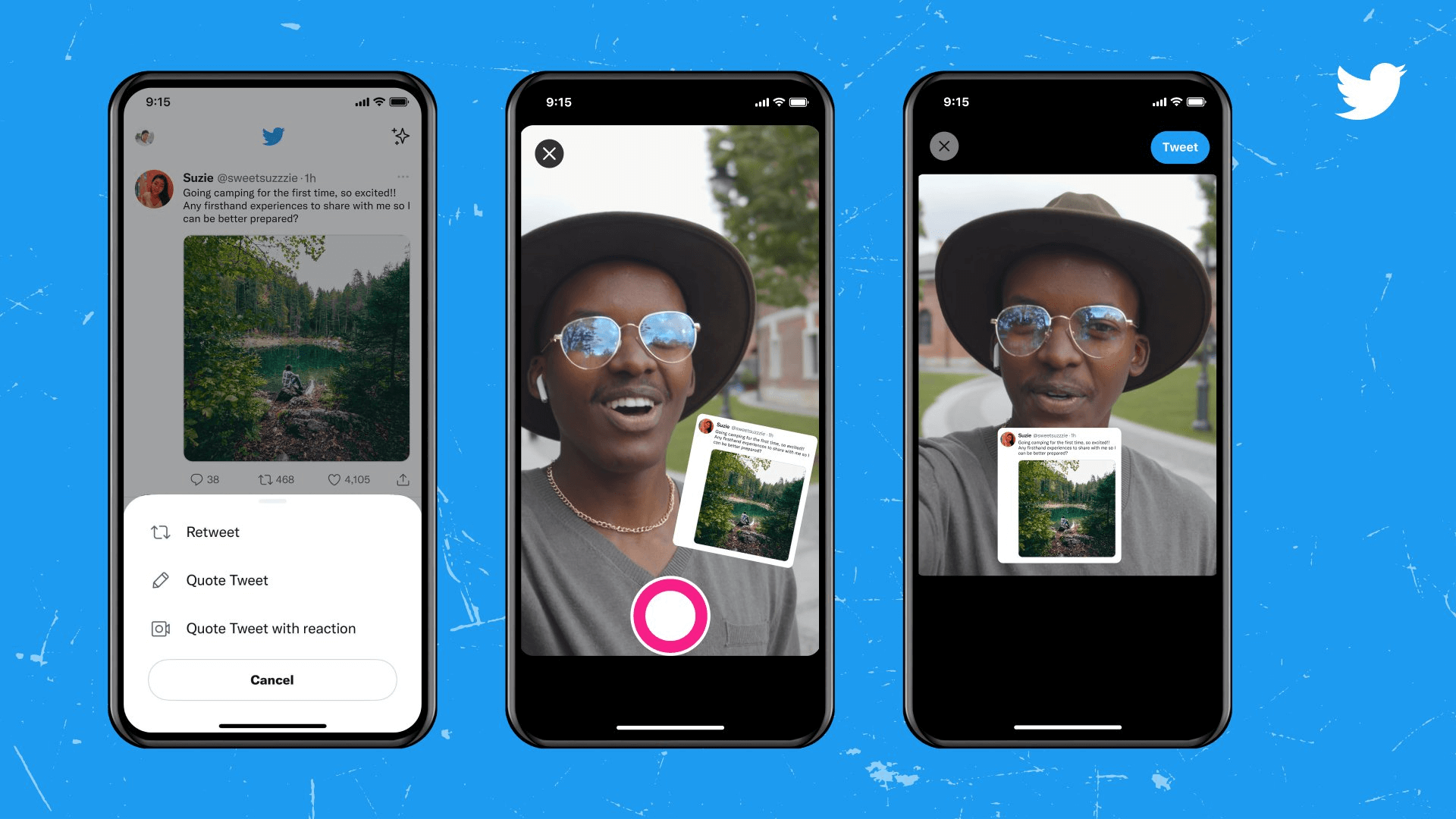 Just as it describes, Twitter is testing an after tweets that can quote tweets of others with your own reactions (video or photo) when clicking the Retweet option. This is awesome! From the release of the feature, you are able to express your idea with images (not only texts) on topics posted by other people.
How to Tweet a Video from Another Tweet?
This new function is named Tweet Takes officially by Twitter. At present, this utility is being tested on iOS devices. Users who can access the fresh feature will see the Quote Tweet with reaction option in the retweet menu.
How to make a reaction video? Just choose the new selection. Then, you will be redirected to a screen that embeds a copy of the source tweet onto a video clip/photo, which can be taken in the app on-site or selected from their camera roll. 
Besides, Sam Haveson, Twitter's senior product lead, demonstrated the new feature by responding to the above announcement with a Tweet Take. The goal of this new feature is to offer users more creative ways to join the conversation and express themselves on Twitter.
When Will Tweet Takes be Available?
At present, some iOS users have already been enjoying this new function. As for other Twitter users, they have to wait for the official release of the utility. Yet, there is no set date. 
The Concerns About Tweet Takes
Some people may concern about the quality of the embedded videos in tweets. While it is easy to moderate the traditional quote tweets (with only texts), it is hard to programmatically scan the contents of a photo or video. Yet, some Twitter features can help to mitigate the bad effects of tweet videos, such as opting out of photo tagging and limiting who can reply to your tweets.
However, currently, you are unable to turn off who can and can't use Tweet Takes on your tweets as it inherits the standard quote tweet behavior. In response to users' concern, Twitter spokesperson Viviana Wiewall told The Verge:
The safety of people on Twitter is our priority and while we don't anticipate this being used in a harmful fashion, we'll be closely monitoring the usage of the product and ensure that any abuse is adjudicated as per the Twitter Rules.
Tweet Takes vs. Twitter Fleets
Twitter built Fleets as a lower-pressure, ephemeral way for people to share their fleeting thoughts. Fleets are supposed to help more users feel comfortable joining the conversation on Twitter. Yet, since this feature was introduced, it hasn't seen an increase in the number of new users joining the conversation. So, Twitter Fleets is shut down on August 3, 2021, 9 months later after its release.
Tweet Takes remind many people of the gone Fleets. Will Tweet Takes be another "Fleets"? Time will tell.
Tweet Takes vs. TikTok Video Reply vs. Instagram Reel Reply
If you are a social media enthusiast and have also been using TikTok and Instagram, you may find that the Tweet Takes feature is similar to TikTok's video reply and Instagram's Reel reply.
Again, Twitter is only testing Twitter quote tweets on a small group of iOS customers. The probable case is that you can't use reactions right now. Twitter will judge the success of Tweet Takes according to the feedback of the testers.
Appendix
Twitter published a new composer bar on January 7, 2022, that allows users to create tweets from their timeline homepages without having to navigate to a separate compose screen. That feature is located at the bottom of mobile screens, right above the navigation menu, and is also being tested in iOS.
We're making it easier to start a Tweet with a new composer bar above the bottom navigation menu. Now testing with some of you on iOS.

https://twitter.com/TwitterSupport/status/1479202496467898376
Videos/Audio/Photos Management Tools Recommended
These applications are completely compatible with Windows 11/10/8.1/8/7.
MiniTool MovieMaker
An easy-to-use video editing software without watermarks and limits. The embedded templates enable you to quickly make personal slideshows and share them with your friends!
MiniTool uTube Downloader
Free download YouTube videos, audio, and subtitles without ads or bundles. It can operate multiple tasks simultaneously at a high speed and supports multiple file formats.
MiniTool Video Converter
Quickly convert videos and audio from one file format to another to apply to more devices. It supports 1000+ popular output formats and batch conversion. Besides, it can also record PC screens without any watermark.