If you are wondering which software you can use to convert MIDI to sheet music properly, we have created a list of the best desktop software and online services that you can use to get the work done. Need a professional music converter? Then MiniTool Video Converter is recommended here.
Standing for Musical Instrument Digital Interface, MIDI is a technical standard that is used to connect electronic musical instruments to computers to record, edit, and playback music.
How to convert MIDI to sheet music? Continue to read and you will get several online and desktop MIDI to sheet music converters that can be used to convert MIDI files to readable sheet music or music score with minimal effort. Let's get started.
Related article: Top 5 Free Online MIDI to WAV Converters
How to Convert MIDI to Sheet Music
Solmire
Solmire ranks first on the list of the best MIDI to sheet music online converters. You can use it to easily convert any MIDI file into readable sheet music. And it also lets you see the preview of the result and download sheet music to your PC.
Besides, this site has no limit on the number of MIDI files that you can convert for free. Better yet, it is free and online, so you don't need to worry about paying or installing anything.
Here's how to convert MIDI to sheet music online with SolMire.
Step 1. Go to the homepage of SolMire on your browser and select the MIDI to Sheet Music tab at the top.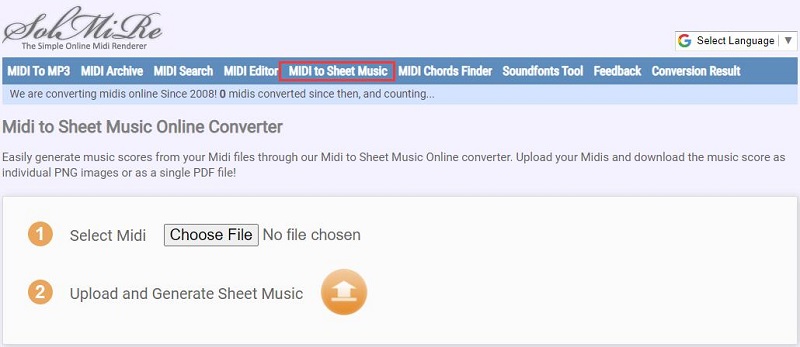 Step 2. Click the Choose File button to search for your MIDI file that you'd like to convert.
Step 3. Once selected, click Open and then tap on the Upload and Generate Sheet Music button.
Step 4. It will automatically process the MIDI file and convert it into sheet music.
Also read: How to Convert WAV to MIDI for Free
3 Desktop MIDI to Sheet Music Converters
1. Sibelius
Sibelius is the world's largest selling music notation program that offers a simple way to turn your MIDI files into readable sheet music.
In this program, you can easily import your local MIDI files and get them converted into notes and then you can arrange and edit as you like before you output them for further use. However, since this is a well-known program for composing and not just a MIDI to sheet music converter, it's paid.
2. MuseScore
MuseScore is another popular music notation software that is used to create, play, and print beautiful sheet music. This one can also be used to convert MIDI files as you want for free.
In addition, this freeware allows you to edit the notes before exporting them. And the best thing about it is that it's completely free.
3. Midi Sheet Music
Another free MIDI to sheet music converter program is MidiSheetMusic, which runs on Microsoft Windows, Mac OS X, Linux, iPhone/iPad, and Android.
Midi Sheet Music is a free program that provides numerous features – displaying sheet music from MIDI music files, save sheet music as PNG images or PDF files, adjust the speed of the playback, etc.
Bottom Line
The above-mentioned MIDI to sheet music converters makes it very simple for you to turn MIDI files into sheet music. Why not try them out? If you have any questions or suggestions about it, please let us know via [email protected] or share them in the comments section below.