OnlineVideoConverter is one of the most popular online video conversion services that can be used to convert online/offline videos to popular file formats. Is OnlineVideoConverter safe and reliable? Check out this post, and you will know it. If the site crashes, try its best alternative – MiniTool Video Converter.
What is OnlineVideoConverter?
OnlineVideoConverter.pro (OVC) is a popular online video converter application for converting online or offline videos to MP3, MP4, and other popular formats without the need to install additional programs. Better yet, this online video conversion service is totally free and there is no limit to the number of files you can convert.
Is OnlineVideoConverter Safe to Use?
Frankly speaking, OnlineVideoConverter is unsafe.
Every time you visit onlinevideoconverter.com, you'll see an error message "Your connection is not private. Attackers might be trying to steal your information from www.onlinevideoconverter.com (for example, passwords, messages, or credit cards)".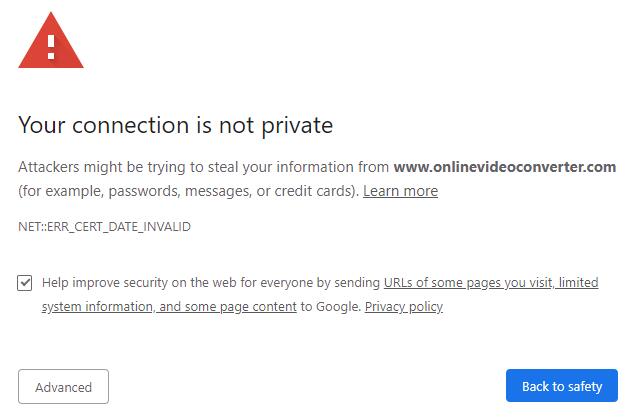 And after testing, we found that there are a bunch of popping ups, prompts, and redirects embedded on this site. Besides, it does not allow the uses of ad blocking extensions like AdBlock. Otherwise, it won't work properly.
All in all, OnlineVideoConverter is an untrustworthy site. Please think twice before use.
Related article: Is CloudConvert Safe
Safe Alternatives to OnlineVideoConverter
1. ClipConverter.cc (Online)
ClipConverter.cc is a free online media conversion application, which makes it easy to download and convert YouTube videos to MP3, M4A, AAC, MP4, 3GP, AVI, MOV, and MKV by pasting URLs. Besides, it allows you to upload and convert offline files.
How to use ClipConverter.cc?
Step 1. Paste the online video URL at the Video URL to download section and press Continue. Or you can choose to upload a local file and then convert it.
Step 2. Select any audio/video format you preferred and then pick a preset quality.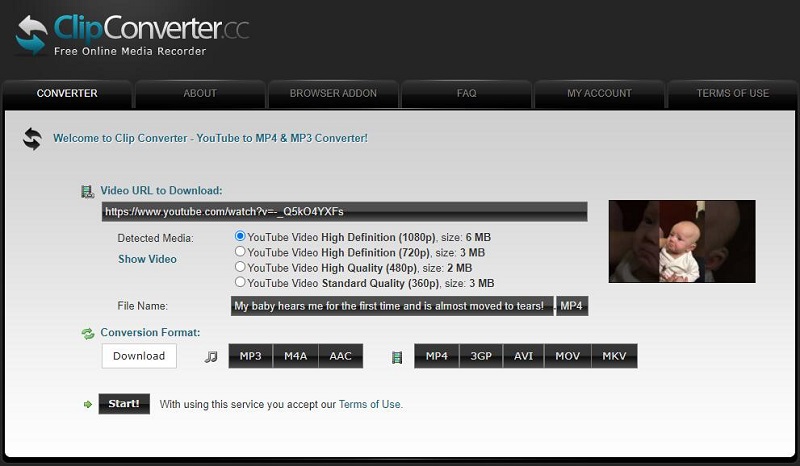 Step 3. Click the Start button at the bottom to start the conversion, which may take several minutes.
Step 4. After the conversion is finished, you can download the converted file.
Also read: What Is Clip Converter + 5 Free Clip Converter Alternatives
MiniTool Video Converter (Desktop)
MiniTool Video Converter is one of the best video converters that you can use to convert both video and audio files. Besides, it can also be used as a YouTube converter to download and convert YouTube videos to MP4, WebM, MP3, and WAV.
How to use MiniTool Video Converter?
Option 1. Convert a local video/audio file
Step 1. Run this free converter on your PC.
Step 2. Go to the Video Convert tab and import the file that you want to convert.
Step 3. Click the diagonal arrow under Target.
Step 4. Select an output format for the file and then choose a quality preset.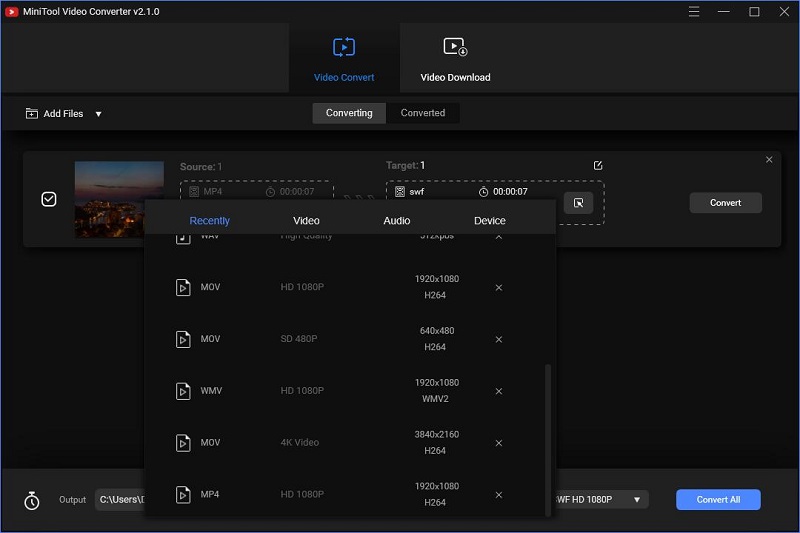 Step 5. Tap on the Convert button to start the conversion.
Step 6. Once finished, navigate to the Converted tab and locate the converted file by clicking Show in folder.
Option 2. Download and convert a YouTube video
Step 1. Select the Video Download tab.
Step 2. Copy the video URL that you want to download from YouTube.
Step 3. Paste the URL in the search box and click the Download icon. Or, you can choose to click the Paste URL button, enter the YouTube URL, and tap on the Download button.
Step 4. Select an output format and then click Download.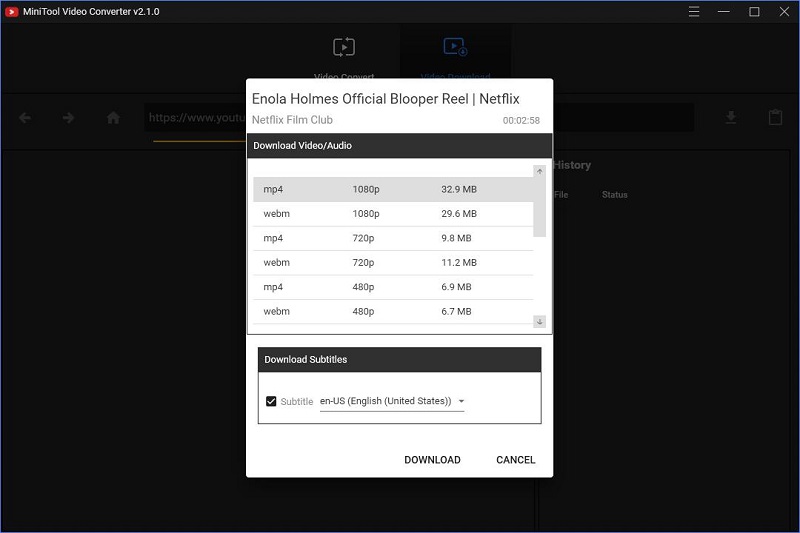 Step 5. When the download is complete, click the Navigate to file option to check the downloaded file.
Bottom Line
Is OnlineVideoConverter safe? The answer is negative. Maybe you can try the above-mentioned 2 safe alternatives to OnlineVideoConverter. If you have any questions or suggestions about it, please let us know via [email protected] or share them in the comments section below.