Some social platforms don't support GIF images, which means it's mandatory to convert GIF to video files before uploading. Therefore, this article illustrates how to convert GIF to MP4 on different devices with those top-rated converters, including MiniTool Movie Maker, released by MiniTool.
What are the differences between GIF and MP4?
Why do people want to convert GIF to MP4?
How to convert GIF to MP4?
Let's figure out these questions on by one.
Part 1. GIF to MP4
GIF vs MP4
GIF

MP4

Definition

GIF is an image that's been encoded using the graphics interchange format where it has multiple frames encoded into a single image file.

MP4 is a compressed file format that can contain not only video but also audio and subtitles.

Pros

Relatively smaller compared with other file formats.
Support transparent backgrounds.
Convey messages better and quicker.

Suitable for video streaming on the Internet.
Less quality loss at higher compression levels.
Data types other than video and audio can be stored.
A separate hint track is used to encode streaming information.
Works on all major media players and sound card drivers.

Cons

Limited color pattern.
Hard to edit.
Prone to be affected by Internet Connection.

The application to open the MP4 file must be able to recognize both the video and audio codec in order to play the media.
Why Convert GIF to MP4
There is no sound in GIF images.
A number of video players and apps might not support GIF images.
Resizing and other editing features if needed is impossible with GIF images.
Many social platforms, including YouTube, don't support uploading GIFs, meaning you'll need to convert your GIF into a video file to share it with others.
Part 2. How to Convert GIF to MP4 on Desktop
How to convert GIF to MP4 on desktop? For helping desktop users to convert GIF to MP4, the following will introduce 2 excellent desktop converters.
MiniTool Movie Maker
MiniTool Movie Maker is a professional video editor. Meanwhile, it is a desktop converter that allows you to convert any common-used file formats, including GIF to video, video to audio, photo to GIF. If you are looking for a professional GIF to MP4 conversion with additional features, MiniTool Movie Maker is your best choice.
MiniTool Movie Maker is 100% free and safe, but now it is only available for Windows 10, 8, 7.
Supported import formats:
Video: RMVB, 3GP, MOV, AVI, FLV, MKV, MP4, MPG, VOB, WMV
Audio: MP3, WAV, M4R, FLAC
Photo: BMP, ICO, JPEG, JPG, PNG, GIF
Supported export formats:
MP4, AVI, MOV, WMV, F4V, MKV, TS, 3GP, MPEG2, WEBM, GIF, MP3
Step 1. Launch MiniTool Movie Maker
MiniTool MovieMakerClick to Download100%Clean & Safe
Free download, install and launch MiniTool Movie Maker on your PC.
Click the X icon or tap on Full-Feature Mode to shut down the movie templates window and enter its main interface.
Step 2. Import GIF images and add to the timeline
Click Import Media Files to import GIF images that you want to convert to the MP4 format.
In the Media library, click + to add GIF images to the timeline or drag and drop them to the timeline one by one.
Step 3. Edit GIF images
Double-click the video file to open the editing window. Alternatively, you can right-click it and then select Edit.
Now you can add transitions to make these clips natural and smoother, rotate them to correct the orientation, trim them to delete unwanted parts, split one GIF image into several parts and adjust contrast, saturation, brightness and 3D LUT to implement color correction.
Step 4. Export GIF to MP4
Click the Export button in the top toolbar to open the export window.
Open the Format drop-down menu, select MP4 – the most commonly used video file format from the drop-down list.
Give a name, specify the store location and select a suitable resolution for this MP4 file.
Tap on the Export button again to start converting GIF to MP4.
Step 5. Check or listen to the MP4 file
After conversion, you can directly paly and watch it or simply click the Find Target option to check the MP4 file.
In addition to converting GIF to MP4, MiniTool Movie Maker also provides many other excellent features as follows:
Easily create videos with its cool templates.
Convert various file formats with high speed and high quality.
Support to extract audio from video.
Offer numerous popular transitions and effects.
Add text (titles, captions, and credits) into video.
Save video or audio files on different devices.
Change resolution to reduce file size.
MiniTool Movie Maker is the best GIF to MP4 converter I have ever used. Share it with all of you!Click to Tweet
Any Video Converter
Any Video Converter is truly an excellent choice while looking for a free good video converter, which supports an array of file types and formats. Using the program GIF images can be converted to MP4 as well as other formats in high quality at fast speed. Additionally, the software comes with a built-in DVD that is compatible with different mobile devices.
Step 1: Hit ADD VIDEO icon to input your GIF file in the program.
Step 2: Select MP4 from the drop-down menu to convert your GIF to MP4.
Step 3: When the process is completed, hit the Convert Now icon to begin the conversion. At the end of the process, you can download the MP4 files.
Part 3. How to Convert GIF to MP4 Online
Online converters can also meet your GIF to MP4 conversion needs. There are many such free and simple tools that can be used to convert GIF files to MP4 without downloading or installing any software. How to convert GIF to MP4 with the best GIF to MP4 online tools?
Ezgif
Ezgif is a good online converter for you to turn GIF to MP4 format. This is a free-to-use online converter that needs no installation or registration. Using the program, you simply need to add the GIF image to the interface and it will be converted to MP4 in decent quality. You can either choose to add the local file to the interface or add its URL. The maximum supported image size is 35MB. The details on how you can use Ezgif to convert GIF to MP4 are provided below.
Step 1: Visit the Ezgift website and select Video to GIF on the top toolbar.
Step 2. Select GIF to MP4, click Choose File or paste image URL to import the GIF and then tap on Upload Video!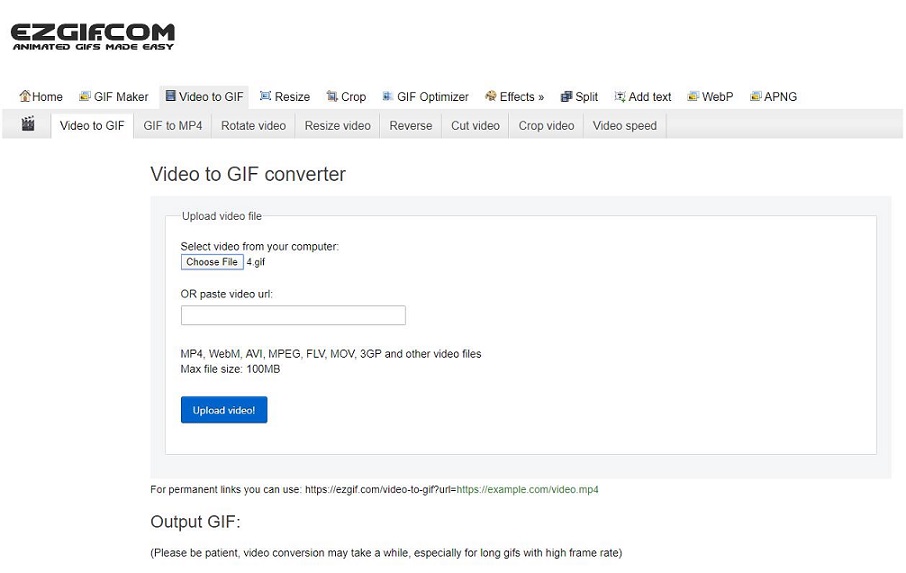 Step 2: Hit Convert GIF to MP4. After conversion, you can crop, rotate, resize and reverse the MP4 file and then save it on your device.
Related article: How to Edit MP4 – All Useful Tips You Need to Know.
CloudConvert
CloudConvert is an extremely popular GIF to MP4 online converter that supports fast conversion without quality loss. It also allows users to convert images, documents, presentations, videos, and even e-books from one file to another. However, CloudConvert only offers 25 minutes of free conversions per day. If you need to convert large files that take a lot of conversion time, you may need to upgrade. Here are the steps to convert GIF to MP4 format using CloudConvert.
Step 1: Go to the CloudConvert site online, click on Select Files to input your GIF file and then choose the GIF file you want to convert from your computer.
Step 2: After selecting the GIF file, select MP4 from the drop-down list and set it up as your convert format.
Step 3: Tap on Start Conversion to start converting, and the complete progress bar will be displayed. Once the conversion process is completed, you can directly download the converted MP4 file.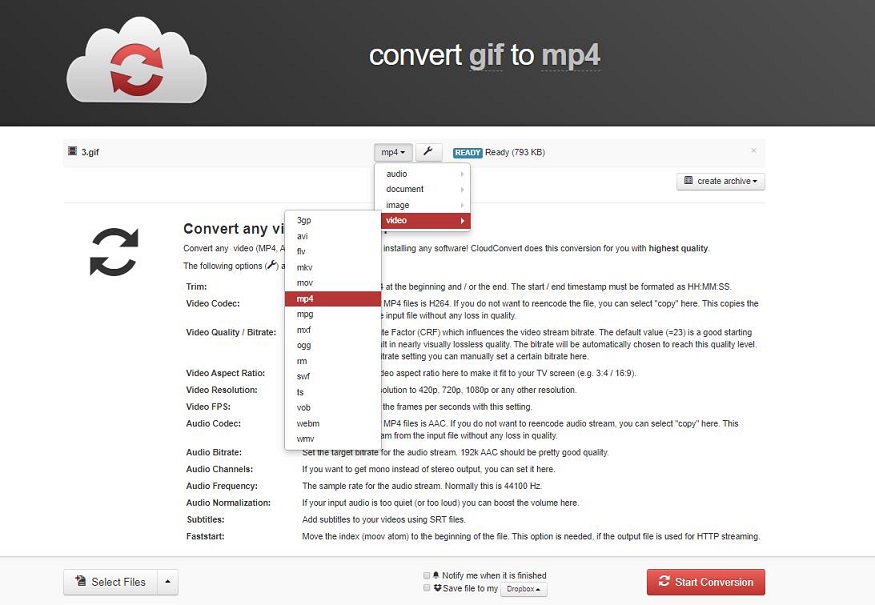 Part 4. How to Convert GIF to MP4 on Android/iPhone
For the convenience of those who want to complete the conversion of GIF to MP4 on iPhone or Android, 2 top-rated GIF to MP4 applications is listed below.
Video2Me
Developed by 3A2E Studio, Video2me is an all-in-one application with a wide range of features –  video editor, GIF maker, screen recorder and video player. With this application, you can convert GIF to MP4 and other popular formats and vice versa. Other features include adding text to videos, adding tags, creating slideshows, creating framed videos, rotating videos, merging videos, and trimming videos.
Step 1: Run this GIF to MP4 converter on your mobile phone.
Step 2: Select Video, followed by GIF2Video, and then set the video file parameters.
Step 3: Convert your GIF file to an MP4 file consequently.
GIF Cracker
GIF Cracker is a perfect program when there is a need to convert GIF to MP4 on the iPhone. It offers advanced options for new re-encoding of GIF files. You can also convert your GIF files to photos if needed. What's more, it also supports URL scheme, which means you can convert GIF to MP4 online with ease. Although it is a free-to-use app, it offers options for in-app purchases.
Step 1. Open this app on your device and choose the GIF image you want to convert.
Step 2: Set up your conversion parameters.
Step 3: Select the Start Conversion option to get the GIF file converted to MP4 immediately.
Part 5. Bonus Tip – MP4 to GIF
Compare with GIF to MP4 conversion, converting MP4 to GIF with high quality is more complicated, so using professional and correct tools is very important. Here, we recommend MiniTool Movie Maker as the best software for the lossless conversion of video to GIF.
Step 1. Download, install and launch MiniTool Movie Maker to get its main interface.
MiniTool MovieMakerClick to Download100%Clean & Safe
Step 2. Click Import Media File and select the MP4 file that you want to convert.
Step 3. Click + on the MP4 file to add it to the timeline, or simply drag and drop it to the timeline.
Step 4. After editing it, click Export on the top right.
Step 5. Choose GIF format from the options and click Export to save this GIF image on your device.
No matter what device you are using to convert GIF to MP4 or MP4 to GIF, there is always one above that will meet your requirements.
Bottom Line
Different methods on how to convert GIF to MP4 have been discussed above. It's your turn to have a try. If you have any questions or suggestions about it, please let us know via [email protected] or share them in the comments section below.
GIF to MP4 FAQ
How do you turn a video into a GIF?
Launch MiniTool Movie Maker on your PC.
Import your video file and edit it as you like.
Click Export and select GIF as the output format.
Click Export again to save it on your device.
How do I download a GIF?
Simply right-click on the GIF image.
Select Save image as…
Select the location and keep the format as .gif.
How do you upload a GIF to GIPHY?
Add GIF files by dragging and dropping or entering GIF URLs.
Reorder GIF files if needed.
Add relevant tags, source URLs and privacy settings.
Hit the Upload GIFs button to finish.
Can you upload a GIF to Instagram?
No, because Instagram does not currently support uploading GIF images. You can convert it to a video format accepted by Instagram and then upload it to Instagram. Alternatively, you can upload GIF images to GIPHY first and then share it to Instagram.