What is an AMR file? How to play an AMR file? How can I convert AMR files to other popular audio formats? If you are looking for the answers to these questions, do not miss this post. Here is everything about AMR. Also need a professional audio converter? MiniTool Video Converter is recommended.
What Is an AMR File?
AMR is the abbreviation of Adaptive Multi-rate Audio Codec. It is an audio compression format optimized for speech coding. In addition, the AMR file format can also be used to store spoken audio using the same codec. AMR was adopted as the standard speech codec by 3GPP in 1999 and is now widely used in GSM and UMTS.
AMR files can be saved in AMR-NB (narrowband) or AMR-WB (wideband) format. Wideband audio supports a broader frequency range, so it can provide better sound quality.
To reduce the bandwidth usage when there is no audio playback in the file, the AMR format uses technologies such as Discontinuous Transmission, Comfort Noise Generation, and Voice Activity Detection.
How to Play an AMR File?
The easiest way to open an AMR file on a PC is to simply double-click on it, and then select the most appropriate program to open it is. If the installed programs on your computer are unable to open the file, just search and download an appropriate AMR player. Below are some available options.
Windows: AMR Player, QuickTime Player, Audacity, VLC Media Player, 5KPlayer, KMPlayer
Mac: QuickTime Player, Audacity, VLC Media Player, 5KPlayer
Linux: Audacity, VLC Media Player
Best AMR Converter
How to convert AMR to MP3, WAV, or other popular audio formats? Below are five of the best AMR converter options. Choose the one you preferred and start converting your AMR file to other more compatible formats.
Convertio
Convertio is a free online AMR converter that works on any operating system. The site allows you to convert the AMR file from a local computer, Dropbox, Google Drive, and online URL. However, the site doesn't support batch conversion and the maximum file size is 100MB.

Zamzar
Zamzar is another excellent AMR converter that works on any operating system without any download and installation. It lets you convert AMR files from your local computer and online links. Unfortunately, each uploaded file cannot exceed 50 MB.
CloudConvert
CloudConvert is also a great AMR converter option. With a user-friendly interface, it enables you to upload your AMR file from hard drive, URL, Dropbox, Google Drive, OneDrive, etc., but you can only use this site free for up to 25 conversions per day.
Related article: Is CloudConvert Safe?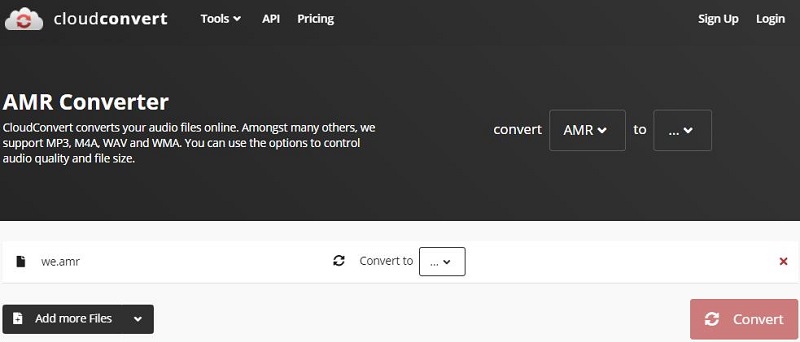 Media.io
Media.io, also known as Online UniConverter, is another online solution to convert your AMR files to any supported format. You can add a maximum of 2 files at a time for conversion, whereas it only supports files no more than 100MB.
Online-Convert
The last AMR converter we'd like to introduce is Online-Convert. With a simplified design, this program lets you convert AMR to MP3, WAV, etc. at ease, nevertheless, the file size limit to upload a file and convert it for free is set to 100 MB.
Bottom Line
After reviewing this guide, do you have a deeper understanding of the AMR format? If you have any questions or suggestions about it, please leave them in the comments section below.