After downloading audiobooks from Audible, you find Audiobooks in AAX format cannot be recognized by your audio player. In this case, I'd like to offer you 2 best AAX to MP3 converters that can convert AAX file to MP3 free. Need to upload audiobooks to YouTube? Try MiniTool Video Converter to convert Audiobook to video for free!
When you download an audiobook from Audible, you are trying to play it with your own audio player. Then you find the audio player does not support AAX format.
What is AAX? How to open AAX file on your device? AAX is an audiobook format developed by Audible. To open the AAX file, you can use an audio converter to convert AAX to MP3. Or open AAX file with a powerful media player like VLC Media Player.
The following parts will show you 2 best free methods to convert AAX to MP3.
Method 1. Convert AAX to MP3 with AAX Audio Converter
Compatibility: Windows 7 and above
AAX Audio Converter is an open-source tool that lets you convert AAX to MP3, M4A or M4B for free. It can keep and manage all meta-tag information, and correct inaccurate chapter marks.
However, a personal activation code is required when processing AAX files. To get this code, you need to install and activate the Audible App or Audible Manager first.
Here's a guide on how to convert AAX to MP3.
Step 1. Download AAX Audio Converter setup package from GitHub, and install the program on the computer.
Step 2. Start AAX Audio Converter
Step 3. Click the Add button to import the AAX file you want to convert. Or drag and drop AAX files in the AAX Audio Converter window.
Step 4. MP3 format is checked by default. If you need to convert AAX to M4A, you can check the M4A option in the Format tab.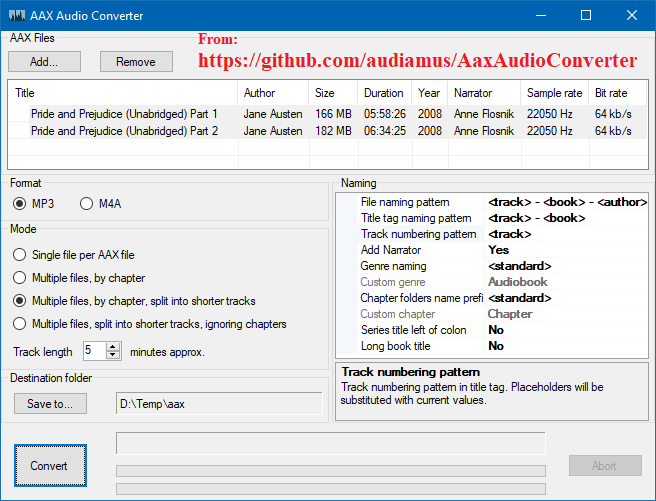 Step 5. Then you can edit or add meta information in the Naming tab.
Step 6. Once you are done, choose the AAX files and click on Convert to export AAX to MP3.
You might be interested in this post: Top 4 Audiobook Players for Listening to Audiobooks
Method 2. Convert AAX to MP3 with inAudible
Compatibility: Windows and Mac
Another free AAX to MP3 converter is inAudible. It's capable of removing DRM from AAX files and can convert AAX files to other popular formats such as MP3, FLAC, M4B, M4A and more. It can run on both Windows and Mac.
Below are the detailed steps on how to convert AAX file to MP3 free.
Step 1. Go to GitHub and find the Installer of inAudible.
Step 2. Click the Windows or Mac installer link and you will be taken to the Pirate Bay site.
Step 3. Click on GET THIS TORRENT to copy the magnet link and open the link with an online torrent player.
Step 4. Then download and install the program on your computer.
Step 5. Launch it and load the AAX files.
Step 6. Select the MP3 output format.
Step 7. Finally, start the AAX to MP3 conversion.
Conclusion
The above-mentioned AAX to MP3 converters are 100% free. You can use them to convert AAX file to MP3 freely.
If you have better methods to convert AAX to MP3, please share them in the comments area!