Are you looking for a way to convert your 3D files to other formats quickly and easily? Then don't miss this article. Here will detail a few of the best tools for converting 3D files. Let's check it now. If you need a professional video/audio converter, try MiniTool Video Converter.
What is a 3D file?
A 3D file is an electronic file that represents a three-dimensional object. It is designed by 3D modeling, so you can use a 3D printer to print the desired objects. The creation of 3D files is done by Computer Aided Design (CAD).
The 3D format is widely used in various fields such as video games, movies, 3D printing, academic projects, engineering visualization, architectural projects, and various scientific applications.
What are the popular 3D file formats?
STL
OBJ
FBX
DAE
3DS
IGES
STEP
VRML/X3D
Related article: Top 6 Best 3D Movies of All Time (Review & Download)
How to convert one 3D file format to another? The following will introduce the top 3 best 3D file converters and detail how to use them to change the format of your 3D files.
1. 3D-CONVERT.com
As its name suggests, 3D-CONVERT is an online 3D file converter that helps you convert 3D models from 50+ different formats. More importantly, the whole conversion process only takes a few seconds. Please keep in mind that the uploaded 3D file will be deleted immediately after the conversion, while the converted file will remain available 24 hours.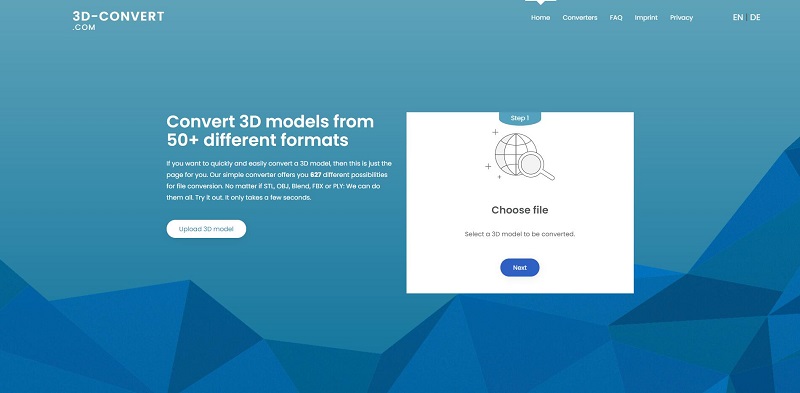 Click Upload 3D model or Choose file to upload your 3D file that is no larger than 50MB.
Select the target format by clicking on it.
Tap on the Convert button.
Once finished, you can download the converted file by using the download link. This link is valid for 24h.
Also read: Top 4 Video Resolution Converters [Desktop & Online]
2. MeshLab
MeshLab is an open source free 3D file converter software for Windows, Linux, and macOS that can be used to convert 3D files of STL, OBJ, PLY, PTX, X3D, DAE, PTS, and more formats. Besides, you can also edit your 3D files before starting the conversion using the built-in tools like align, manipulator, and more.
Go to File > Import Mesh to open a 3D file in this software.
If needed, make changes to the imported 3D file using the provided tools like rotate, scale, align, and many more editing features.
Click the File tab and select the Export Mesh As option to convert the 3D file to your desired format.
Hit the Save button to start the conversion process.
3. Spin 3D Mesh Converter
Spin 3D Mesh Converter is one of the most stable and easy-to-use 3D file converters that can convert between STL, 3DS, 3DP, 3MF, OBJ, and PLY mesh file formats. It supports quickly converting multiple files with batch conversion. Besides, no matter which program you use to create your 3D files, you can convert to your desired output format.
Click Add Files or Add Folder to import an individual 3D file or a folder containing several 3Dfiles.
Set the output format and specify the destination folder to save the converted file.
Hit the Convert button to initiate the conversion process.
Bottom Line
Have you mastered how to change the format of your 3D files after checking the guide? If you have any questions or suggestions about it, please let us know via [email protected] or share them in the comments section below.