OGA is a rare audio format that is not supported by many applications and devices. It's a good idea to convert OGA to MP3 for wide usages and better compatibility and here introduce 3 easy online solutions for you to choose from. You can also install MiniTool Video Converter to convert any audio to the desired format.
What Is OGA
OGA, also known as Ogg Vorbis Audio, refers to a compression file format and multimedia container for audio files that can use different encoding methods, such as Ogg FLAC, Ghost, OggPCM, or less recommended codecs like Ogg Vorbis and Speex.
However, OGA is not compatible with most video and audio editors, media players as well as mobile devices. If you get some OGA files but failed to play them on your device or import them into an editing application, you can convert OGA to MP3.
The following part will show you 3 online methods to convert OGA to MP3.
How to Convert OGA to MP3
CloudConvert
Cloud Convert is one of the best online video converters. It can handle 218 different formats including audio, video, document, ebook, archive, image, spreadsheet, and presentation. Converting OGA to MP3 can be easily done with it.
Batch converting is also supported by this online service. However, it only supports up to 25 conversions for free per day.
Step 1. Select OGA as the source format and set MP3 as the output format.
Step 2. Click the Choose Files drop-down list and select one method to upload your OGA file.
Step 3. Hit the wrench icon to change audio codec, audio bitrate, audio volume, and trim audio.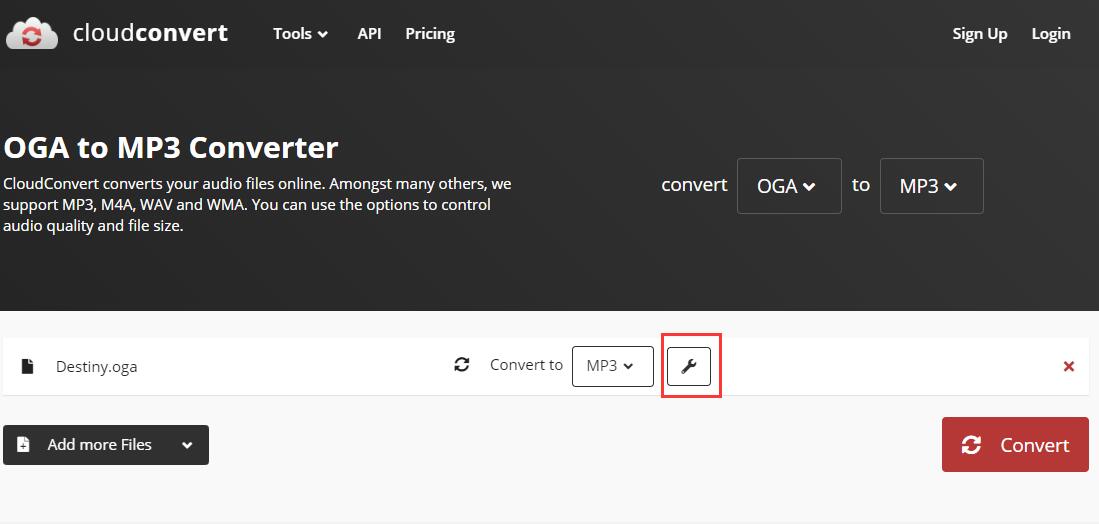 Step 4. Tap on the Convert button to start the conversion.
FreeConvert
FreeConvert is a free online tool that allows you to convert OGA to MP3 easily and quickly. It also has optional advanced features, such as changing the basic file parameters of audio files, fade in or fade out audio or reverse audio.
When uploading, please remember that this site allows batch conversion, so you can upload 20 files at a time. However, the total size must not exceed 1GB.
Step 1. Select MP3 under the MUSIC Converters section.
Step 2. Click Choose Files to upload your OGA file.
Step 3. Before conversion, you can click the gear icon to make some changes to the OGA file.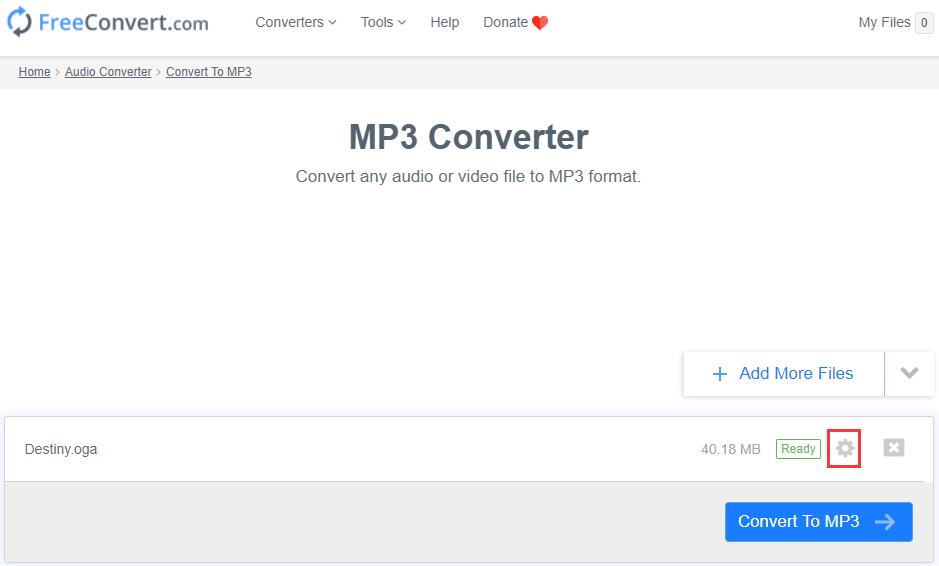 Step 4. Tap on the Convert to MP3 button to start the conversion.
Step 5. As soon as the conversion completes, click Download to get the MP3 file.
Related article: How to Convert Audible to MP3 | Step-by-Step Guide
Online Audio Converter
The last tool for converting OGA to MP3 is Online Audio Converter. It supports over 300 input formats and lets you convert them into popular file formats without any installation.
Additionally, the program can convert multiple files simultaneously in a batch and save them in a ZIP archive to speed up downloading.
Step 1. Add your OGA file to the program.
Step 2. Select MP3 as the output format.
Step 3. Optionally, you can drag the slider to the left or right to set the output audio quality, or click Advanced settings to fade in/out audio, reverse audio, etc.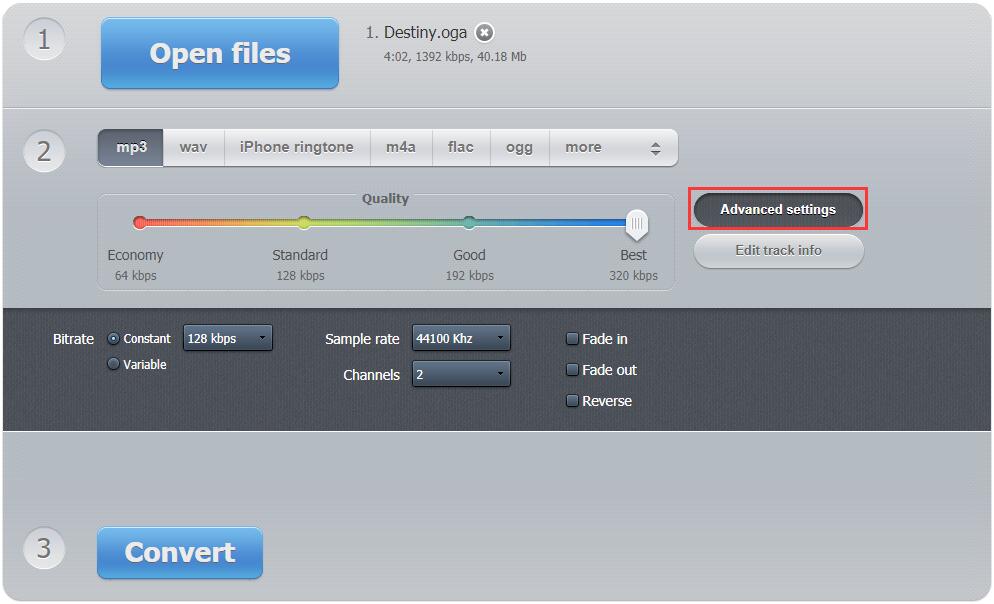 Step 4. Tap on the Convert button.
Step 5. Once finished, click Download to save the converted file.
How to Open an OGA File
OGA is not compatible with most media players, which means you need appropriate software to open an OGA file. The best one is VLC media player.
VLC media player is an open-source media player that is available for desktop operating systems and mobile platforms. It has a simple interface, supports various types of media formats, and can also be used to convert media files. You can easily open an OGA file by dragging and dropping them in the software.
Also Read: 7 Tools to Convert OGG to MP3 for Free (Desktop & Online)
Bottom Line
Have you mastered how to convert OGA to MP3 after reading this post? If you have any other practical OGA to MP3 converters to recommend, please let us know via [email protected] or share them in the comments section below.