What is M4A? What is MP3? What are the differences between M4A and MP3? And do you know how to convert M4A to MP3 or MP3 to M4A? If you want to get the answers to the above questions, you can read this post about M4A vs MP3 from MiniTool.
There are three categories of audio file formats – uncompressed audio formats (such as WAV); lossless compressed audio formats (such as FLAC, ALAC); lossy compression formats (such as MP3, AAC). Maybe you are confused with some common audio formats, such as M4A and MP3 audio.
Also see: Top 16 Flac Players for Windows/Mac/Android/iOS | 2020
First, let's see the basic information about M4A and MP3.
What Is M4A
What is M4A? M4A format is a file that only supports audio. It is not an official MPEG-4 file, so it cannot support video. Apple widely uses M4A format for unprotected iTunes music. DRM-protected iTunes music uses an M4P extension. Audio within the m4a file extension is usually encoded using AAC lossy compression, although lossless ALAC can also be used.
Also see: M4P to MP3 – How to Convert M4P to MP3 Free?
Since it compresses with lossless quality, it can provide high-quality small files for you. Besides, you just need to rename the file extension from M4A to M4R, you can directly set M4A audio as iPhone ringtone.
However, M4A has poor compatibility. M4A is developed by Apple Inc., mainly used in iTunes, iPod as well as other Apple devices, and cannot be widely played on many other popular devices.
What Is MP3
What is MP3? The file format was created by MPEG programmers. It is a digital format for the storage of audio files. As one of the most needed codecs for digital encoding, it is widely used in various file-sharing sites to evaluate downloads.
CD tracks can be compressed to 1/10 of their original size while maintaining high playback quality with MP3 format. MP3 is compatible with all the most popular operating systems and is supported by most modern DVD players and music systems.
Before the introduction of MP3, MPEG-1 has been widely used. This format contains not only audio data but also images. MP3 divides the audio file into parts of the same length. After processing, each part is packed in its frame.
Also see: 5 Best Free MP3 Cutters to Split and Trim MP3 Easily
M4A VS MP3
Now, let's see information on M4A vs MP3 from different aspects.
M4A VS MP3: Quality
First, I will introduce MP3 vs M4A quality. M4A is generally regarded as the successor to MP3. M4A files with ALAC codec have the best original sound quality. For M4A audio encoded with AAC lossy compression, it provides higher sound quality and transparency than MP3 files encoded at the same bit rate, especially for bit rates of 128 Kbps or lower.
M4A VS MP3: Compatibility
Then, let's see M4A vs MP3 compatibility. Compatibility is the rate at which something merges with another. M4A is a limited audio format file. As a result, some devices do not support this feature and do not support sharing on other devices. For MP3, it is highly compatible with other devices.
M4A VS MP3: File Size
M4A can compress audio at the same bitrate in smaller file sizes. The stereo bitrate of M4A format files is usually 128kbps, 192 kbps, or 256kbps. The file size is related to the bitrate. The larger the bitrate, the larger the file size and the better the sound quality.
If you want to get the same sound quality, you need a bitrate of 256kbps when using MP3 encoding, and only a bitrate of 192kbps when using M4A. That is to say, you will get a smaller audio file size with M4A.
Related article: Compress Video File Sizes on Windows/Mac/Android/iOS
M4A VS MP3: Industry Support
The next aspect of MP3 vs M4A is the industry support. Since the 1990s, MP3 has been the de facto standard for digital music files. Almost every computer media player can recognize and play MP3 files, making it very popular to download and exchange music with others.
However, overall, industry support for M4A and MPEG-4 is growing. Most audio/video players that can play MPEG-4 files will recognize M4A audio files. In short, M4A keeps up with the trend.
M4A VS MP3: Pros and Cons
The following are two forms about the M4A vs MP3: pros and cons.
M4A: Pros and Cons
| | |
| --- | --- |
| Pros  | Cons |
| Easy to distribute audio on the internet without worrying about protecting it. | Doesn't support Digital Rights Management. |
| Can be directly set as an iPhone ringtone. | Not widely supported except for Apple devices, and players like VLC. |
| Better audio quality at a smaller size | |
MP3: Pros and Cons
| | |
| --- | --- |
| Pros | Cons |
| You can increase quality by increase the bitrate, but it also increases the size. | Not all MP3 files are of high quality. |
| Compared with the CD format, the file size is significantly smaller, so it is easy to stream. | It resulted in music piracy since it can remove specific audio. |
| Portable Media Player become a possibility because of this. | It is not comparable to CDDA or other uncompressed formats. |
Which One to Choose
Just now, you have known the differences between M4A and MP3. Now, you may wonder which one you should choose.
On the one hand, if you are an Apple fan, you may prefer M4A files, then you should choose M4A. If you want to play audio on Android Samsung, HTC, and other devices, you may need to choose MP3.
On the other hand, if you are worried about sound quality, please consider choosing M4A. However, if you are mainly concerned about compatibility, please choose MP3.
Now, let's see how to convert M4A to MP3 or MP3 to MAR.
Here is all the information on M4A vs MP3. You can share this post on Twitter to let more people know.Click to Tweet
How to Convert M4A to MP3/MP3 to M4A
Convert M4A to MP3/MP3 to M4A on Windows
Whether you want to convert M4A to MP3 or convert MPA to M4A, MiniTool Video Converter is a great choice for you. It is a comprehensive file converter, which not only allows you to accomplish your various video/audio conversion tasks but also enables you to download videos, audio tracks, playlists as well as subtitles from YouTube.
Here is how to use MiniTool Video Converter to convert M4A to MP3.
Step 1: Download and install MiniTool Video Converter on your Windows PC.
MiniTool Video ConverterClick to Download100%Clean & Safe
Step 2: Launch it. In the Video Convert section, click Add Files to upload the M4A file you want to convert.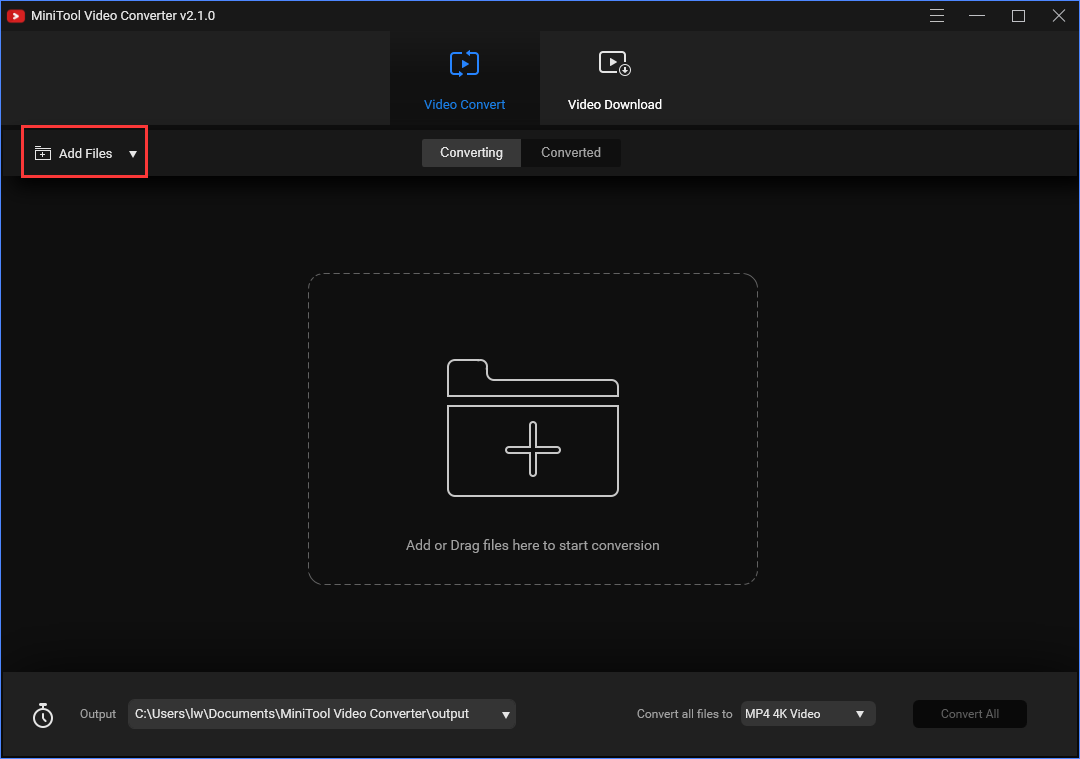 Step 3: Then, go to the Convert all files to part. Navigate to the Audio tab and scroll down to choose the MP3 file format. Besides, you can choose the audio quality and resolution.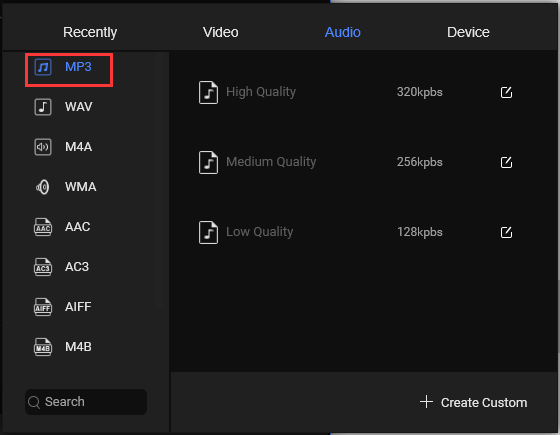 Step 4: Then click the Convert button to convert M4A to MP3.
Main Features
100% free, no bundles, no ads, and no watermarks.
Support 1000+ conversions between videos and audio formats.
Optional output format and fast conversion speed.
Make video and audio files compatible with mobile devices.
Convert M4A to MP3/MP3 to M4A on Mac
If you are using Mac, you can use iTunes to convert MP3 to M4A. But you can't use it to convert M4A to MP3. iTunes convert song files between compressed and uncompressed formats. Now, let's see how to do that.
Step 1. Open iTunes and click Edit and select Preferences….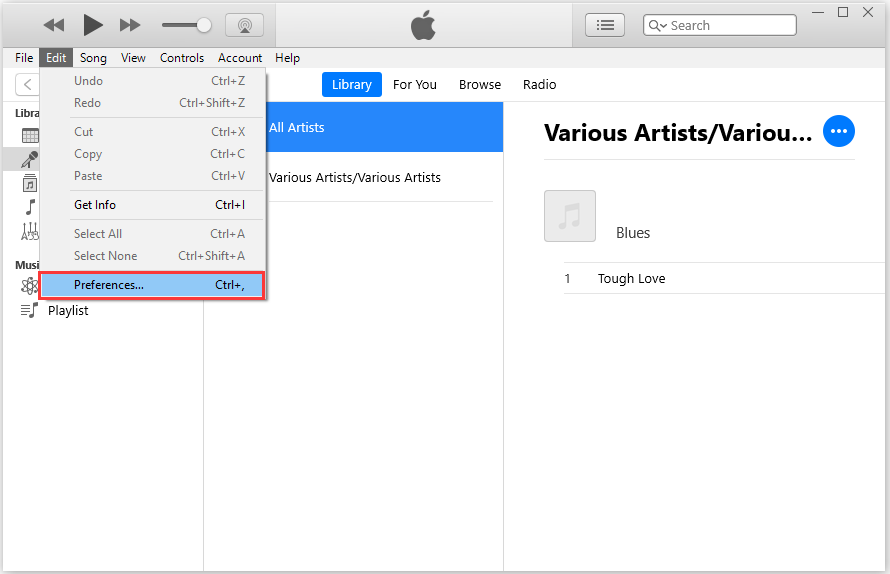 Step 2: Click the General tab, and choose the Import Settings.
Step 3: Click the Import Using dropbox to select MP3 Encoder, and choose the most appropriate bitrate for you. Higher bitrate means higher quality audio. The average rate is 128kbps.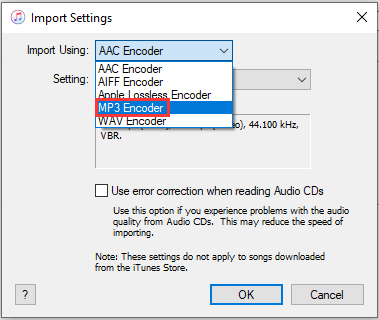 Step 4: Select the Library, then select Music from the drop-down menu to the left, select the MP3 file from your library that you want to convert.
Step 5: Click File, choose the Convert option, and select the Create MP3 version option.
Now, iTunes starts converting M4A to MP3, and you will find a new song file in your library next to the original files.
Also see: Step-by-Step Guide – How to Add Music to iTunes Easily?
Here, if you want to convert M4A to MP3, you can try this tool – VLC media player. The VLC media player is a free and open-source cross-platform multimedia player and framework. It can be used to play most multimedia files such as DVDs, audio CDs, VCDs, and various streaming media protocols.
Now, let's see how to change M4A toMP3 with VLC media player.
Step 1: Download VLC Media Player from the official website and install it on your computer.
Step 2: Then launch it to get its main interface and navigate to Media > Convert / Save….
Step 3: Click the Add… button to import the M4A file and click Convert / Save.
Step 4: Then, click Audio — MP3 form Profile.
Step 5: Then, click Browse to select a destination folder and click the Start button.
Now, you can go to the destination folder to find your MP3 file.
Convert M4A to MP3/MP3 to M4A Online
If you don't want to install any software, you can convert M4A to MP3/MP3 to M4A online. You can use Zamzar to do that. It supports more than 1200 file formats and it can work with any operating system. Besides, it has a remarkable conversion speed and the uploaded file can be as large as 50 MB. Here is how to use Zamzar to convert M4A to MP3 online.
Step 1: Go to the Zamzar official website and choose Add File… to add the M4A file.
Step 2: Click Convert To to select the MP3 format and click the Convert Now option.
Step 3: Then, it will start the converting process. You just need to wait for it. After that, you can click the Download button to save the MP3 file on your PC.
Bottom Line
M4A vs MP3: what's the difference between them? Choose M4A or MP3? How to convert these two formats to each other? After reading this post, you know a lot of information. Just choose a proper video format based on your actual needs.
If you have any idea of M4A vs MP3, please let us know by leaving it in the comment part or contacting [email protected].
M4A vs MP3 FAQ
Why can't I play M4A files?
The player will wait until the M4A file is fully downloaded because of encoding issues, then it starts to play. Thus, sometimes, you can't play M4A files. If you want to play the media file immediately, you can convert it to an MP3 file to play.
Are M4A and AAC the same?
No, they are not the same. M4A files typically contain audio-only and are formatted as MPEG-4 Part 14 files. AAC is not a container format, but a raw MPEG-4 Part 3 bitstream with an encoded audio stream.
How do I reduce the M4A file size?
You can customize audio quality to reduce M4A file size. You can also change the audio format to a smaller one such as MP3 to reduce the size.
Which is better quality MP3 or AAC?