Are you looking for a free, reliable digital audio workstation (DAW) to record music? If your answer is Yes. Please check our list of the best audio recording software. Want to add recorded audio clips to videos, try MiniTool software.
What is audio recording software? 
Audio recording software is used to record audio using a unique technology. This allows users to capture their own voice or other desired sounds, add effects to the voice, and then transmit these audio files to any place.
1. WavePad
Supported OS – Mac & Windows & Android & iOS
WavePad is one of the best and most commonly used programs to ensure perfect audio recording. The program is compatible with most audio formats. It has a variety of audio enhancement functions, including amplification and effect addition. You can also use this program to edit, crop, and trim audio.
2. Audacity
Supported OS – Windows & Mac OS X & Linux
Audacity is the best free audio recording software. It provides users with various options for recording and editing audio, and all content provided by Audacity is free. There are some toolbars for navigating, editing, and mixing audio tracks. This high-performance program ensures that the recorded audio can also be shared with other platforms.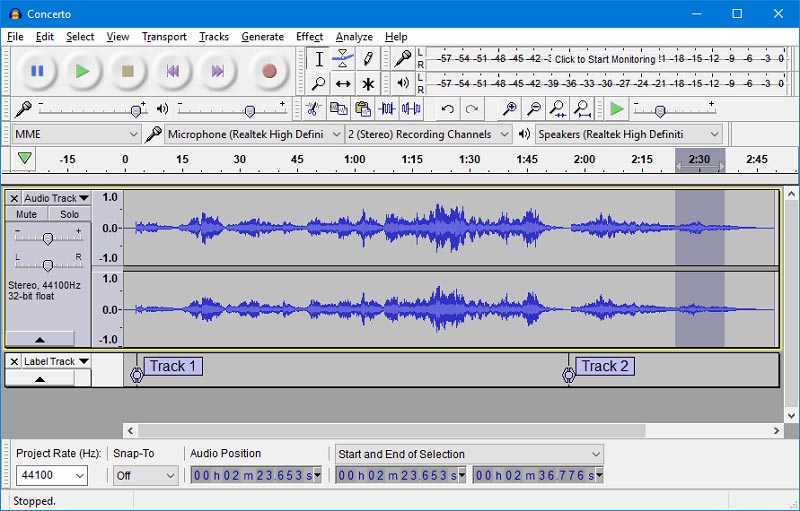 Related article: How to Normalize Audio
3 Adobe Audition
Supported OS – Windows & Mac
Adobe Audition is regarded as one of the best audio software with the most advanced features. This all-in-one tool allows you to record, edit, and export recordings. It includes multitrack, waveform editing, and audio recovery tools to provide the best results. And the basic sound panel has been integrated with the program to make the audio get the best dynamic effect.
You might be interested in: How to Record Discord Audio
4. Wavosaur
Supported OS – Windows
Wavosaur is another best audio recording software. It is a cool free audio editor for editing, processing, and recording audio. Wavosaur has all the functions of editing audio, generating music loop, analysis, recording, batch conversion. It also has multiple document interfaces for processing multiple audio files.
Recommend post: Top 16 Sites to Download Free Sound Effects
5. Garageband
Supported OS – Mac
GarageBand is an Apple-exclusive program that can provide you with a complete audio creation suite, including audio recording, virtual instruments, MIDI editing, and so on. Its interface is intuitive and easy to use, and there are a large number of virtual amplifiers and effects that you can use.
Related article: MIDI to MP3
6. Ocenaudio
Supported OS – Windows & Mac & Linux
As a cross-platform program, Ocenaudio provides many functions to enable you to overcome audio recording and editing tasks. The program is very intuitive and easy to operate. It even supports you to record the screen if needed.
Recommend article: Top 8 Best Video Recorder Apps
7. Ardour
Supported OS – Linux & Windows & Mac
Ardour is an open-source audio recording software designed for Linux, also available for Windows and Mac. It has a highly versatile multi-track recording function. However, unlike other best audio recording software, Ardor doesn't come with any built-in effects or instruments.
8. RecordPad
Supported OS – Windows & Mac & iOS & Android
RecordPad is the best music software for recording vocals. The software has extensive recording and audio enhancement functions and can be easily used for recording, editing, ripping and burning vocals. An important function of this software is Voice Activation, which allows you to automatically erase long periods of silence during recording.
Bottom Line
The above have discussed 8 best audio recording software. Which one do you prefer? If you have any other better audio recording software to recommend, please let us know via [email protected] or share them in the comments section below.