This article extracted on MiniTool official web page mainly teaches you how to save a video off Twitter to your personal computer (PC) or mobile device (iPhone or Android phone). Generally speaking, you can use online services, browser plugins, offline apps, or screen recorders.
While surfing Twitter every day, many people not only want to communicate with others online but also want to save meaningful or funny videos to watch later or share with friends off Twitter. Then, how to save a video from Twitter? Let's have a look at the following solutions.
All websites/apps/extensions below don't host any copyrighted material or support unauthorized file sharing. All the videos are saved directly from Twitter CDN. If you wish to use a video that doesn't belong to you, you need to reach out to the owner of the video and ask for permission. Besides, you shouldn't use the saved videos in commercial situations!
No. 1 How to Save Videos from Twitter Through Online Website?
First of all, you can rely on some online services to help you save videos from Twitter to your computer. For example, you can save Twitter video to Camera Roll on your PC.
#1 Twitter Video Downloader
Twitter Video Downloader (twittervideodownloader.com) is a free online web app that enables you to save a Twitter video and GIFs to your device (computer or phone). To do that, you need to first copy the tweet URL link that contains the target video/GIF and paste it into the link address column on the app page.
Then, Twitter Video Downloader will extract the Twitter to MP4 link from the tweet and you are able to save the Twitter video to PC, iPhone, or Android phone.
Visit Twitter on your web browser, sign into your Twitter account, and go to the tweet that includes the video you want to save.
Copy the URL of the tweet directly from the browser's address bar. Or, click on the Share icon (an arrow-up icon) and select Copy link to Tweet.
Paste the copied link address into the link column on the home page of twittervideodownloader.com and click the Download button behind.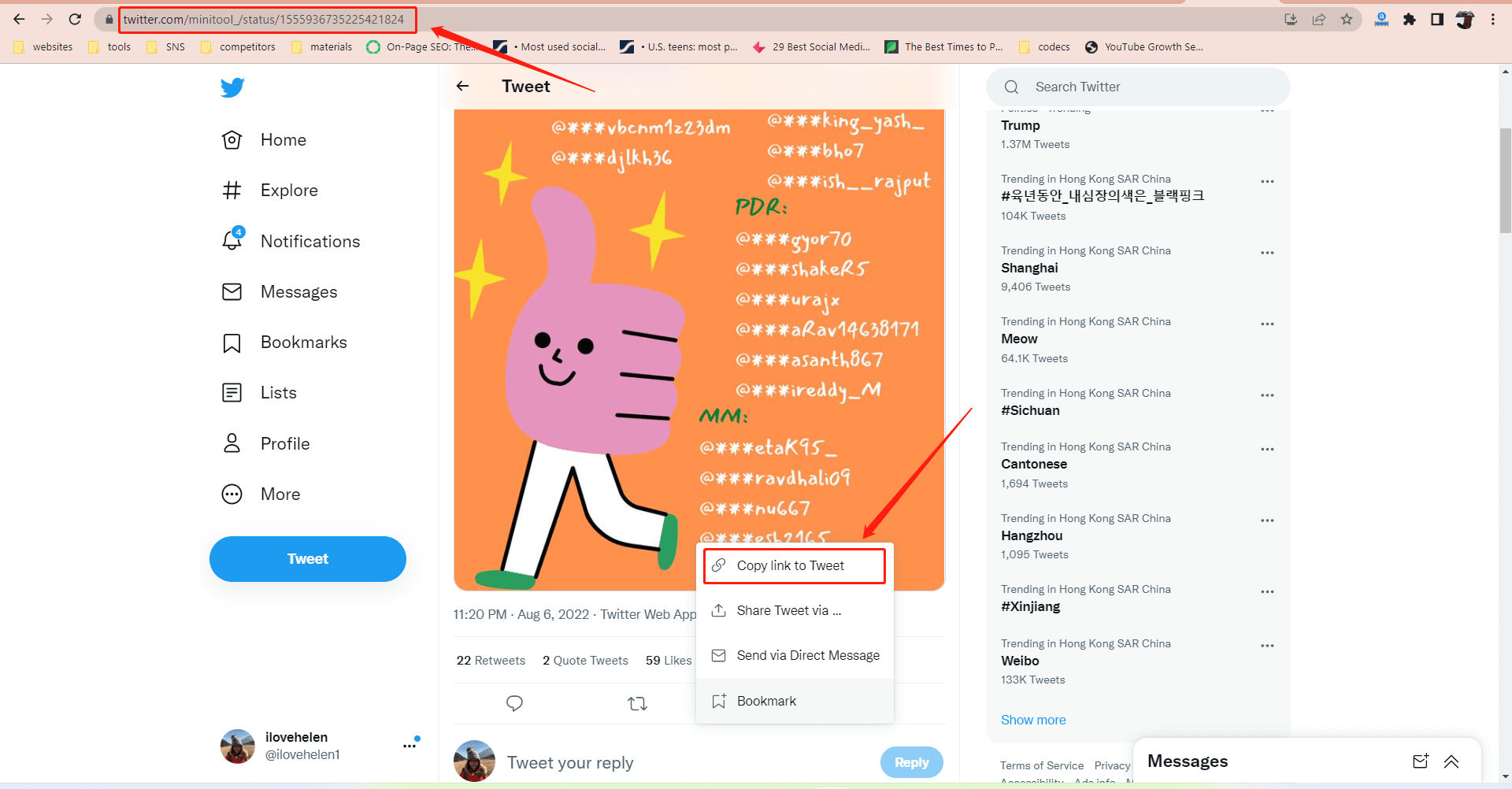 #2 twdown.net
TWDown is another free online Twitter video saver. It helps you generate direct links for your favorite Twitter videos and save them for offline viewing and sharing. Besides, TWDown also enables you to convert Twitter video format to MP3 and listen to them offline anywhere you go.
The way to save videos from Twitter with TWDown is similar to that of on twittervideodownloader.com.
#3 TweetPik
TweetPik (tweetpik.com/twitter-downloader) is also a free online website for you to save Twitter videos. It can also save Twitter images, Twitter GIFs, and TikTok videos. Still, just refer to the above steps to download Twitter videos by TweetPik.
No. 2 How to Save Twitter Videos by Save Twitter Video App?
In the second place, you can make use of apps to save videos from Twitter.
#1 Video Downloader for Twitter
Video Downloader for Twitter is a smartphone app that enables you to save Twitter video Android or save Twitter GIFs. It is also called TwiMate Downloader. Just download and install it on your Android device to enjoy its wonderful features!
#2 Download Twitter Videos
Twitter video downloader is another Android program that permits you to save videos on Twitter to your device so you can watch the videos anytime, anywhere, or share them with others without consuming the network. It uses a database to save your query and help you avoid downloading the same video or GIF.
#3 TweetSave
TweetSave can save Twitter video iPhone and can also save Twitter gifs. With it, reposting photos or videos from Twitter has never been so easier! How to save Twitter videos on iPhone? Just copy the target Twitter video's link from the Share icon and return to the TweetSave app; you will see the video in the app.
#4 Clipbox
Clipbox is another iOS Twitter video saver. Besides, Twitter, it can also save videos from TikTok, YouTube, Instagram, as well as Facebook. Clipbox gathers all your favorite videos together and stores them in one place. What's more, Clipbox can also clip and manage these videos from your social media accounts.
No. 3 How to Save a Twitter Video with Browser Extension?
Thirdly, you are able to get videos from Twitter using a web browser extension or plugin, such as Twitter Video Downloader, which can save any Twitter video and gif with one simple click. It is free, fast, and easy to use.
After installing the Twitter Video Downloader Chrome addon, you will see a Download button under every video tweet.
If you want to save the video of a specific tweet, just click on the corresponding Download button.
Choose a proper video quality to save.
Wait for the success of the video saving.
Finally, you can find the desired video on your hardware device.
No. 4 How to Save Videos on Twitter Using Screen Recorder?
Finally, you can take advantage of screen recording software to assist you in saving the Twitter videos you like. There are many screen recording applications in the market. Here, we will take MiniTool Video Converter for example to show you how to save a video on Twitter by recording a computer screen.
MiniTool Video Converter is a professional and easy-to-use video/audio file format conversion tool. It also contains a screen recording feature that enables you to capture every frame of your favorite Twitter video during its play. Let's see how to achieve that!
# How to Record a Twitter Video?
1. Download, install, and launch MiniTool Video Converter on your PC.
2. Select the Screen Record option from the top menu and click the Click to record screen option.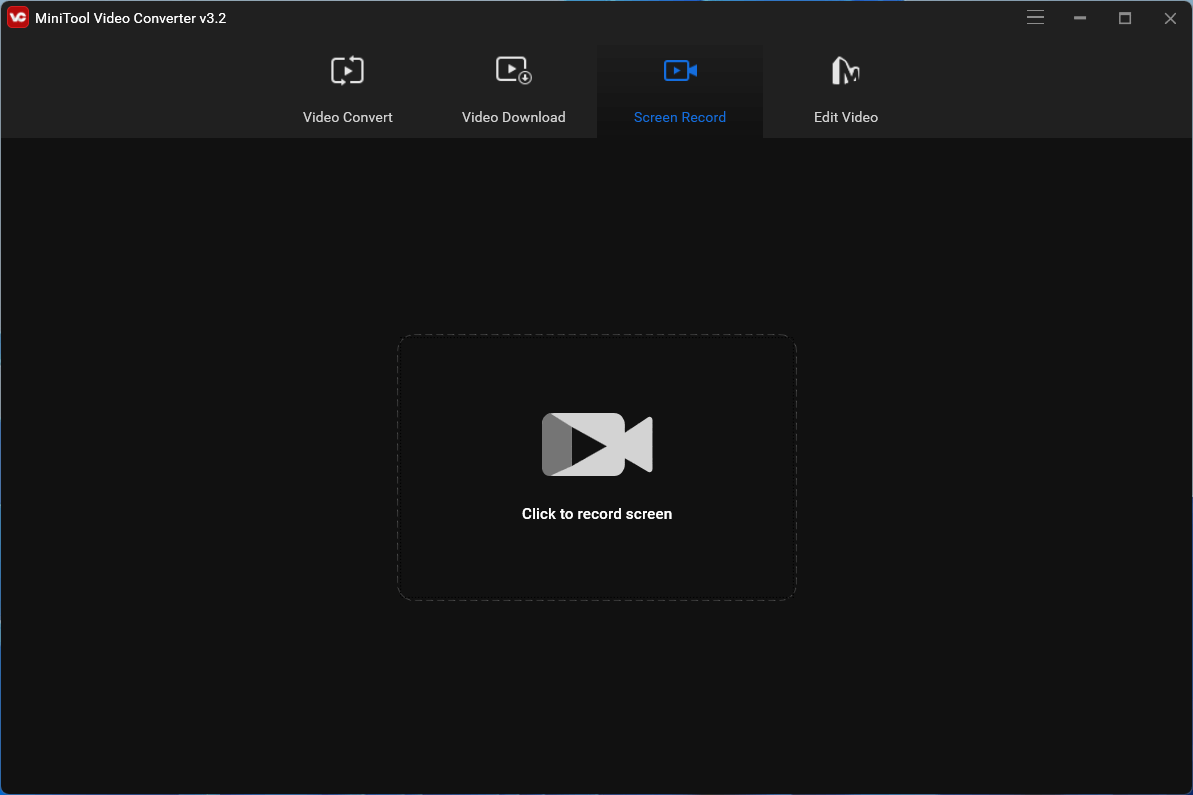 3. The new MiniTool Screen Recorder window will pop up. There, you can specify the recording area. Here, just keep the default Full screen option. 
4. Keep the System Audio on but mute the Microphone. In this way, your recording will record the sound in your Twitter video but filter the sound around you while you are recording.
5. You can further set up the recording by clicking on the Settings icon (gear) from the top right.

6. In the next Settings window, you are able to customize where to save the recorded video and the specifications of the recorded video including output format, frame rate, codec, and quality. Besides, you can personalize the display of your mouse and whether to record mouse clicks.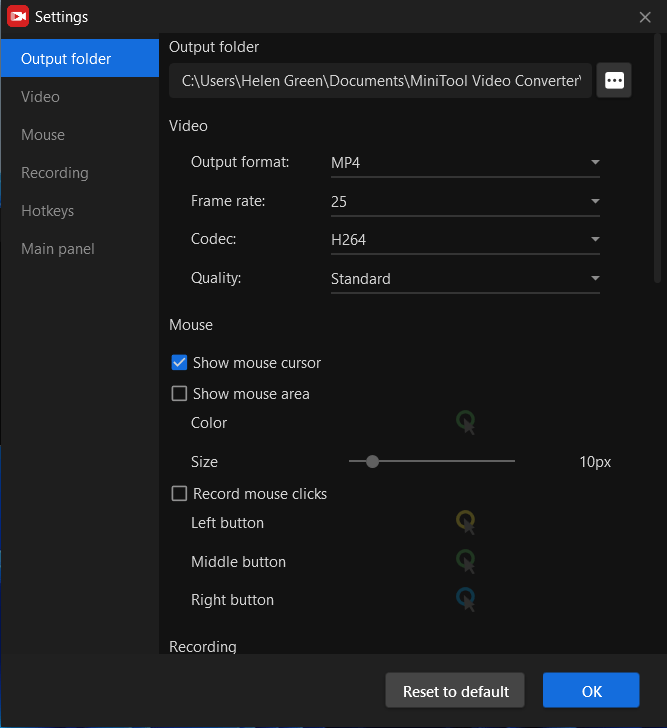 Moreover, you can set up the duration of the recording. If you know the length of the target Twitter video, you can set up a recording duration that is a little bit longer than the video length.
Furthermore, you can change the hotkeys of some recording operations like start/stop recording (F6) and pause/resume recording (F9).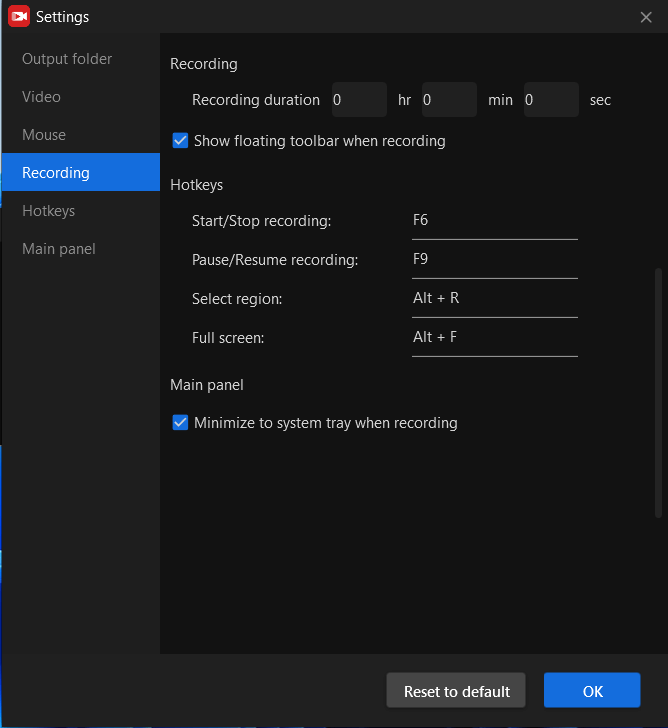 When all settings are done, click OK to go back to the MiniTool Screen Recorder screen.
7. Open the target Twitter video and make it play on full screen.
8. Press F6 or click on the Record button in the MiniTool Screen Recorder screen.
9. It will start to count down from 3. During the 3 seconds, switch to the Twitter video full screen. When it counts down to 0, start watching the target Twitter video.
If you can't control the time well, it doesn't matter. You only have to make sure to start to play the target Twitter video after the count down. After recording, you can use a video editor to remove the beginning part that is recorded before the Twitter video.
10. When the video ends, press F6 to stop the recording. If you have set up a recording duration, just wait for the recording to stop by itself.
11. When the recording stops, it will guide you to the MiniTool Screen Recorder screen listing the recorded video(s). You can directly find the videos' saving location by clicking the Open folder icon from the bottom left.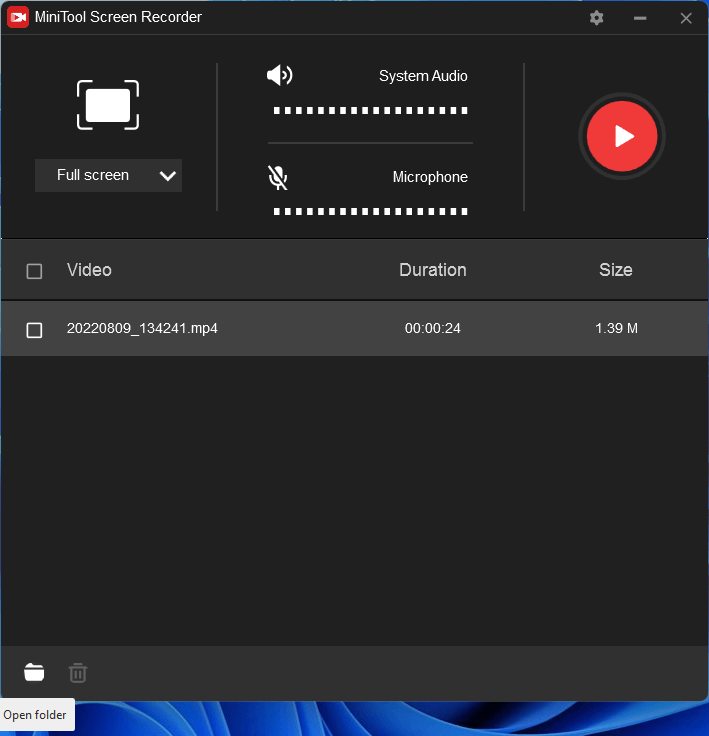 When you get the recorded Twitter video, you need to remove the extra part from the recording, generally the beginning before the Twitter video and the end after the Twitter video. To complete this, you need a video editor. Luckily, MiniTool provides such a program called MiniTool MovieMaker.
There are two ways to get MiniTool MovieMaker. On the one hand, you can close the MiniTool Screen Recorder window to go back to the MiniTool Video Converter window. There, click on the Edit Video from the top menu to get MiniTool MovieMaker.
Or, you can directly download this app from the below button.
# How to Edit a Twitter Video?
After downloading and installing MiniTool MovieMaker on your computer, you can rely on its trim utility to delete the unwanted periods in your recording and also do some of the following edits.
Split a video into multiple clips.
Add a transition between two clips.
Add effect/filter, captions, motion, or stickers to a video.
Add a title to a video.
Add credits to a video.
Speed up, slow down, or reverse a video.
Change contrast, saturation, or brightness of a video.
…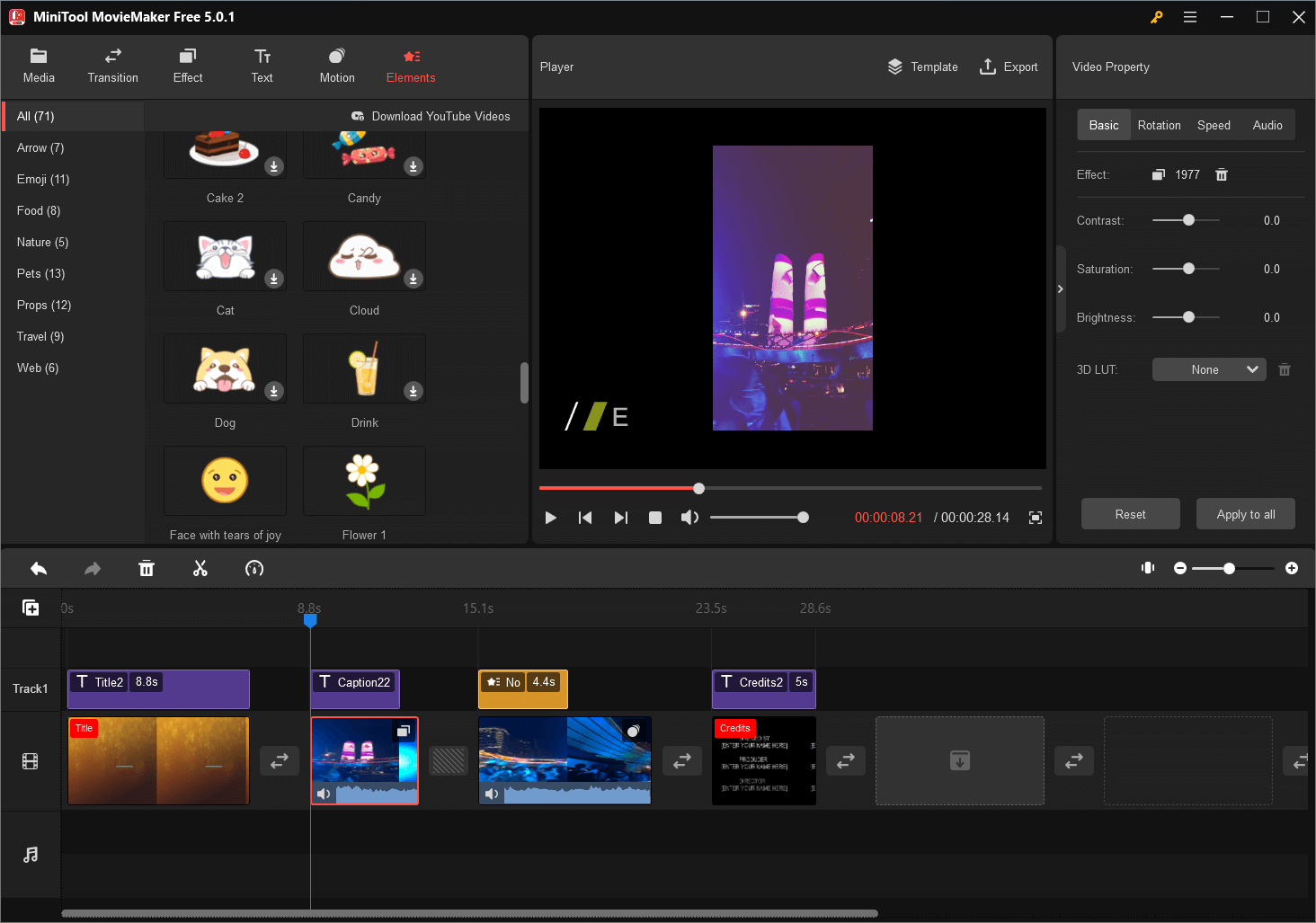 After editing the recorded Twitter video, just export it. You are allowed to specify the output video format here. Or, you can directly choose to export a video that can be played on a specific device like iPhone, iPad, Samsung Galaxy, Xbox One, PS4, Apple TV, Sony TV, etc.
# How to Convert a Twitter Video?
 If the device you want to play the edited Twitter video is not included in the output list, or if you want to upload the recreated video to a social platform with another file format. You can further convert the video format to make it eligible to be uploaded. For this purpose, MiniTool Video Converter can continue to help.
In the Converting subtab under the Video Convert tab, click on Add or Drag files here to start conversion to add the saved Twitter video.
Click on the settings icon in the Target section to specify the output format.
Then, click the Convert button to start the converting.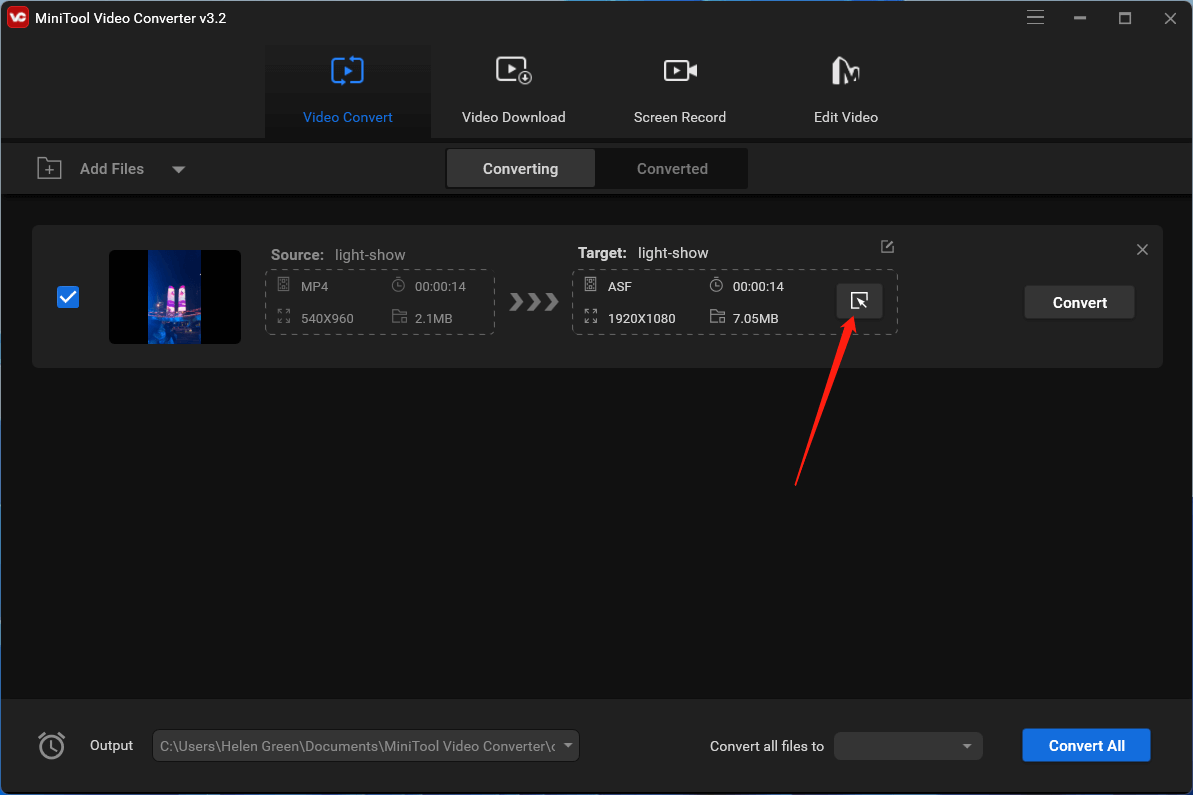 In addition to the above functions, MiniTool Video Converter can also directly download YouTube videos. Similar to saving Twitter videos, just input the target YouTube video's URL link address into the column and click the Download icon behind.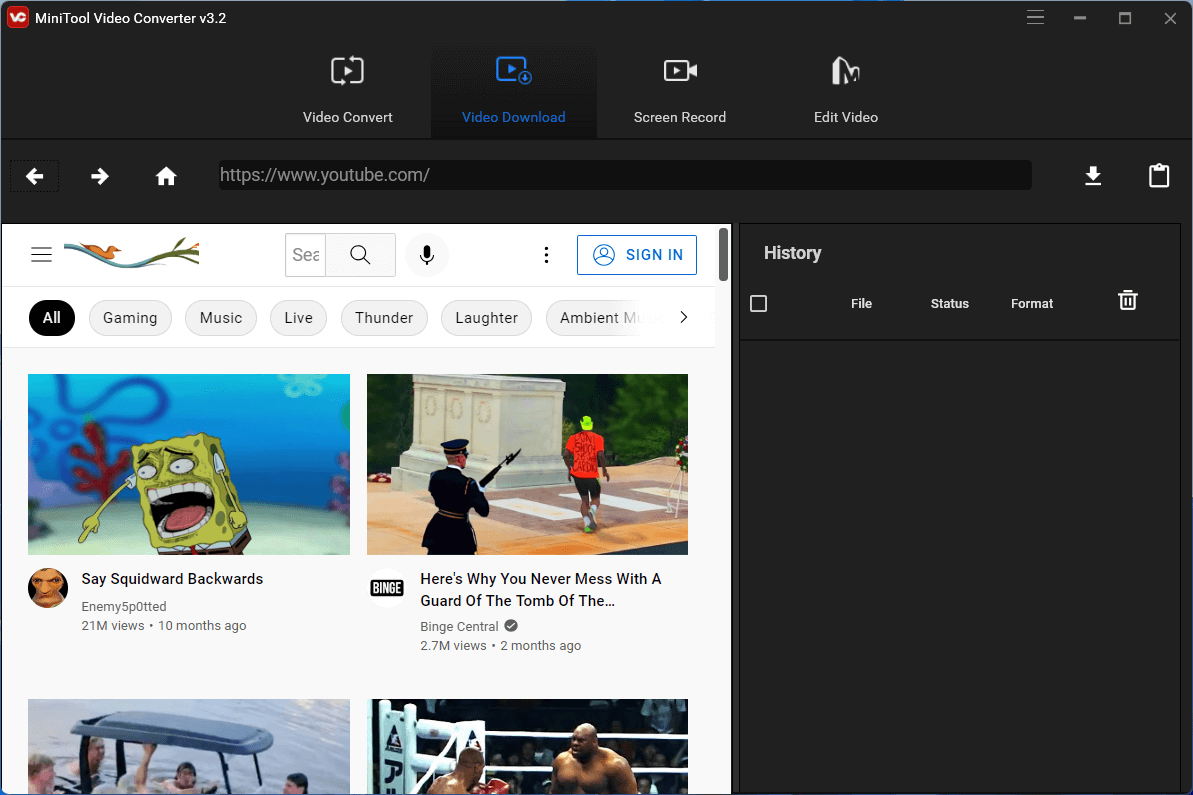 Conclusion
Until now, you have learned how to save Twitter videos to a computer or phone (an Android phone or iPhone). Generally, you can rely on online web services, offline downloader apps, browser extensions, as well as screen recording.
After storing Twitter videos, you can edit/recreate them with MiniTool MovieMaker or convert their file format with MiniTool Video Converter.
Anyhow, if you have any new ideas related to keeping Twitter videos or anything related to this article, feel free to leave a comment below. If you encounter any problems while using MiniTool products, please contact [email protected].