You have some MOGG files on your computer but fail to open them. What is an MOGG file? How to open it? How do you convert MOGG to another format? Where to download the Beatles MOGG files? This post will give you the answers.
What Is an MOGG File?
An MOGG file is a Multitrack Ogg Format file. (Try MiniTool Video Converter to convert your OGG files.) It contains multiple stereo tracks, which can be played separately or together. Many files ripped from games like Rock Band and Guitar Hero are saved in MOGG format.
How to Open MOGG Files?
MOGG files can't be directly opened on a computer. You need to use an audio player that supports MOGG to play MOGG files. Here are some programs supporting MOGG such as Audacity, Avid Pro Tools, REAPER, Steinberg Nuendo, and more.
How to Convert MOGG Files?
Need to convert an audio file from MOGG to MP3, WAV, or FLAC? Audacity is a great choice for you. It can play MOGG files, extract separate OGG audio files from an MOGG file, and convert MOGG to another audio format. It works on Windows, macOS, and Linux.
Step 1. Download and install Audacity. After installing the Audacity software on the computer, open it.
Step 2. Click File in the top right corner of the window. From the drop-down menu, choose the option Open… and select the MOGG file. Click the Open button.
Step 3. After the importing process is complete, click File and go to Export > Export Multiple…
Step 4. In the Export Multiple window, expand the Format list and choose the audio format you want. Then choose a folder to save the converted audio files. Click Export.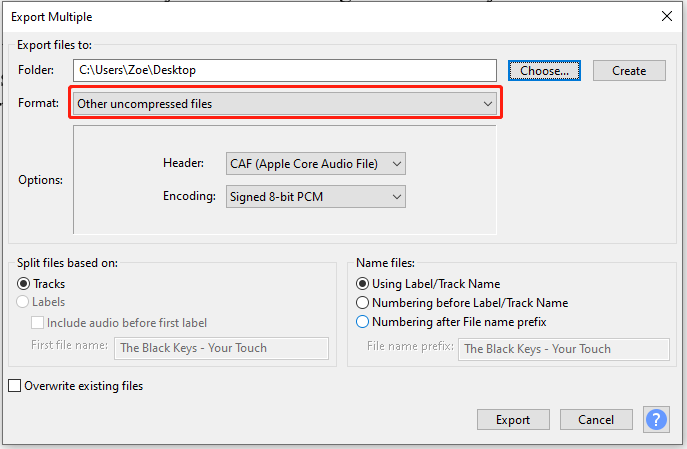 Step 5. The Edit Metadata Tags window pops up. Change the track title, add artist name, album title, etc. and click OK. (See also: 6 Best Free Music Tag Editors)
Step 6. Once done, open the destination folder and you will find the converted audio files.
If you can't open MOGG files with Audacity, here are two solutions.
Solution 1. Update the Audacity app: The outdated version causes various issues. If the MOGG files can't be imported in Audacity, you need to check for updates. If available, install this update.
Solution 2. Reinstall the Audacity app: You can also fix the "Audacity can't open MOGG files" problem by reinstalling Audacity.
Also read: How to Use Audacity? Here are 7 Tips for You!
Where to Download Beatles MOGG Files?
Where to download the Beatles MOGG files? You can find the Beatles multitrack in MOGG format on Facebook and Tumblr. Here're the links. Just open the link and save the Beatles MOGG files. Then open them with Audacity.
Facebook: https://www.facebook.com/256676027741343/posts/the-beatles-mogg-files-free-downloadnote-these-multitracks-are-in-mogg-format-yo/1323434564398812/
Tumblr: https://wrence.tumblr.com/post/187799872572/mogg-fabszip-267-gb
Clubremixer: https://clubremixer.com/the-beatles-the-mogg-files/
If you just want to download the Beatles songs, YouTube is another place to go where you can find the Beatles music videos and songs. Want to download them for offline watching? Download and install MiniTool Video Converter. Then you can use it to download these YouTube videos in MP3 or MP4.
Conclusion
In a word, Audacity is perfect for playing and converting MOGG files.