What is AVI? What is MP4? What are the differences between AVI and MP4? And do you know how to convert AVI to MP4 or MP4 to AVI? If you want to get the answers to the above questions, you can read this post about AVI vs MP4 from MiniTool.
What Is AVI?
What is AVI? AVI is also known as Audio Video Interleaved. It is a file format that combines audio and video data into a file for simultaneous playback. The AVI format was developed by Microsoft in November 1992 and it is now commonly used for file transfers and storage of video and audio tracks.
Due to its high compatibility, AVI files are supported not only on Windows systems but also on many other major platforms such as Mac, Linux, and Unix. Similarly, most media players can recognize it.
A complete AVI file can be composed of three parts. The first is the header section, which displays general information like file size, frame rate, and parameters about the compression algorithm used. The second part is the data part, which includes graphics and sound sequence data. The last part is an index section on file locations and allowed access functions.
What Is MP4?
What Is MP4? It is created by ISO/IEC and the Moving Picture Experts Group (MPEG) according to the ISO/IEC 14496-12: 2001 standard. Therefore, MP4 is an international standard for audiovisual coding.
MP4 is regarded as a digital multimedia container format, which is essentially a file containing a bunch of compressed data. The standard specifies how to store data in the container itself, but not how the data is encoded.
With the high compression used in MP4 videos, this makes the file size much smaller than other video formats. Reducing the file size does not immediately affect the file's quality. Almost all original quality is preserved. This makes MP4 a portable and network-friendly video format.
Now, you can go to the next part to get the information on MP4 vs AVI.
AVI VS MP4
First, let's see the similarities between AVI and MP4. Both of them are multimedia containers for videos with audio files. MP4 and AVI are both wrappers for formatted video files. Both of them support a wide range of media players and mobile devices
Then, let's see the difference between AVI and MP4. The difference mainly focuses on 4 aspects. Details are as follows.
AVI VS MP4: File Type and Developer
This section is about AVI vs MP4: type and developer. AVI is the Audio Video Interleave file and MP4 is a MPEG-4 video file. Besides, AVI was developed by Microsoft but MP4 was developed by MPEG.
AVI VS MP4: Quality
In this section, you can learn AVI vs MP4 in quality. AVI is closely related to DivX codec and DivX codex is famous for compressing video into small size with the high visual quality. AVI video is not lossless, but images and audio can still maintain high fidelity. MP4 is based on MOV and is a lossy format using MPEG4 AVC/H.264 codec.
This is why many people think that the quality of AVI is better than MP4.
AVI VS MP4: Use
Then, you can know the information on AVI vs MP4 in use. MP4 and AVI are popular video formats. The AVI format is more likely to be used in Windows-based media players or other devices with related codecs. The MP4 format is widely used in all video players or portable devices, but it is also used to compress AV data for streaming on the Web and the Internet.
Thus, compared to AVI, MP4 has a wide usage.
AVI VS MP4: Compatibility
When talking about M4V vs MP4, compatibility should be compared.
AVI supports PCs and Game Consoles, but not support Macs while MP4 supports Mac, PC, Android, iDevices, Linux, Ubuntu, etc. AVI supports almost all audio formats while MP4 only supports ALS, SLS, ALAC, AC3, MP3, AAC. Besides, AVI supports almost all video formats but MP4 only supports MPEG-2, MPEG-4 ASP, H.263, VC-1, H.264/MPEG-4 AVC.
You can know that AVI supports more audio formats and video formats than MP4 while fewer devices than MP4.
AVI VS MP4: Which One to Choose
You have known some aspects of MP4 versus AVI. Then, you may wonder whether to choose AVI or MP4. After reading this part, you may find the answer.
Pros and Cons of AVI
Pros:
It is compatible with almost all video and audio formats.
It supports almost all of Microsoft's systems, devices.
It can provide higher quality than other containers.
Cons:
It is less compatible with popular media players and devices than MP4.
Pros and Cons of MP4
Pros:
It is compatible with most popular media players.
Most video and audio files downloaded from the Internet are wrapped in the MP4 format.
It can be used in most mobile devices.
Cons:
If partially files are compressed by MP4, it takes up more space than a fully compressed file.
MP4 or AVI
AVI files can be played by various video players, but the player must support the codec used to encode the video data. The MP4 file is an open standard that everyone can use. If you are looking for a standard video format acceptable to all devices and websites, you can choose MP4. Thus, choosing AVI or MP4 based on your needs.
But no matter which video format you use, you can make a conversion. In the following part, let's focus on how to convert AVI to MP4 or MP4 to AVI with some professional converters.
In this post, you have known some information on MP4 vs AVI. Besides, you can know whether to choose MP4 or AVI.Click to Tweet
Convert AVI to MP4 or MP4 to AVI
There are many online tools for you to convert AVI to MP4 or MP4 to AVI. Also, you can find some offline converters. In this part, we will show you some converters.
Online AVI to MP4 or MP4 to AVI converters
Whether you want to convert AVI to MP4 or MP4 to AVI, the following converters are suitable to do that.
1. Online-Converter
The first online converter for you is Online-Converter. It is a web-based online converter, which can extract audio from the video file and convert media files to other formats. Here's how to use the online converter.
Step 1: Go to Online Convert and get its homepage. Find the Video Converter part and select the Convert to MP4 option from the list.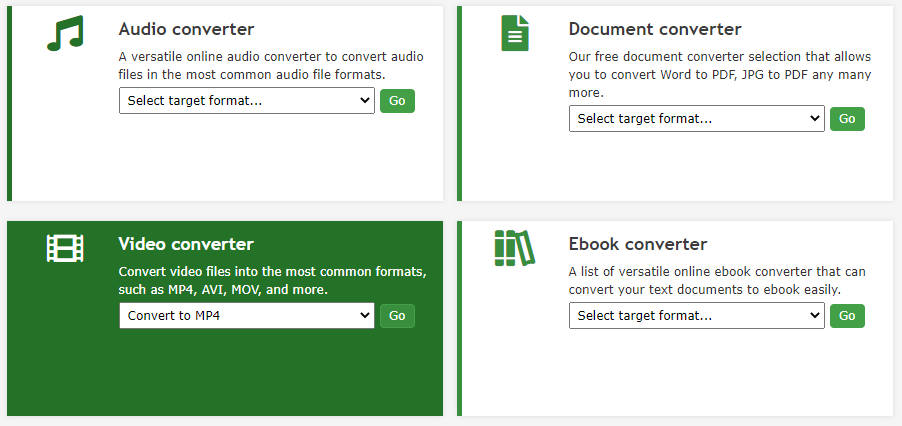 Step 2: Click Choose Files to select the AVI file. Then, click Start conversion.
Step 3: After that, it will automatically download the converted file on your device.
Main Features
It supports you to import files in different ways.
There are no sign-up requirements.
It offers extensions for browsers and apps for iOS and Android.
It supports many media files including video, audio, eBook, image, software, documents, and archive.
2. Zamzar
You can also use another online converter – Zamzar to convert AVI to MP4. Here is how to use Zamzar to do the conversion.
Step 1: Go to Zamzar and choose Add File… to add the AVI file.

Step 2: Click Convert To to select the MP4 format and click the Convert Now option.
Step 3: Then, it will start the converting process. You just need to wait for it. After that, you can click the Download button to save the MP4 file on your device.
Main Features
It supports more than 1200 file formats.
It can work with any operating system.
The uploaded file can be as large as 150 MB.
Remarkable conversion speed.
Offline AVI to MP4 or MP4 to AVI converters
3. MiniTool Video Converter
This free offline converter – MiniTool Video Converter can be used to convert any popular format to MP4, such as MOV, MKV, AVI, WMV, M4V, XVID, ASF, DV, MPEG, VOB, WEBM, OGV, DIVX, 3GP, MXF, TS, TRP, MPG, FLV, F4V, SWF, M2TS and many more. As a video downloader, it also supports downloading YouTube videos to MP4 and other formats.
Now, let's see how to convert AVI to MP4 or MP4 to AVI.
Step 1: Download and install the MiniTool Video Converter.
MiniTool Video ConverterClick to Download100%Clean & Safe
Step 2: Launch it and import the MP4 file by clicking on Add Files.
Step 3: Tap on this icon and go to the output format window. Then switch to the Video tab, choose the AVI format, and select the desired audio quality.
Step 4: Click Convert to start the conversion.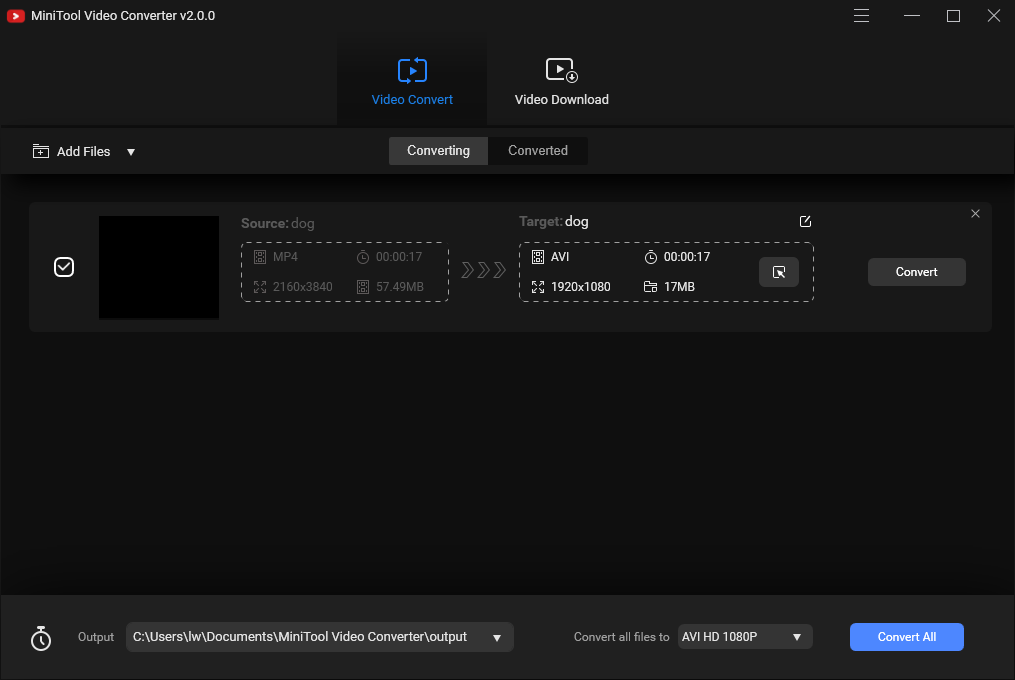 Main Features
Support more than 1000 file formats conversion.
Support batch file conversion.
Totally free.
Faster file conversion speed.
4. Format Factory
Format Factory is a great offline converter. It is a multimedia file conversion tool that supports converting video, audio, picture, document format to others for free. It supports you converting any video format to OGG/MP3/WMA/AAC/WAV/AMR. It can also be used to edit the media file or reduce the file size to save disk space before you begin to convert video to MP4.
Step 1: Download Format Factory from its official website and install it on your computer. Then, launch it to get its main interface.
Step 2: Click Video and scroll down the list to find MP4. Then, click it to continue.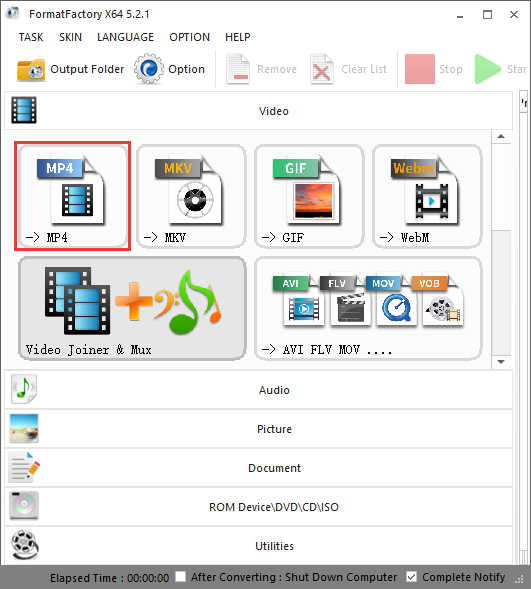 Step 3: Choose Add File to add your AVI video file. You can click the Output Setting button to change the audio quality. After that, click the OK button to get started.
Step 4: Then, click the Start button to convert AVI to MP4.
Main Features
It supports most of the multimedia formats.
It can reduce the size of the file.
It can help you repair the damaged video files.
It supports 62 languages.
It's only available for Windows.
5. VLC Media Player
The VLC media player is a free and open-source cross-platform multimedia player and framework. It can be used to play most multimedia files such as DVDs, audio CDs, VCDs, and various streaming media protocols. Now, let's see how to change AVI to MP4 with VLC media player.
Step 1: Download VLC Media Player from the official website and install it on your computer.
Step 2: Then launch it to get its main interface and navigate to Media > Convert / Save….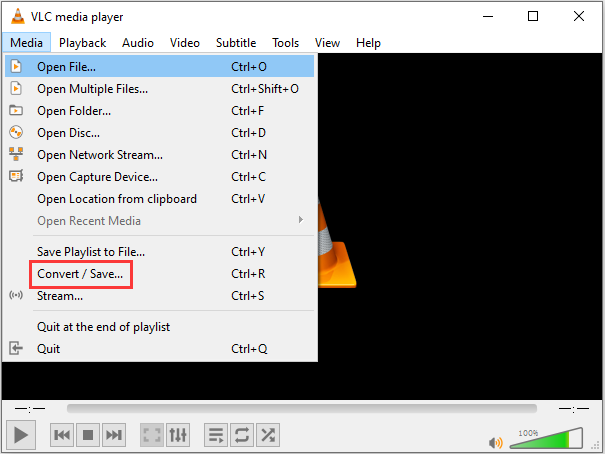 Convert / Save…"/>
Step 3: Click the Add… button to import the AVI file and click Convert / Save.
Step 4: Click the MP4 profile. Then, click Browse to select a destination folder and click the Start button.
Now, you can go to the destination folder to find your MP4 file.
Main Features
It can play any content-files, CDs, cameras, devices, and streaming media.
It can play most formats without installing codec packs including WMV, MP3, MKV, WebM, and so on.
It can be used on all platforms – Windows, Linux, Mac OS X, Unix, iOS, Android.
It's free and there are no ads.
To get more information on AVI to MP4, you can refer to this post – How to Convert AVI to MP4? 2 Excellent Ways.
Bottom Line
AVI vs MP4: what's the difference between them? Choose AVI or MP4? How to convert these two formats to each other? After reading this post, you know a lot of information. Just choose a proper video format based on your actual needs.
If you have any idea of AVI vs MP4, please let us know by leaving it in the comment part or contacting [email protected].
AVI VS MP4 FAQ
Which video format is the best quality?
The following are the 6 best video file formats:
AVI (Audio Video Interleave) and WMV (Windows Media Video)
MOV and QT (Quicktime formats)
MKV (Matroska format)
MP4
AVCHD (Advanced Video Coding High Definition)
FLV and SWF (Flash formats)
Why is mp4 the best video format?
MP4 makes use of the latest code H264 to enhance the high-resolution content. It improves old audio container format with the advanced video coding (AVC) technology and Apple's advanced audio coding (AAC). MP4 video output has a high quality.
Which is better mp4 or MKV?
If you want to play your videos on mobile devices, you can choose MP4. If you use some video players like VLC, PotPlayer, or XBMC to play your files, MKV is better. This post - How to Convert MKV to MP4 without Losing Quality provides some information on MP4 vs MKV.