Have you ever thought about recording videos on your Mac using your computer's built-in camera? Maybe you just want to capture a highlight in a movie, show someone how to do something, or share on social media. For whatever reason, you can easily record video on Mac using the built-in app - QuickTime Player.
There are many ways to record video on Mac, but this article will focus on how to record video on Mac via QuickTime Player and Mac computer webcam, because QuickTime Player is bundled on all Macs, and virtually every Mac has a built-in Camera recording. These camera records will be saved as a movie file that can be shared, uploaded and edited. If you want a more professional video editor, try MiniTool Movie Maker released by MiniTool.
What Is QuickTime Player
Developed by Apple and initially released on December 2, 1991, QuickTime is software that allows a computer user to play movie files. QuickTime is available for Apple and IBM compatible users running a compatible operating system, such as Microsoft Windows or any Macintosh operating system. With IBM compatible computers, QuickTime is commonly used to play .mov extension files. program running on a computer.
How to Record Video on Mac
The easiest way to record video on your Mac is using the built-in QuickTime Player. Now let' get into the specific steps.
Step 1. Open QuickTime Player on your Mac.
Step 2. Click the File option to open the drop-down menu and choose New Movie Recording.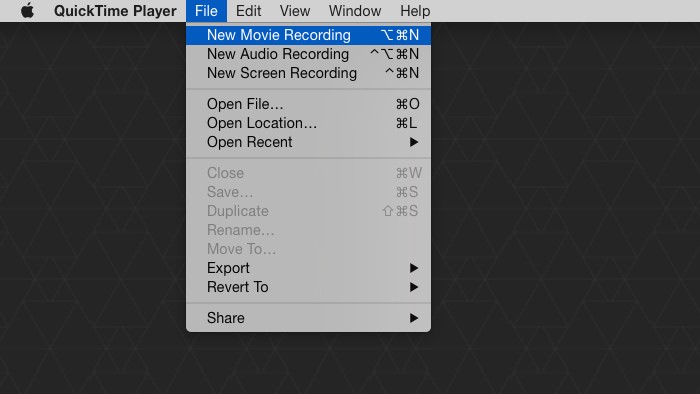 Step 3. Then the FaceTime webcam will activate and show on the screen, click the red record button to start recording your video.
Step 4. When finished recording, hit the Stop button to end it. Optionally, you can trim the video to shorten it.
How to Trim Video Easily (Step-by-Step Guide with Pictures)
Step 5. Go to the File menu and choose Save or Export.
Step 6. Give the recorded video a name and save the recorded movie to the location of your choice.
Recorded video file types are saved as .mov QuickTime files by default, but you can save them to other formats as you need, or convert them to other video formats later.
How to Change Video Format? Try The Best 6 Free Video Converters
The resolution of recording movies depends on the Mac model, because the FaceTime webcam on each Mac has a different resolution, and video resolution of most Mac webcams is between 480p and 720p. If you want higher quality footage, such as 1080p or 4k, you may want to consider recording video with an iPhone or iPad.
How to Change Video Resolution Easily on Different Platforms
QuickTime Player is a powerful application with many great features, and it even supports you to record audio using the computers built-in microphone.
How to Record Audio on Mac
Let's go through the simple steps of how to record audio on Mac via QuickTime Player.
Step1. Open QuickTime Player on your Mac.
Step 2. Select File and New Audio Recording.
Step 3. Press the red record button to start the recording.
Step 4. End recording by pressing the same red button.
Step 5. Rename and save the recording to your desktop.
It's worth mentioning that you can also use some third-party applications to record video on your Mac, but QuickTime Player is so fast, easy and efficient. So, if all you want to do is recording video, then it must be your best choice.
Bottom Line
How to record video on mac quickly and easily? Try QuickTime Player. If you have any questions or suggestions about it, please let us know via [email protected] or share it in the comments section below.